Farmington alum won two World Series titles with Blue Jays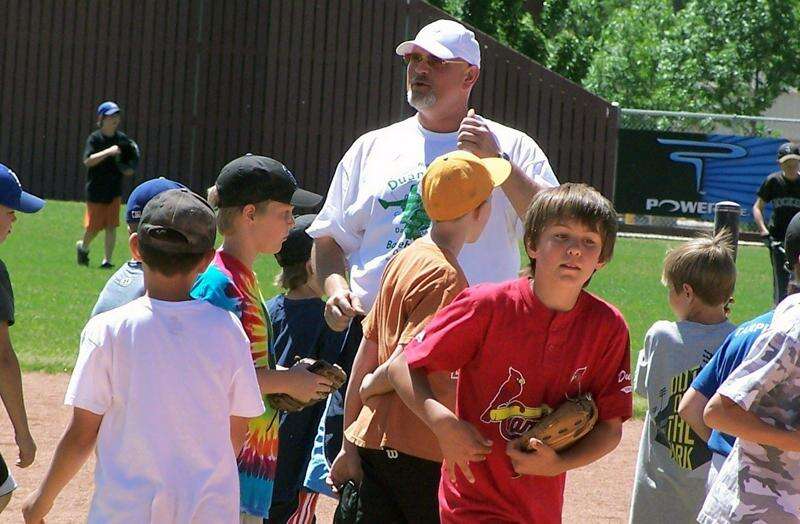 For all the on-field moves Bobby Cox was known to make from the dugout while helming the pitching-rich 1990s Atlanta Braves, one decision he made not even a decade earlier from the club's front office may have indirectly put a potent Four Corners-region prospect, once taken ninth overall in the Major League Baseball Draft, on track to success.
Now a quarter-century removed from the final game of an injury-abbreviated big-league career, Farmington High School alum Duane Ward's star will shine indefinitely and as close to Cooperstown-caliber brightness as possible.
Ongoing coronavirus pandemic concerns across North America ultimately led to indefinite postponement of the grand event's physical manifestation, but Ward was to have been inducted into the Canadian Baseball Hall of Fame on June 20 in St. Mary's, Ontario, making for a Father's Day weekend he'll never forget.
"It's something that really makes you reflect back on everybody that was a part of your amateur career, of your professional career and your big-league career," Ward said Thursday in a phone interview from his home in Las Vegas. "To be honored this way – at the top with the Canadian Baseball Hall of Fame – it's really something. You reflect back on almost everybody that had something to do with your success – and help you when you fail to teach you how to get out of a rut or things that come your way. But one thing you learn is that you don't do it by yourself."
Joining him in the Hall's Class of 2020 are longtime Toronto Blue Jays teammate John Olerud, plus former Minnesota Twins star Justin Morneau (who later hit .319 in 2014 for the Colorado Rockies, becoming the second Canada-born player to earn a National League batting title), and iconic Montreal Expos/Blue Jays French-language broadcaster Jacques Doucet.
Known in the Great White North for spending all but 10 of his 462 regular-season MLB games with Toronto and helping the club cop World Series crowns in 1992 and 1993 – in postseason action, he pitched in eight Series games overall, closing out five, and went 3-0 with a 1.13 earned-run average, 13 strikeouts, only one walk issued and two saves in eight total innings – Ward was originally Atlanta's first-round pick in 1982 (not long after he'd helped Farmington High complete a 26-0 run through the 1981-82 basketball season and score the New Mexico Activities Association Class 4A State Championship) following his senior-year season.
Primarily a starter on the mound during a subsequent four-season rise through the Braves' farm system, Ward would benefit immensely from one of Cox's earliest approvals as Atlanta's general manager, which he became before the 1986 season.
With the Braves having nowhere to go but up following a last-place showing in the NL West and a painful 66-96 overall performance in '85, Cox sought a skipper to replace the short-lived Eddie Haas/Bobby Wine duo (which failed to supplant '84 boss Joe Torre) and settled upon a veteran also with nowhere to go but up.
And if not as high as the pinnacle his 1979 'We Are Family' Pittsburgh Pirates reached, at least up and out of the division basement.
That skipper was known optimist Chuck Tanner, whose Bucs were a woeful 57-104 during a 1985 overshadowed by a publicized drug-abuse scandal. Bringing retired Pittsburgh hero Willie Stargell along as an assistant, undoubtedly in hopes of energizing the Braves' bats, Tanner would begin Ward's conversion to a solid reliever, as he'd already done back in the early '70s with Chicago White Sox up-and-comers Terry Forster and Colorado Springs Wasson High School product Rich 'Goose' Gossage.
"They were the two guys coming out of the bullpen, one lefty and one righty, and at the time I think they were 18 and 19 years old," said Ward, a 2009 New Mexico Sports Hall of Fame inductee who batted just once (May 24, 1986, for Atlanta in a 9-5 loss at St. Louis) in the bigs. "Tanner, he said, 'I see so much of Goose Gossage in you. I want you in my bullpen.' So, that's how I made a big-league team there in 1986.
"I was a starter my whole minor-league caree. Chuck Tanner saw something, and it was a perfect mix for me to be a full-time reliever. And it worked out great for my career; it was something that allowed me to flourish."
And with both prized 1985 acquisition Bruce Sutter (23 saves in '85; career-high 45 for St. Louis in 1984) and established fireman Gene Garber (career-best 30 saves during Atlanta's NL West-winning 1982 campaign) returning to the roster, Ward seemingly had adequate instruction and role models from which to learn during his brief time in uniform – a stint which began April 12, 1986, with a scoreless eighth-inning cameo during a 4-3 road loss at Houston.
Ward allowed one hit and whiffed one, but Astro pinch-hitter Craig Reynolds' sixth-inning, two-out grand slam off Braves starter Rick Mahler – who'd ultimately begin an NL-most 39 games that year; he'd thrown an Opening Day shutout four days earlier against Montreal – proved the difference as none other than living legend Nolan Ryan logged the win.
"My childhood hero," reflected Ward, who turned 56 back on May 28. "I think we'd had a three-game stint in Atlanta when we opened up that year, then we went on a trip to Houston. I hadn't made my debut yet, and it just so happened that Rick and Nolan were going against each other. I got to see a guy I looked up to pitch live, and I'll be gosh-danged if I didn't get into that game later to pitch in the same game that Nolan Ryan did.
"But the special thing about it was having my mom and dad there to watch; it couldn't have been a more perfect day."
Many were still to come after Ward was dealt shortly after the Fourth of July.
"I think it was that (Atlanta) had to clear a roster spot at the big-league level, and I think a trade was in the making," Ward recalled. "So, they sent me down (to Triple-A Richmond, Va.), and three weeks later, I think it was, I was supposed to start in Tidewater, Virginia, against the Mets. And it's a bus ride back and forth; you don't stay overnight because it's so close to Richmond. My manager, Roy Majtyka, was still in Tidewater, and I was back in Richmond, and he goes, 'I've got good news and bad news. The bad news is you're not starting tomorrow.'
"I said, 'Well what's going on?' And he goes, 'The good news is you just got traded to the Toronto Blue Jays for Doyle Alexander. And I'm going to tell you this: Doyle Alexander's a veteran pitcher, and for you to go straight-up in a trade, that tells me the Blue Jays think a lot of you. This is going to be a great opportunity for you.'"
And with then-manager Jimy Williams' squad already laying groundwork for the most historic Canadian crews – headed by 'Cito' Gaston, who replaced Williams in mid-May 1989 – to ever step onto a major-league diamond, Ward took full advantage and hardly looked back.
"The National League, that's where I thought I was going to be my whole career, with the Atlanta Braves," he said. "Getting to know and learn the American League, all in all, the whole trade worked out great for me. I always joke about it because three or four months later the Detroit Tigers traded, straight-up, John Smoltz for Alexander. So, every time I run into John I say, 'You know what, in a roundabout way, I was traded for you.'"
Ultimately immortalized in MLB history as the winning pitcher – after teammate Joe Carter's three-run walk-off homer off Philadelphia reliever Mitch Williams – of the 1993 World Series' deciding Game 6, Ward would total 650 2/3 innings pitched, 121 saves and 671 strikeouts during his Jay days.
He worked in 452 games, second-most in franchise annals, and never made fewer than 64 appearances or pitched less than 101 innings in a season. In 1991, his American League-most 81 games plus a career-most 132 strikeouts in just 107 1/3 innings pitched helped him place ninth in the AL Cy Young Award race. He followed that effort up in '92 registering a career-low 1.95 ERA in 79 outings as the Blue Jays defeated, ironically, Atlanta to bag their first-ever World Series title.
"It was almost like the whole country took a collective jump to be part of the first north-of-the-border World Series champions," said Ward. "It was something we all felt, that pressure of playing for a country and not just a city."
In '93 Ward took over as closer from Texas Rangers-bound free agent Tom Henke and equaled Kansas City's Jeff Montgomery with an AL-best, Toronto-record 45 saves while allowing just 49 hits and fanning 97 during 71 2/3 innings pitched, earning him a midseason All-Star Game nod and later fifth place in the Cy Young voting.
"He was just dominant," Olerud had said in the Canadian Baseball Hall of Fame & Museum's official announcement, as the other of two '92-93 Jays – joining, amongst others, Gaston (inducted 2002), Carter (2003), Henke (2011) and the late Tony Fernandez (2008) who passed away Feb. 15 at age 57 – newly enshrined.
"With Wardo coming, you knew you were going to have an easy inning. There rarely was a rough inning when Wardo took the field. He just had great stuff, and the ball didn't get put in play a whole lot."
But because of biceps tendinitis tag-teaming with an ailing rotator cuff diagnosed during the '93 rush and initially treated, neither would Ward in 1994 as Toronto looked to begin pursuing a possible three-peat.
He managed to pitch in only three minor-league games for the Class A-Advanced Florida State League's Dunedin Blue Jays before suiting up in '95 for both Dunedin and Triple-A International Leaguers Syracuse to attempt a big-league return. But after that proved unsuccessful, Ward then left professional baseball after making eight combined appearances in 1996 between the Double-A Southern League's Orlando Cubs and the FSL's Daytona Cubs after Toronto granted him free agency.
Ward's major-league outro had come on June 22, 1995, when the Jays fell 9-0 at home to Milwaukee. In just his fourth appearance that year, he allowed three runs on as many hits with two walks in just one-third of an inning in immediate relief of starter Danny Darwin, who gave up six runs in six innings and took the loss.
It was something of a full-circle arrival, though; Ward's first major-league win had come at the Brewers' expense back on Sept. 7, 1987. After working an inning in relief of Mark Eichhorn, who lasted one-third of a frame after spelling starter John Cerutti (5.2 IP), Toronto eventually left Milwaukee's County Stadium with a 5-3 victory.
All told, from his Astrodome entry to SkyDome exit, Ward's final MLB numbers included a 32-37 win-loss record (in his first full season, 1988, he went a career-best 9-3 in 64 games), with 121 saves and 679 strikeouts against 286 walks, 551 hits and 268 runs against in 666.2 IP. He finished 272 contests, and fashioned a 3.28 ERA.
Ever eager to educate young players at camps and clinics about the National Pastime, Ward said if he had the entire process, highs and lows, to repeat, he unquestionably would.
"If I was 100% healthy and not in my mid-50s," he laughed, "I'd love to be playing still today. Being around all the guys that love the game as much as you do. The thing about it is we get old, we have a few injuries, but I wouldn't trade anything about how my career went. Wish I wouldn't have gotten hurt, but I (played) to the best of my ability. And what you can do is pass those experiences on to the next generation.
"I can't thank the Atlanta Braves organization and the Toronto Blue Jays organization enough for giving me the opportunity to play the game that I love. It's just something that as a kid you dream about. You go to the field, it's always 'bottom of the ninth, bases loaded, two outs' and you're facing so-and-so, and I actually got to fulfill and live that dream every kid in America – and Canada – would want to be a part of."