Durango festival celebrates equal rights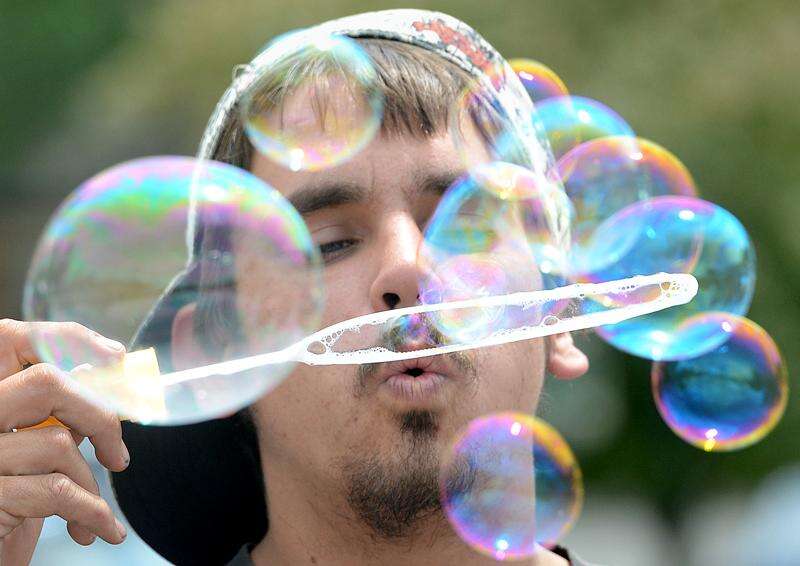 Nearly 700 people attended the fifth annual Four Corners Pride Festival in Durango this year, and Saturday's gathering in Rotary Park was a way for attendees to enjoy the summer solstice.
Cottonwood seeds hung like snowflakes around the park's gazebo as a convoy of boaters and tubers came ashore, ending the annual Animas River Float Parade at the park's edge, while about 15 venders, artists and organizations set tents on the grass. Music echoed, and food and beer were served.
Barbara Balaguer of Four Corners Gay and Lesbian Alliance for Diversity said the festival is an opportunity for people to be available for each other.
"We have some issues that are unique to a rural and agricultural setting," she said, "so, for us, we want a stronger voice."
In addition to what she called unique concerns, Balaguer said marriage equality was a conscious-level issue. Last week, Colorado District Judge C. Scott Crabtree heard arguments from gay couples and was critical of the state's ban on gay marriage.
"Not everyone is racing to get married, but it's the opportunity of choice," Balaguer said. "Civil unions are a stepping stone but fall short of marriage equality."
Balaguer said the gay and lesbian community in the region is growing – so much so that One Colorado, the state's largest lesbian, gay, bisexual and transgender advocacy group, has created a full-time position based in Durango. Luke Matney will fill the role as Southwest organizer for the group.
"More and more people are finding out their friends and family are gay," the Fort Lewis College senior said. "We're your brothers, sisters, uncles and aunts, sons and daughters."
Matney said Durango has been isolated from the rest of the state in terms of LGBT representation. He said he'll use his role to work with schools, in health care and for marriage equality, and he expects Colorado to follow the 15 other states that allow same-sex marriage.
The five-day festival held documentary screenings, a cocktail reception, a dance party, mountain-bike outings and the event at Rotary Park with an after-party. St. Mark's Episcopal Church was set to host a worship service today as part of the festival.
Madi Samblanet sat on the grass next to her mother. She said it was nice to just be herself.
"Everyone is together – gay, straight, whatever," she said.
Democratic candidate for Colorado's 3rd district, Abel Tapia, addressed the crowd, encouraging people to "let their voice be heard."
"This is not a partisan thing," he said after his address. "This event is not Democrat, Republican or Independent."
Mike McLachlan, also in the running, was expected to speak later.
Narcissa Walker, a volunteer with One Colorado, said it's about equal rights.
"You can't just sit here and say that your religion is going to dictate my life," Walker said. "Being a transgender, no matter who I marry, somebody is going to call it a gay marriage."
bmathis@durangoherald.com