Jadah Willmett, 21, was the only person on duty early Aug. 2
Family, friends and community members gathered Saturday in Bayfield to remember Jadah Willmett, 21, the gas station attendant who was killed in the early morning hours Aug. 2 at Speedway.
Ed and Sonya Willmett, Jadah's parents, organized the memorial. Jadah's parents chose the eve of Halloween because Halloween was Jadah's favorite holiday, Sonya Willmet said.
The memorial was held on the weekend of Jadah's favorite holiday to let her spirit know that her memory will never die and that her friends, family and the people she impacted "all miss her really bad."
"We all miss her," Sonya Willmett told The Durango Herald in an interview. "She had such a bright spirit and she was so helpful and wonderful to everybody that met her."
Don Willmett, Jadah's grandfather, said a prayer before the group, and the attendees all sang "Amazing Grace" afterward.
About three dozen people attended the memorial. Some left flowers in memory of Jadah. Her father showed up before visitors were expected to arrive to help set up. Friends and family joined him in setting up photos of Jadah.
Sonya Willmett said her daughter made an impact on everybody.
"I don't want that to go away," Sonya Willmett said. "I want people to remember that she was such a positive, happy influence to whoever she met."
Sonya and Ed Willmett briefly addressed participants and thanked them for taking the time to remember their daughter. Ed Willmett added that others couldn't make it to the memorial on Saturday, but he said he knows they were there in spirit, in their hearts and in their prayers.
"I know for some people they think that stuff like this is kind of trivial," said Ed Willmett. "But this means a lot to us. It means a lot to everybody who showed up. We have a long, really long road ahead of us on all points. But knowing that we have support of family and friends, and just the people around us, it makes all the difference in the world."
Ed Willmett encouraged people to keep adding flowers and other items of their choice to Jadah's memorial to keep her memory alive and strong. He said he's made an arrangement with the town of Bayfield to pick up all of the items before it snows.
"But I'm gonna bring it all back in the spring, and we're going to continue to add to it until this is over," Ed Willmett said.
Sonya Willmett said she and her husband are working hard to have conversations with state Rep. Barbara McLachlan to address the circumstances that led to Jadah Willmett's death. Jadah was the only employee on duty at the time, and the family has suggested that maybe more than one person should be on duty at gas stations during overnight hours.
Sonya Willmet said she doesn't want their experience to befall anyone else.
Fiona Rodebaugh attended the memorial to remember her friend Jadah and support the Willmett's.
"I just appreciate everyone coming out and showing their love for her," Rodebaugh said. "I hate that we have to do this, but I'm so glad that we're coming together as a community. She deserved people."
"We want to make sure to acknowledge you guys and let you know how much she loved you all," Sonya Willmett told everyone who came out to support her family.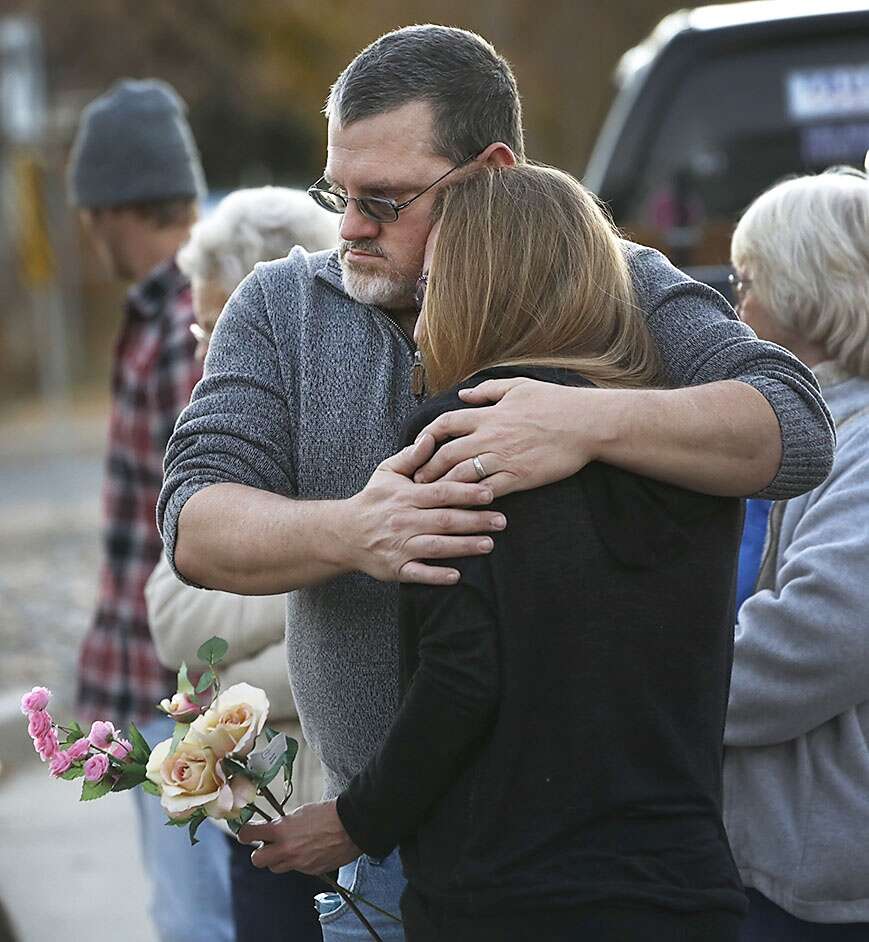 Jadah Willmett was stabbed to death about 1:31 a.m. inside the Speedway convenience store at 650 S. Buck Highway. A 17-year-old boy has been arrested in connection with her death.
According to an obituary, Willmett was born in Denver but grew up in Durango and attended the Durango school system. She was active in the choir, played the guitar and worked different service-related jobs.
cburney@durangoherald.com