Three-time defending champ hands her crown to new winner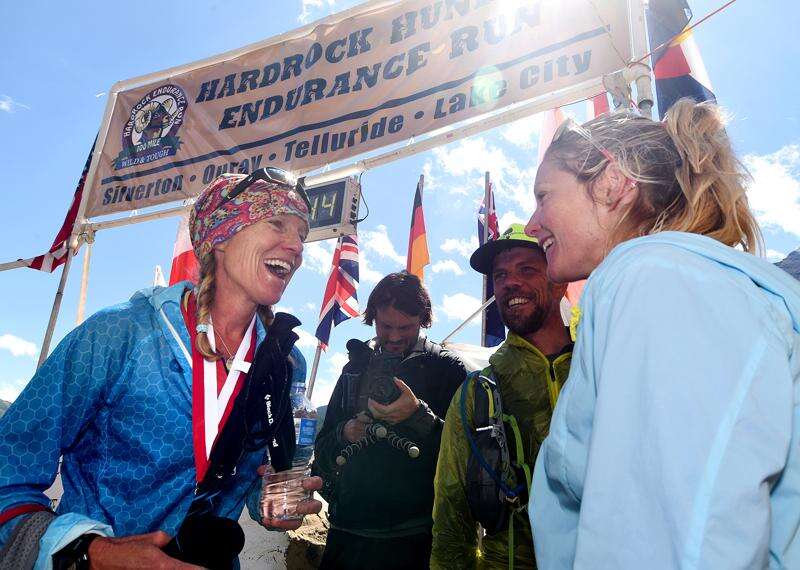 SILVERTON – Anna Frost was fatigued and ready to give up and go to bed when Darcy Piceu passed her in the middle of the night. If she wasn't leading the race, and if it wasn't for the support of her pacers, she might have.
"I had a go at it, and then things turned to custard pretty much just outside of Telluride," said Frost, who led three-time defending champion Darcy Piceu by 20 minutes the majority of Friday afternoon. "First my head went, then my body went."
But Frost shook off all of her ailments to finish the Hardrock Hundred Endurance Run, and she found her way past Piceu in the Saturday morning hours to finish the 100-mile ultramarathon in 28 hours, 22 minutes, 50 seconds.
But, when she laid down at Chapman Gulch after Telluride with more than 80 miles completed, Frost had doubts her body could take any more.
"I didn't want to play the game. I sat down on the road quite a lot," the 33-year-old from New Zealand said. "Thanks to my pacers and my crew and my mom and dad being here. They were a big help to get me through."
On the trail leading up to Oscar's Pass, Frost hit an even bigger wall and wanted to take a nap right in the middle of a snowfield.
"Feet in the air, under a blanket. On the way to Oscar's, I got really cold and miserable and tried to go to sleep. Never had that before, my eyes wouldn't open," she said. "I told my pacer, 'Just let me sleep for a minute or two,' and he's like, 'You'll die of hypothermia.'"
Soon after, Piceu passed Frost and looked poised to win a fourth consecutive Hardrock 100 women's title. Piceu claimed a 20-minute lead of her own and looked strong enough to complete the race that includes 33,992 feet of climbing – and matching descent – and averages 11,017 feet of elevation.
"Darcy passed me, and we had a hug on a snowfield and congratulated each other for what we had done so far, and then she just took off," Frost said.
But Frost picked herself up and continued forward, and when she approached Grant Swamp Pass around daylight Saturday, she saw Piceu out in front of her.
Frost dug deep for every ounce of energy after spotting Piceu ahead, and she set an incredible pace late in the race to pass Piceu and re-establish a 20-minute lead of her own.
"I heard you took a nap; I thought I had some time," Piceu said to Frost at the finish line. "I looked back, and you were right there."
"Coming to Grant Swamp at sunrise, we saw them, and I said, 'Why not, let's have a go," Frost said. "What do you have to lose? You're already miserable anyway. She hit a low pitch, and I hit a high pitch, and I really nailed my legs to get in here before her."
Piceu came in 25 minutes after Frost in 28:57:09 but was happy to beat her personal goal of 29 hours.
The 40-year-old from Boulder bested Hardrock legend Diana Finkel in each of the previous three races, but this year it was Frost's turn to take down Piceu, who has become an icon of the sport in her own right.
"I'm proud and privileged to have raced with her and to have taken the win from her," Frost said. "She will always be a huge inspiration and role model for me as a runner, especially at Hardrock. There's no other woman that can nail this course like she can. Huge privilege to be part of her gang now."
jlivingston@durangoherald.com