Demons handed first, second losses of season in doubleheader
One win in a doubleheader Saturday at Fruita Monument would have earned the Durango High School baseball team its first league championship since 2012. The host Wildcats spoiled the party.
Class 5A Fruita entered the contest one game behind the Class 4A Demons in the 5A/4A Southwestern League standings. Fruita (11-4, 7-1 SWL) secured wins of 8-4 and 11-5 on Saturday to secure a sixth consecutive championship and send the third-ranked Demons (13-2, 6-2 SWL) to their first two losses of the season.
"We learned a lot of lessons today, but the kids were real positive afterwards," DHS head coach Rob Coddington said. "We already have our sights set on this week, working our way through the last game with Cortez and getting ourselves ready for the playoffs."
Everything seemed to go against the Demons on Saturday.
Game times were suddenly pushed up late in the week to change the Demons' travel plans. Originally slated for a noon start for Game 1, first pitch was held at 10 a.m. at Canyon View Park in Grand Junction – a nearly 270-mile trip for DHS. Coddington said he didn't feel it was a factor in the outcome of the games.
DHS Game 1 starting pitcher Gage Mestas, also the team's leadoff hitter and shortstop when not pitching, was removed from Game 1 by the umpires in the sixth inning. While he wasn't officially ejected, meaning he could still play in Game 2, he was restricted to the team dugout area for the remainder of Game 1. Coddington said he never received a clear explanation for why Mestas was punished, though it was believed to be for "spitting."
Mestas pitched five innings in the 8-4 loss in Game 1. He allowed seven runs – five earned – on seven hits and three walks. He struck out seven.
"As always, he battled. Fruita just played well today and they came out swinging," Coddington said. "I am still not real clear on why he was restricted to the bench. I need to look into it further. I was unclear on the explanation."
DHS ran into Fruita Monument senior ace pitcher Jacob Weaver in Game 1. Weaver improved his season record to 5-1, as he allowed two earned runs on six hits and four walks. He struck out seven in the complete-game effort. His season earned-run average stands at an astounding 0.74.
At the plate for DHS in Game 1, Cal Walsh was 2-for-4 with a run batted in and a run scored. Mestas also was 2-for-3 with a triple and two runs scored.
Jack Dere had a big game at the plate for the Wildcats, as he was 3-for-4 with a double, three RBIs and two runs scored. Dylan Noah also drove in two runs on a 1-for-4 showing at the plate, while Cort McDaniel was 2-for-3 with a double, an RBI and three runs scored.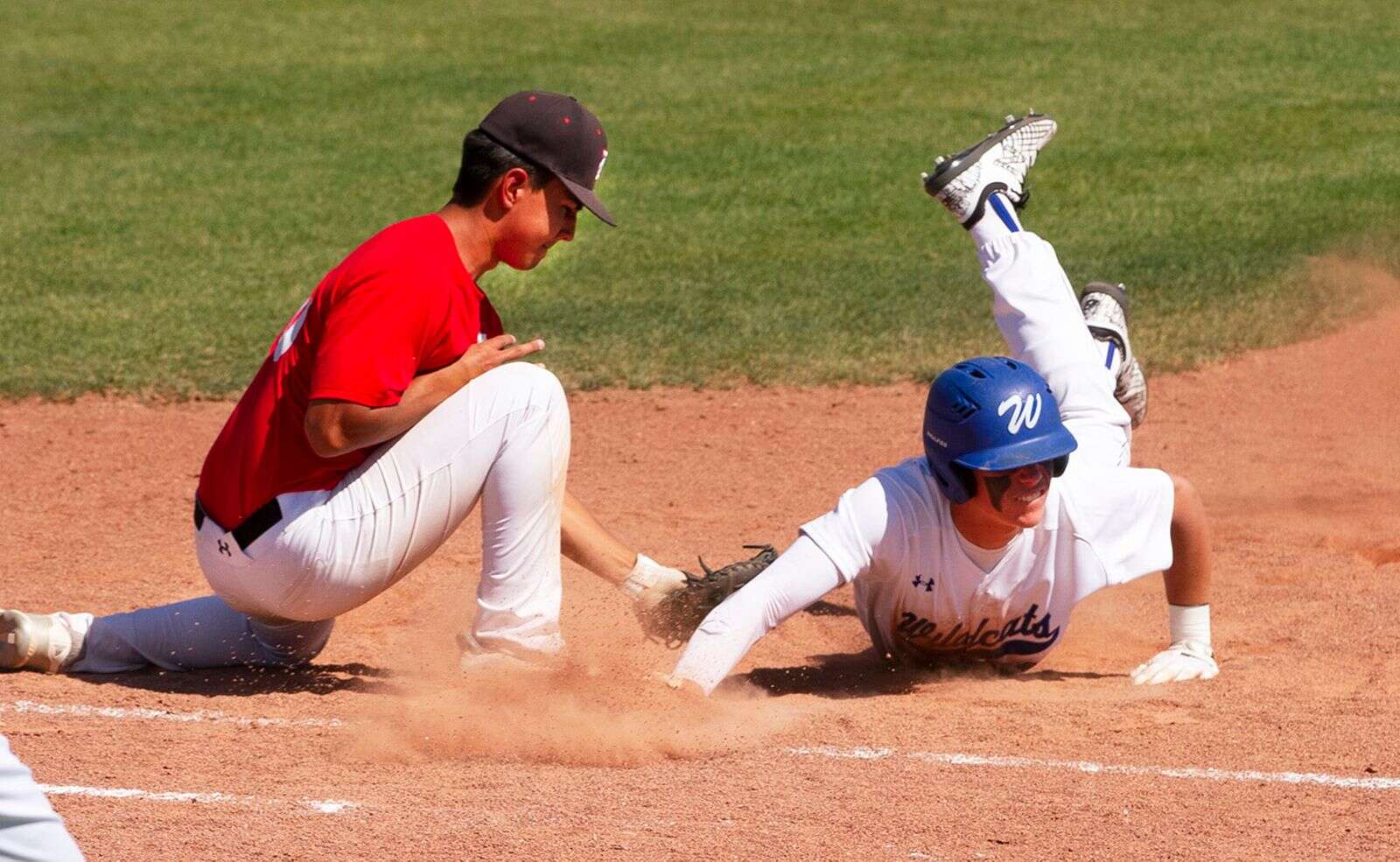 DHS was as close as 2-1 after the top of the third inning, but the Wildcats scored three times in the bottom half of the third to extend the lead to a comfortable 5-1.
In Game 2 the Wildcats jumped on DHS starting pitcher Niko Mestas early with four runs in the first, one in the second, two in the third and four more in the fourth.
Fruita Monument tallied 18 hits in the win, as Weaver was 2-for-5 with a double and four RBIs, and Joel Lively went 2-for-4 with a triple, two RBIs and two runs scored. McDaniel added another triple, as he went 2-for-3 with an RBI and a run.
Niko Mestas pitched four innings, giving up the 11 runs – 10 earned – on 17 hits and one walk. He struck out one.
"Niko battled, as always, and I was real proud of our guys for never laying down and battling to the end," Coddington said. "Even the last ball we hit in the game by Noah Pritchard was really well hit and would have scored two, but their outfielder just made a really nice play."
Walsh pitched the last three innings for DHS. He didn't allow a run, as he struck out four, walked one and gave up only one hit.
Kade Bessert was the winning pitcher for Fruita in Game 2. He went five innings and allowed five runs with three earned on nine hits and a walk. He struck out three. Andrew Jordan closed the game and allowed three hits in two innings.
Elias Fiddler had a double as part of a 2-for-4 game at the plate. He drove in two runs and scored twice. Also for DHS in Game 2, Gage Mestas had another 2-for-4 game with two runs scored. Jordan Stanley was 1-for-4 with an RBI after he had walked twice in the opener. Chase Robertson also went 3-for-3 with two RBIs. Walsh came through with another 2-for-4 game with a run scored, and Niko Mestas was 2-for-4 in support of his pitching effort.
"Fruita was good. They were hungry and played hard and had really good pitchers," Coddington said. "We had a few miscues today, but it was never for lack of effort. It was one of those days in baseball."
Though a league title is no longer in sight, DHS will turn its attention quickly to the upcoming regional tournament slated to start as early as June 14. First, DHS will visit Montezuma-Cortez to end the regular season Tuesday in a non-league showdown.
DHS still expects to host a regional tournament when brackets are announced June 13.
"We still feel good. We had a lot of good discussion after the game, no excuses," Coddington said. "It's baseball, and a lot of things learned from today. We're ready to get back after it Monday."
jlivingston@durangoherald.com