Broncos have put up 63 points in two games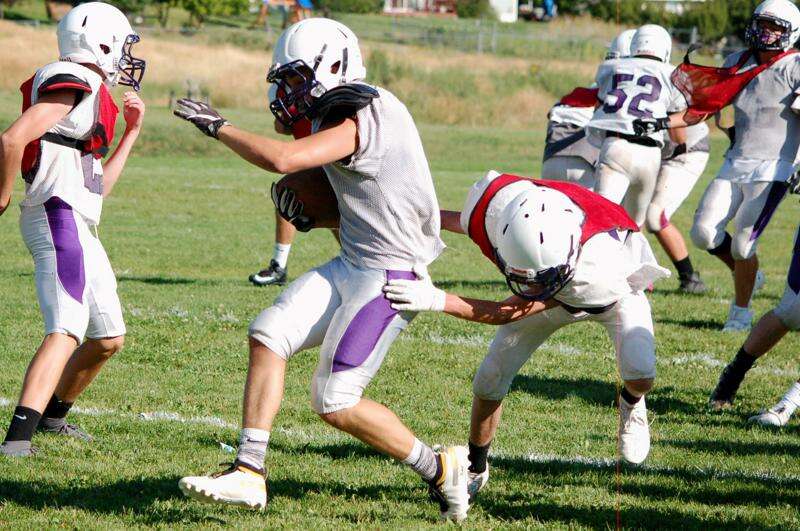 The season-opening opponent for Bayfield High School has two games under its belt and has put up sizable numbers ahead of Friday's 7 p.m. kickoff at Wolverine Country Stadium in Bayfield.
The San Juan High School Broncos (1-1) have put up 63 points in their opening two games. They will be ready to test Bayfield's new-look defense and the Wolverines' 24-game home winning streak.
The Broncos, based in Blanding, Utah, are led by senior quarterback Shaw Nielson, who has completed 49-of-89 passes (55.1%) for 451 yards and six touchdowns, along with six interceptions. He is the team's leading rusher with 193 yards and two more touchdowns on 32 carries. Last week against Summit Academy, he had 18 carries for 149 yards.
Porter Evans is the team's leading wide receiver with three touchdowns as part of 20 receptions for 161 yards, while Randall Flavel has 11 receptions for 134 yards and has scored twice. Ryan Imlay has the team's other receiving touchdown and has caught eight balls for 71 yards.
Running back Kian Conway has 50 carries for 190 yards. Last week, he took 34 carries for 132 yards. San Juan has averaged 200.5 rushing yards per game.
If the Wolverines are to figure out San Juan's talented offense, it will have to rely on seniors John Foutz, Kalon Mead, James Mottin and Ethan Morris to get stops. Last season, Bayfield held its opponents to 14 points or less eight times, which included a 27-0 shutout over the Broncos in Week 2.
On defense, the Broncos are led by Ladd Ivins, who has made 22 total tackles in two games. Flavel leads the team in tackles for a loss with four, while Imlay, Conway and Landon Black have three. The Broncos have done a good job of getting to the quarterback, as Imlay and Flavel have three sacks each, while the team has combined for 15 quarterback hurries. The defense has forced nine total turnovers, with four interceptions and five fumble recoveries. Ivins leads the team in interceptions with two, his brother, Porter, has one interception, as does Nielson. Flavel has recovered two fumbles, while three other players have each recovered one. The special teams unit has also shown its prowess, as it has blocked one punt.
The Wolverines have home-field advantage on their side, as they conceded only 31 points last season inside Wolverine Country Stadium. Since the stadium opened in 2000, BHS is 70-34, and it is 59-6 at home since 2007.
bploen@ durangoherald.com
Who:
San Juan (1-1) at Bayfield (0-0)
What:
High School football
When:
7 p.m. Friday
Where:
Wolverine Country Stadium, Bayfield
Listen Live:
KPTE 92.9 FM
Twitter:
@BrendanPloen