Republican primary opponents offered voters a glimpse of their different approaches to legislating
IGNACIO – Sparks flew during Thursday's debate between state Sen. Don Coram and U.S. Rep. Lauren Boebert as they jousted ahead of next month's Republican primary.
The two met Thursday morning at the Sky Ute Casino Resort in Ignacio in a crowded event center filled with about 150 people split down the middle, literally; Coram supporters on left and Boebert supporters on the right.
It was the first of two debates scheduled for the candidates.
Moderated by Dave Woodruff, general manager for El Moro Tavern and the Durango chapter president for the Colorado Restaurant Association, the two began by discussing gun control in the wake of the Uvalde, Texas, school shooting that left 21 people dead earlier this week before moving to more local topics such as public land management, wildfires, worker shortages and water.
In the strictly cast event with no signs and no cheering after questions, Boebert supporters broke out multiple times in applause while Coram supporters laughed at statements the congresswoman made, prompting Boebert at one point to shout "order."
The debate was relatively civil at the beginning with both candidates answering Woodruff's questions and trading barbs, but it quickly devolved into attacks during the approximately 10 minutes of cross examination when each candidate was allowed to ask a question of the other and then respond.
Boebert's first attempt was less a question than a comment.
"Don, I want you to hear this directly from me," she said. "The information proposed about you at corruptcoram.com is absolutely facts, facts, facts. You are corrupt sir. You use your political office to pass legislation to line your own pockets."
When Woodruff interjected and asked the Rifle Republican to ask a question, she said: "Any comments?"
Throughout her primary campaign, Boebert has taken to calling her opponent "Corrupt Coram," alleging that he used his time in the Colorado Legislature to pass legislation that would benefit his hemp operation and citing the website "corruptcoram.com" and an editorial by The Gazette in Colorado Springs.
Boebert's campaign runs corruptcoram.com, and The Gazette editorial board endorsed Boebert in the 2020 election.
Coram, a Montrose Republican, returned the jab, noting the Federal Election Commission's investigation into Boebert's personal use of campaign funds and her failure to disclose her husband's income from the energy industry.
"You are absolutely false, and if you want to talk about corruption, let's talk about you," he said.
During the debate, Coram positioned himself as a moderate who could work across the aisle. He relied heavily on his track record as a state representative and a senator in arguing for voters' support.
Boebert also touted her work in the U.S. House over the last year and a half, often answering Woodruff's question by highlighting legislation she has introduced.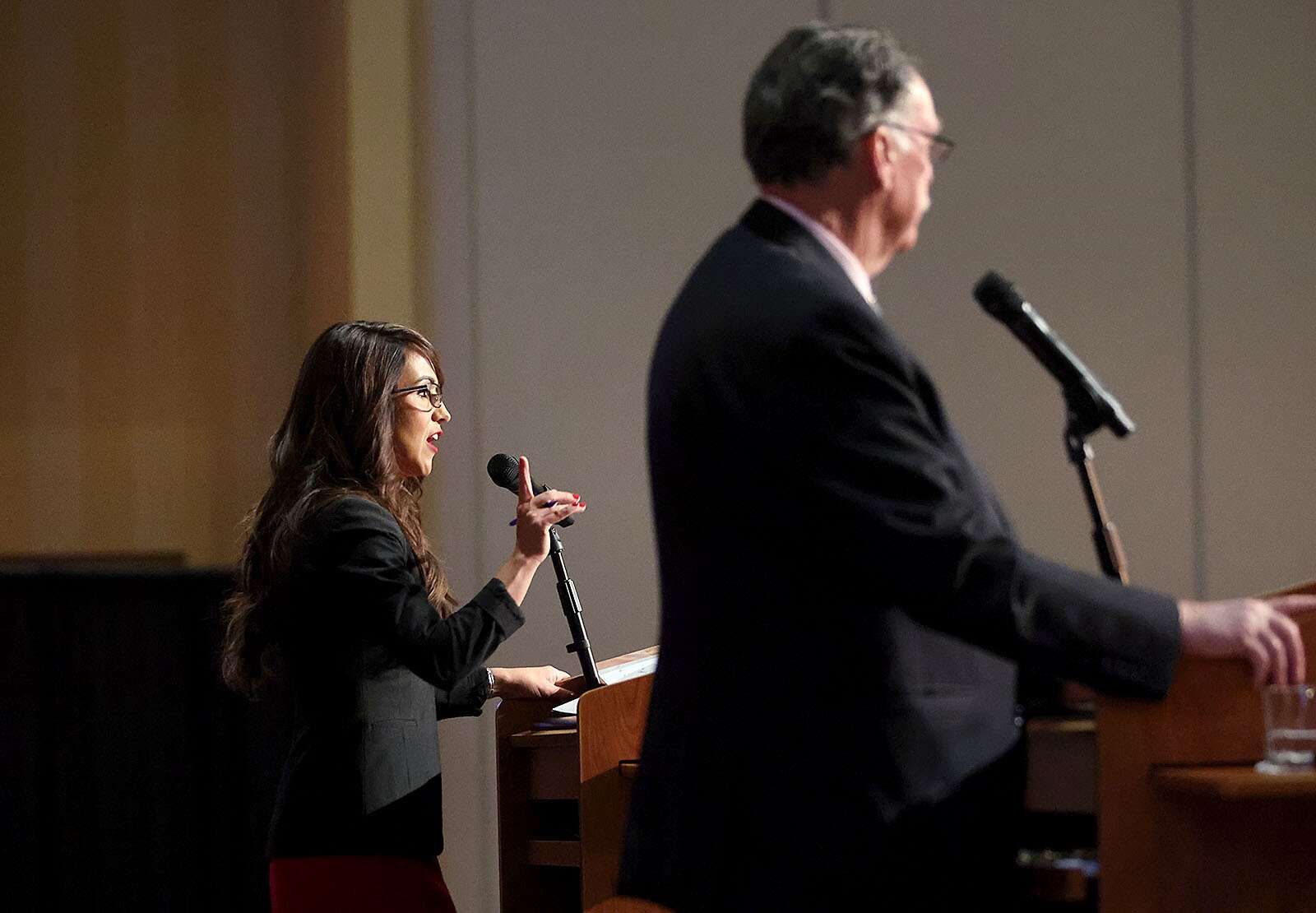 Coram finished his opening statement by challenging Boebert's work, comparing her time in Congress to a football player who throws many passes but completes few.
"You are introducing, introducing, introducing, but passing is the word," he said.
Both candidates hit on conservative policies, including border security, stopping fentanyl, reining in spending and a limited role for the federal government. However, Boebert attacked Coram's Republican credentials throughout the debate.
She questioned Coram's 2017 vote to fund the Healthy Kids Colorado Survey, a voluntary and anonymous survey that asks middle and high schoolers about topics including sexual activity, drug and alcohol use, and suicide.
Coram was one of two Republicans who voted to renew funding for the survey, which in recent years has become a target of conservatives.
Boebert also targeted Coram's vote for a 2019 bill that made less than 4 grams of fentanyl a misdemeanor, a vote Coram said he regretted.
"I certainly stand by my votes and don't regret them because I read the bills and understand them," Boebert said.
Though the candidates' differed in their approaches to the debate – Boebert fiery and charismatic and Coram calm and reasoned – the starkest difference between the two was in their responses to Woodruff's question about election integrity.
Toeing the line of former President Donald Trump's false election claims, Boebert said hundreds of thousands of votes were cast illegally and that the "Fauci-funded China virus" (coronavirus) interfered with the 2020 election, a statement that was met with guffaws from Coram's supporters.
Coram did not reject that voter fraud may have occurred during the last election, but he said there was no evidence to support Boebert's claims, later telling reporters that every election has some degree of voter fraud but that it does not make a difference in the outcome.
"I've heard all these talks about all this evidence, but I've never seen it in a court of law," Coram said during the debate.
The responses from both candidates oscillated between addressing local and national issues as they sought to appeal to the Republican and unaffiliated voters in Colorado's 3rd Congressional District who will decide the June 28 Republican primary.
The 3rd Congressional District covers the Western Slope of Colorado and extends to Pueblo County in the southern half of the state.
Boebert often approached her responses through a national lens, assailing federal policies for Colorado's workforce shortages and depicting immigration into a local issue.
"Every state is a border state when you have 3 million illegal aliens invading our country," she said.
When asked by Woodruff after she discussed her vocal opposition to pandemic shutdowns why she voted no on the Restaurant Revitalization Fund Replenishment Act, which would put $42 billion toward supporting restaurants and small businesses affected by the pandemic, Boebert put her platform succinctly.
"I would have to look at that bill specifically, but I'm sure that there was something with too much spending, not the proper role of government or not going through the proper order," she said.
Coram reiterated his background in agriculture and his time representing the Western Slope throughout the debate. He attempted to keep his answers focused on local issues relevant to the voters of the 3rd Congressional District, portraying Boebert as out of touch with the issues voters in the district face.
During the cross examination, Coram asked Boebert about her stance on water as a public trust.
Public trust doctrine holds that water can never be privately controlled, a departure from Colorado's system of prior appropriation, which essentially allows water to be possessed and sold by private individuals.
Boebert dodged the question, leading Coram to ask it again.
"I think that's a great answer, but it doesn't answer the question," Coram said.
The debate began awkwardly when Boebert met Coram on stage and Coram questioned why his opponent had notes, saying he believed the candidates' campaigns had agreed to not allow them.
Boebert, who referred to her notes throughout the debate, replied that the campaigns had agreed to allow paper.
Speaking to reporters after the debate, Coram said he and his campaign felt good about the race, noting that unaffiliated voters, a growing subset of the district's voters, will be able to cast a ballot in the primary. Boebert did not speak with reporters, instead engaging with her supporters after the event.
A second debate between the two Republican candidates will be held in Pueblo ahead of the June primary, but a date and time has yet to be determined.
Both candidates professed Thursday to offer voters their own approach to legislating.
"I've been very effective in getting things done because I know how to work together and create coalitions," Coram said. "We have a nation in D.C. that is so divided that they couldn't agree on buying ice cream and that needs to change."
Boebert made a different pitch.
"I ran as a conservative and I won as a conservative. I legislate as a conservative because I am one, and I will win this primary because I'm the only conservative in this race," she said.
ahannon@durangoherald.com