Congressmen join governor to do some public relations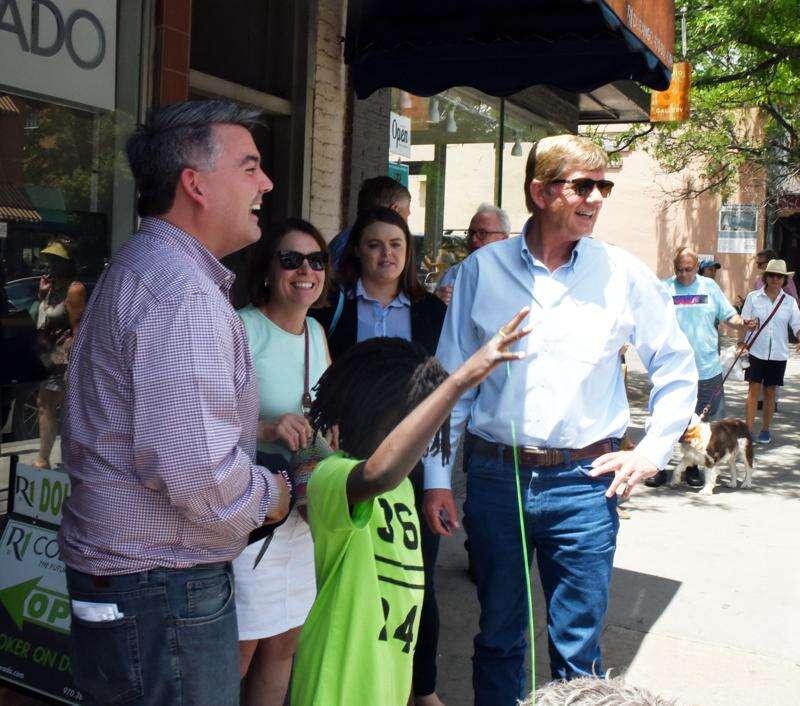 Local government and business officials pleaded with Gov. John Hickenlooper and Colorado congressmen Friday to do everything they can to help secure emergency funds to help ailing businesses and people who have lost their jobs since the 416 Fire broke out two weeks ago.
Hickenlooper, along with Sens. Michael Bennet and Cory Gardner and Rep. Scott Tipton, visited Durango to hear about the economic impacts of the fire here and in Silverton.
The fire had burned 32,959 acres as of Friday morning. The Durango & Silverton Narrow Gauge Railroad has suspended service, the entire San Juan National Forest has closed during peak tourist season and other government agencies have cut off public access to open spaces – all to prevent another wildfire during an exceptional drought.
"I've been a small-business guy, so I understand how interconnected you are," Hickenlooper said to a room of about 50 people. "It's a tide that's not rising anymore. We'll do everything we can, I promise."
Scott Fetchenheir, a San Juan County commissioner, said business at his store, Fetch's Mining & Mercantile on Greene Street, is down 50 to 70 percent from a normal year.
Businesses on Blair Street, off the main drag, have reported business is down at least 90 percent or more, he said.
Durango & Silverton are open for business! Thank you @SenBennetCO, @SenCoryGardner, @RepTipton, & @BarbaraforCO for joining us on a visit to beautiful downtown Durango! A big thank you goes out to our firefighters for their amazing effort! #COFire #COSpirit #416Fire pic.twitter.com/dbW1Vr8uVx

— John W. Hickenlooper (@GovofCO) June 15, 2018
Silverton businesses have not only had to deal with the shutting down of the train, which brings thousands of visitors, but also the closure of U.S. Highway 550, one of only two roads that lead to the town about 50 miles north of Durango.
"A fire is bipartisan," Fetchenheir said. "We're all in this together."
Some Silverton businesses and backcountry trails are open, but there has been a "tsunami" of cancellations because of the fire, said DeAnne Gallegos, director of the Silverton Area Chamber of Commerce.
"We came out of the winter weak, and we needed this summer," Gallegos said. "But we do not have a summer. This is our reality."
Paul Eckenrode, Vallecito Lake Chamber of Commerce president, said Vallecito Lake has 16 boats available for rent, and during a normal June, every boat would be rented out. On Friday, he said only two rental boats were out on the lake. Eckenrode, too, stressed Vallecito Lake and its handful of restaurants and recreational opportunities are open.
In Durango today surveying the #416fire. Heard from the Incident Commander, Todd Pechota. Thanks to our firefighters for keeping Coloradans safe as they work to manage the fire. pic.twitter.com/vM6Q1yOPxQ

— Michael Bennet (@SenBennetCO) June 15, 2018
La Plata County Manager Joanne Spina said the entire region is struggling financially.
"The economic impacts of this go far beyond the tourism industry," she said.
Roger Zalneraitis, executive director of the La Plata Economic Development Alliance, said he has been researching options, such as emergency funding, tax credits and grants to help alleviate the financial toll.
He said businesses and employees need help through funding and loan programs that won't put them in a place where they build debt.
"These businesses need money that won't compound and cripple them years down the road," he said. "There's a psychology that goes with this that goes beyond tourism. It's hard to think of a business not affected right now."
Bennet, Gardner and Tipton all pledged their support on the federal level. Along with Hickenlooper, the elected officials said they would look for ways to help.
"What we can do to be helpful, you can count on," Tipton said.
After the meeting, an entourage led by Hickenlooper, Bennet, Gardner and Tipton walked down Durango's Main Avenue, making stops at local favorites Cream Bean Berry and Maria's Bookshop, in an effort to send the message Southwest Colorado is open for business.
jromeo@durangoherald.com