'Maple & Vine' makes the case good ol' days not always so good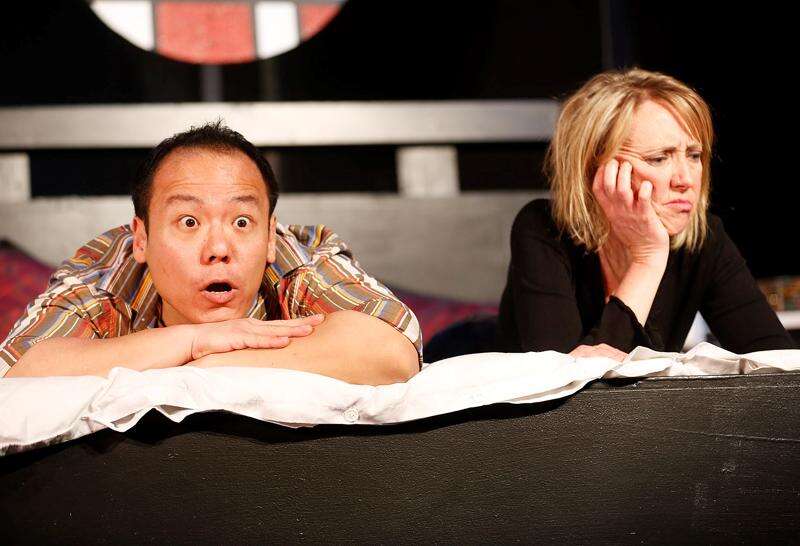 If the hectic pace of modern society has ever made you long for the simpler times of days gone by, "Maple and Vine" will make you think again and appreciate the here and now.
Jordan Harrison's critically acclaimed 2012 off-Broadway play is the latest collaboration between Merely Players and the Durango Arts Center. It's a partnership that is win-win in every sense of the cliché: The DAC gets a first-class production that should fill the theater for two consecutive weekends, and Merely Players, the husband-and-wife production company of Mona Wood-Patterson and Charles Ford, gets a rent-free venue to stage one of the more bold and progressive plays that local audiences will get to see this year.
"Maple and Vine" time-travels about 60 years but never really leaves the present day. Sounds confusing, but it's not.
The play opens in modern-day Manhattan where Katha (Sarah Syverson) and Ryu (pronounced "you," played by visiting actor Wayne Lee) are bemoaning the stresses and impersonal society of the 21st century. He's a Japanese-American plastic surgeon, and she's a white lady, corporate executive drone type.
A mysterious but straitlaced man named Dean (Geoff Johnson) enters and informs Katha that a world exists that will allow the couple to live in a community where it's perpetually 1955, a "simpler time." It's a compound built somewhere in the Midwest with its own deflated economy and society authentic in every way, from the clothing to the furnishings to the food. And especially the roles of husband and wife. A real-life "Ozzie & Harriet," if you will. Dean and his wife, Ellen (Caitlin Cannon), are the ambassadors for the Society of Dynamic Obsolescence, or SDO.
Despite a few harbingers of trouble (the couple will have to live in the "North" of the SDO above the Mason-Dixon line because of their "mixed-race" marriage), Katha and Ryu agree to try out the SDO on a six-month trial basis.
Ford's set and JoAnn Nevils' wardrobe magically transform us back to 1955 with a living room and kitchen reminiscent of "Leave it to Beaver," but in full color. "The 1950s were not in black-and-white," as Johnson's Dean reminds us early in the play.
So brings us to the end of Act I, and that's where my plot synopsis narrative ends lest I spoil the jaw-dropping impact of Act II, which takes place entirely within the confines of the SDO. The introduction of Ryu's co-worker Roger (Ben Mattson) changes the dynamic of the play so abruptly and completely that even a hint would ruin things for the first-time viewer.
"I absolutely love this script and my cast," Wood-Patterson said a day before tonight's opening. "I always hear people saying they wish they could go back to another simpler time. But then, when you really think about it, you see what a massive trade-off that would be with all of the cultural norms of those earlier times which seem unfathomable to us now."
In casting "Maple and Vine," the production team ran into a problem unique to Durango, and one that proves we're not as culturally diverse here as we may sometimes think. The vital role of Ryu requires an Asian-American man to play it, but such a demographic is in short supply here in La Plata County. Wood-Patterson and DAC Theater Director Theresa Carson had to cast a wide net – like the Internet – to find Lee, who is a San Francisco-based professional Actors' Equity performer. It cost a bit more, but Lee's presence and performance makes it worth the price as well as the price of admission.
I don't usually throw in commercial plugs, but the play couldn't have happened without Lee, and Jennie and Luke Albert, owners of the Best Western Mountain Shadows hotel, are putting Lee up for the run and should be acknowledged for doing so.
The rest of the small cast is no less talented, and there's truly not a weak link in the five-member chain. I've gotten in the habit of expecting to write rave reviews for just about anything in which Wood-Patterson and Ford are involved, but quality begets quality, and I'm happy to do so again. "Maple and Vine" is just the latest opportunity – five of them, to be exact – for a Durango audience to stay on the cutting edge of modern theater, and it's one that should, again, not be missed.
ted@durangoherald.com
The Durango Arts Center and Merely Players present "Maple & Vine" by Jordan Harrison, directed by Mona Wood-Patterson. Showtimes are 7:30 p.m. today, Saturday, Thursday and March 21 and 22 at the DAC, 802 East Second Ave.
Tickets cost $22, available at the box office, by phone at 259-2606 or online at www.durangoarts.org.
After each performance, the audience is invited to stay for "After Words," a talk-back series with the cast and director.
This is an adult drama with strong language and sexual references and is not appropriate for children.