Governor breaks ground on affordable housing project in Durango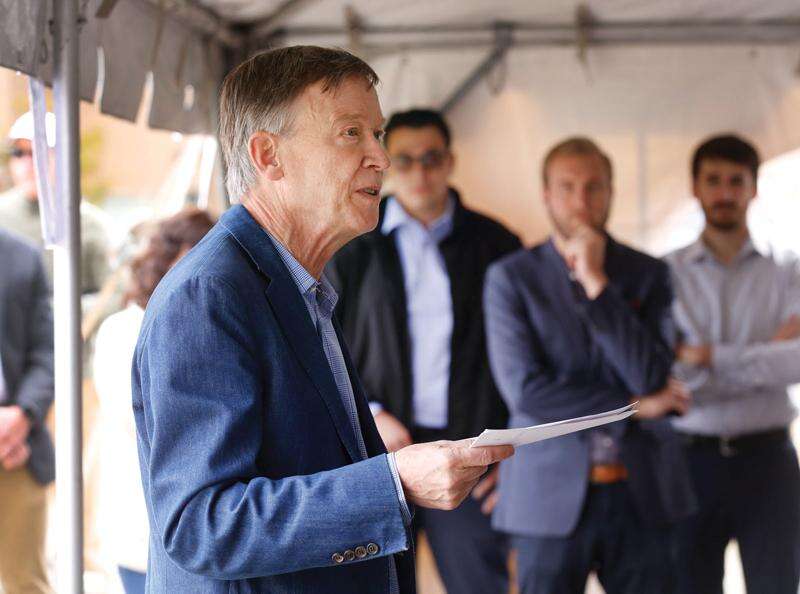 Businesses, nonprofits and government will have to work together to meet the need for housing in Colorado, Gov. John Hickenlooper said Thursday in north Durango.
"No one segment is going to be the solution," he said.
The governor visited Durango to celebrate the groundbreaking of a 36-unit affordable housing project on 32nd Street. The housing project is the second phase of the Lumien Apartment complex. Construction of the project will start this fall and is expected to be completed in 2020, said Bob Munroe, a partner with Denver-based Solvera, the developer of the project.
The project is one of three housing projects in Durango to receive tax-credit funding in the last five years, said Steve Johnson, director of community development with the Colorado Housing and Finance Authority.
Phase 2 of Lumien is unique because it will provide nine units for permanent supportive housing for those experiencing homelessness and disabilities.
Axis Health System will provide services to those residents, and the building will have dedicated space for residents to meet with health care providers, said Stephanie Allred, senior clinical director of the health system.
Residents will be selected to live in the permanent supportive housing based on factors such as how long and how frequently they have been homeless and their health conditions, Allred said.
In Durango and across the state, the high cost of housing is putting financial pressure on residents.
Statewide, 50 percent of the workforce is paying more than 30 percent of their income on housing costs, which is a financial burden, Hickenlooper said. About 25 percent of the workforce spends 40 to 50 percent of their income on housing, he said.
When residents are spending a high percentage of their income on housing, it puts them at a higher risk of homelessness, he said.
Providing housing for the homeless can help save public money because the state can spend about $40,000 each year on every chronically homeless person. For example, $28,000 of public money can be spent on a single emergency room visit, he said.
Providing housing and health care can cut the amount spent on a homeless resident to $15,000 or $20,000 per year, he said. It can also provide that individual the opportunity to become employed and make lasting relationships, he said.
"You are reclaiming a life," he said.
Despite the widespread housing shortage, his message concerning the housing was positive.
"It seems like we are so far behind, we'll never catch up; we will catch up," he said.
Wages have lagged behind housing costs in Colorado, but as wages rise, it will ease some of the financial pressure workers face in affording housing, he said.
County and city governments can also play a role by cutting permitting and other associated costs for housing, he said. Architects and others in the private sector can also look to cut costs, he said.
In January, the city of Durango approved a plan to encourage affordable housing and help meet the city's need for an additional 185 to 260 homes each year.
The plan outlines market-friendly housing regulations, prioritizing density. It also sets a goal for the city to have 1,000 affordable housing units by 2040.
The Colorado Housing and Finance Authority can approve only about 12 housing projects a year, Johnson said. During Hickenlooper's tenure, the authority funded 12,800 affordable housing units across the state through tax credits, he said.
This fall Volunteers of America received state tax-credit funding for senior housing in Three Springs, he said.
Housing Solutions for the Southwest also plans to submit an application for tax-credit funding to build about 40 units of permanent supportive housing that would house homeless residents in 2019, said Elizabeth Salkind, executive director of the nonprofit.
Councilor Dick White said the demand for housing in Durango is daunting, but projects already under construction will help meet the need. For example, a 200-unit apartment complex is under construction between Walmart and Home Depot.
"There truly are an amazing number of infill projects," he said.
mshinn@durangoherald.com