Mobile Earth and Space Observatory lands in Durango for first time since pandemic
Eighth grade students in Miller Middle School teacher Sarah Margoles' space science class explored the properties of light and its importance to astronomers who use telescopes to scour the universe for phenomenon such as exoplanets, foreign stars and nebulae.
Astrophysicists Dimitri Klebe and Ana Bucki-Lopez with the Mobile Earth and Space Observatory, an environmental and space laboratory on wheels, led the course this week.
Students experimented with light boxes where light was shined through pinholes against backgrounds at different distances to learn how light expands. They also observed how light interacts with different mediums, such as water and glass.
Klebe, who holds a doctorate in astrophysics, said one of MESO's visions is to provide students in rural areas lacking the right science facilities the opportunity to engage in hands-on space science.
"We think really hard about our activities in terms of making sure that they're hands-on," he said. "The idea is that we want to give them a sense of what it is to be a scientist."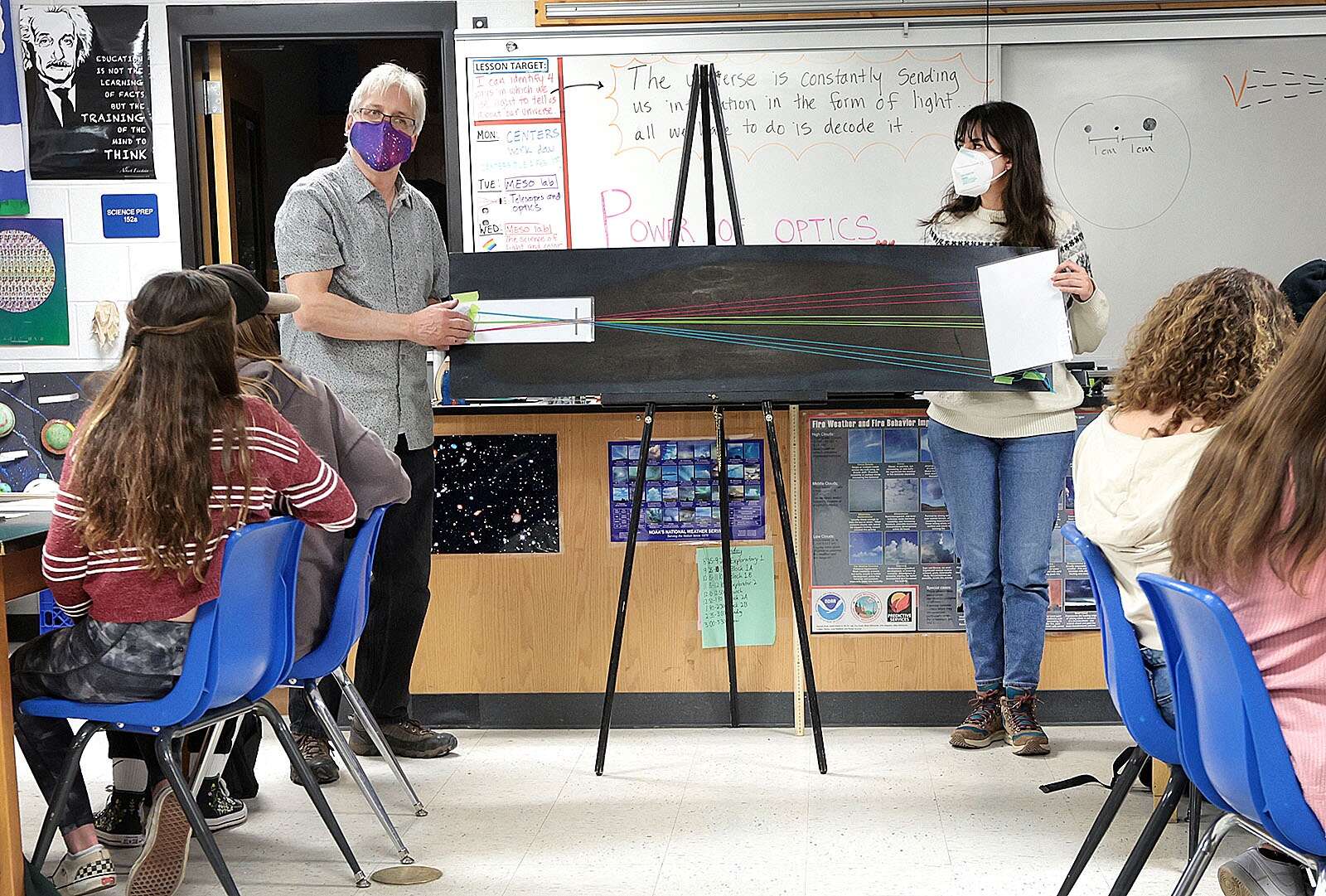 Aspects considered for hands-on science learning include instrumentation and activities that encourage students to think like scientists, which Klebe said he thinks is important in the modern age "where we need to make some careful decisions as we move forward on this planet."
Bucki-Lopez said the most important part of her presence in schools is for students to see a Hispanic woman in the field of science.
"I never had that growing up and it was hard for me to envision myself in this space," she said. "But I nudged my way in, and now I want kids to have that."
She said she wants it to be normal for students to see Hispanic and Spanish-speaking women in science fields. She wants students to be able to explain what they learned in school to their Spanish-speaking families free of barriers imposed by scientific, technical terms used only in English.
On Tuesday, students learned about what Klebe called "the power of optics." The lesson covered how astrophysicists collect light that allows their telescopes to see vast distances. He said the students were enthusiastic and attentive.
Klebe said in the era of COVID-19, it is important for students to explore the sciences, especially because things have been shut down so much. The trip to Miller Middle School is MESO's first weeklong deployment since the COVID-19 outbreak.
MESO hosts day- and weeklong programs, in addition to after-school programs.
The observatory was first built for the great eclipse that occurred in 2017, Klebe said. It was sent to Sutton, Nebraska, to observe the eclipse. MESO has visited Durango, Cortez, Alamosa and Lamar in the years since, he said..
"Not only are we bringing the resources, all of us are science educators and I personally have a Ph.D. in astrophysics," he said. "Ana has a bachelor's in astrophysics, and we understand the passion of science, and it's great to pass it on to these kids."
In 2019, MESO made its first trip to Miller.
Margoles said she hopes she can book the observatory every school year.
"They are just the most phenomenal group of people," she said. "Their work, it only costs $6,000 to get them to come here for the whole week."
The MESO visit was paid for by the Miller Parent-Teacher Organization and the Durango Education Foundation.
The after-school programs are open to the entire community, all grade levels, even to students from other school districts, Margoles said.
On Wednesday, Margoles' students studied spectroscopy and diffraction.
On Thursday, they explored gravity and exoplanets, or planets that orbit a star outside of the solar system. Students also interacted with a large gravity well to explore how objects with mass affect the physical space around them.
On Friday, students will learn about image visualization.
"They are going to explore their surroundings as seen from an infrared camera," Margoles said, "and differentiate how infrared cameras collect light in contrast to how they see their surroundings, because we see visible light, not infrared."
A "Star Party" will be held from 5 to 7:30 p.m. Friday in which students of all ages can use MESO telescopes to stare into the night sky.
cburney@durangoherald.com