Construyendo Poder Retiros targets those in the food, construction and cleaning service industries
Being a Spanish speaker and raising a family on a housekeeper's salary is no easy task in Durango. That's why having a way to unwind, stay physically fit and doing it in one's native language makes life a lot easier.
Wendolyne Omaña began offering free yoga, massage and other holistic health sessions after seeing a need for therapeutic services in the Latinx community. Now, she is teaching yoga to those who want to become instructors.
Omaña founded Construyendo Poder Retiros, or "Building Power Retreats," in 2018. The Durango-area group provides Latinx families with Spanish-language yoga training and other services that help them maintain their physical, emotional and mental health.
Construyendo currently has 13 families in its yoga teacher training program. It offers twice-a-week yoga classes and massage therapy sessions as well as weekend yoga teacher training sessions in Durango, Cortez and Mancos.
Omaña said the community-based organization typically serves monolingual Spanish speakers who have two full-time jobs: Child-rearing and work in the food, construction or cleaning service industries.
Sarah Illsley, a Construyendo member and an advocate for increased language services, such as interpreter services, said Construyendo is trying to "close the gap" for people who are uninsured in order to give them access to holistic services.
Omaña added that Construyendo's services are not a substitute for medical care, and group members refer participants to doctors or appropriate medical intervention if they see a need for it.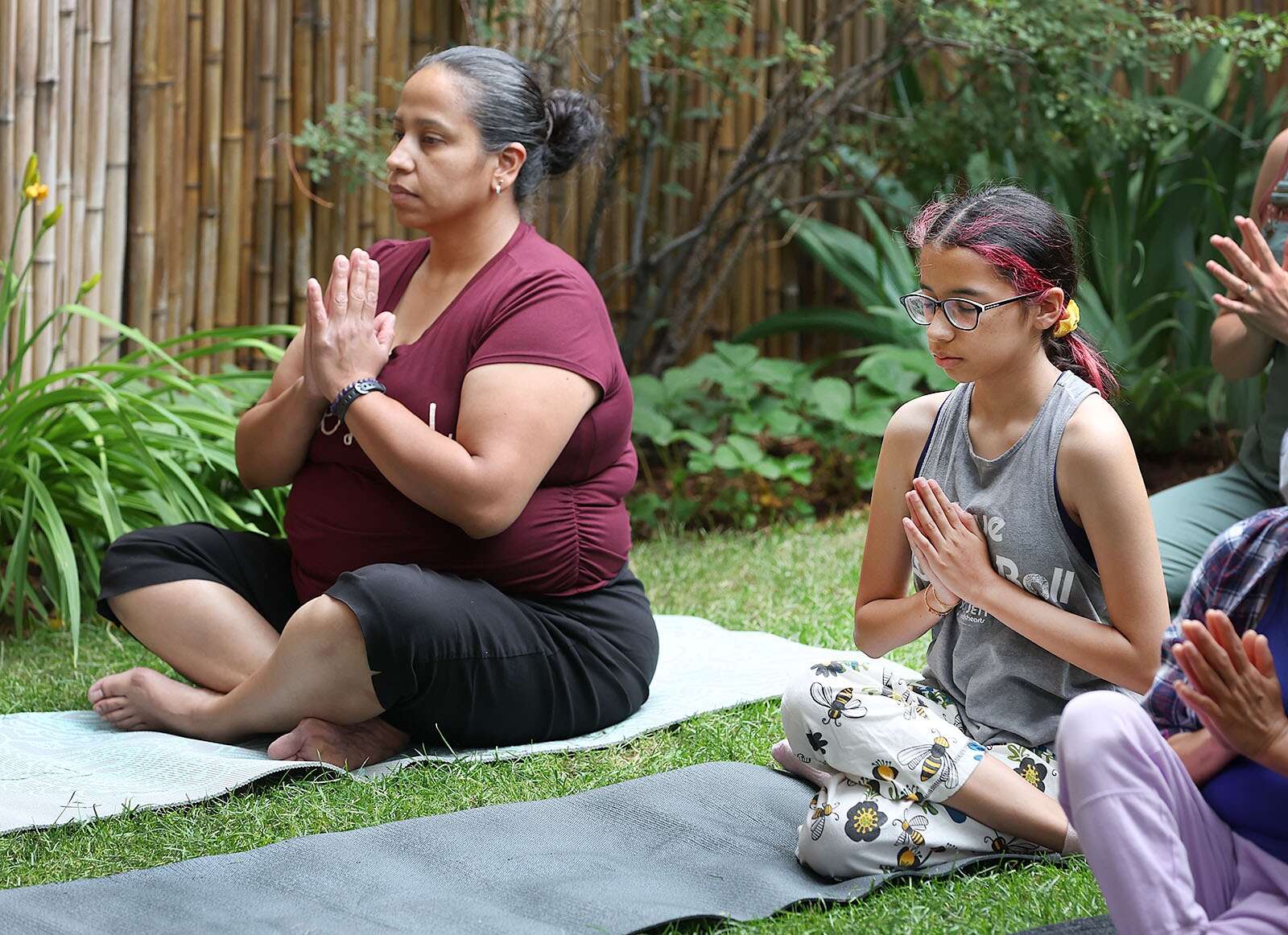 Construyendo's impacts on daily life for students
Durango resident Veronica Galvez said learning yoga and how to teach it has had a "massive" impact on her life and well-being.
The mother and full-time housekeeper has participated in Construyendo's programs for more than a year.
Katie Clancy, a Construyendo member and certified yoga instructor who aids Omaña during yoga sessions, translated for Galvez, who primarily speaks Spanish.
"As a mother with so many things to do, yoga is an exercise and relaxing," Galvez said. "... And also, in addition to relaxing, it's this understanding of the body and having permission to learn and to feel the body."
She practices yoga daily when possible. Her children have tendencies toward asthma and other throat issues, and she wants to demonstrate there are natural ways of dealing with health and loss.
"She's really grateful, really content that this is helping her on (multiple) levels," Clancy said. "And the more constant her personal yoga practice is, the more her children can mimic and learn as a self-care routine."
Galvez also appreciates Construyendo's child care service, which is provided free of charge during yoga lessons and yoga teacher training sessions.
In addition to yoga classes, Construyendo provides professional massage therapy, acupuncture, ceramics classes, sauna and hot tub access, plant identification, and herbal remedies through a clinical herbalist for people with post-traumatic-stress-disorder-induced insomnia.
Another yoga student, Maria Delgado, said she is constantly stressed about her job. She also works in housekeeping and constantly feels pain in her hands because she has arthritis. Sometimes the muscles in her hands are too weak for her to confidently hold a cup of coffee.
Construyendo's yoga, herbal medicine, massage and acupuncture services have helped Delgado over the two months she's participated, she said.
"One of the big benefits is my pain – it's gone," she said.
Classes combine aspects of Mayan culture with that of traditional Hindu yoga. The class dissuades any mention of yoga clothing and brands; the focus is on the healing benefits of yoga, not the westernized aspects of the meditative practice.
"Sometimes, yoga – as every other practice that is westernized – can be oppressive," Omaña said.
Giovanna Garcia showed up to yoga class last week wearing her work clothes. She said she didn't have time to go home and change before class.
"But I didn't want to lose the opportunity to be here and enjoy (yoga) a little bit, because it has really great benefits on my daily life," she said.
Garcia said after doing yoga for a month with Construyendo, she is getting a full night's sleep.
"In my personal experience, I was having so much trouble sleeping at night," she said. "I've been doing yoga for like a month, and it's really helping me so much."
Spanish language yoga teacher training retreat
The monthlong yoga teaching classes are held on weekends in rented spaces, often in nice, spacious homes or other private properties.
The retreats also feature ceramics courses and tie-ins to other Construyendo services such as massage therapy.
Illsley said a recent session was held in a "big, beautiful house" in Cascade – the type of house that a low-income Spanish-speaking worker might clean to make ends meet.
She said the opportunity to "spoil" themselves by practicing yoga in a comfortable, well-off environment is a reminder that quality of life can be improved.
Illsley cares for the children while parents are doing yoga or other activities. She said she tries to talk to the children about their challenges and experiences as members of the Latinx community. She wants them to recognize their value and the value of their culture.
Some of the kids struggle with bullying, she said. One girl was insecure because other kids made fun of her for not knowing English, Illsley said.
"It's really cool to be bilingual, you know?" she said. "And it's something that not everybody has."
That's something she tries to help children understand.
Latinx children are vulnerable to racism, she said. She wants to help them reconnect with their origins, their identities and find pride in being Latino.
Omaña said Construyendo is driven by a sense of community. She said participants are careful of how they take care of each other, and they are hardworking.
Construyendo was able to get off the ground in 2018 and stay afloat thanks to grants from Colorado Trust, the Women & Girls of Color Foundation in Colorado and the Colorado Health Foundation. Yoga mats and materials were donated by Inner Peace Yoga Therapy and in-kind donations from community members, Omaña said.
cburney@durangoherald.com