Front-runners explain how they plan to pay for proposals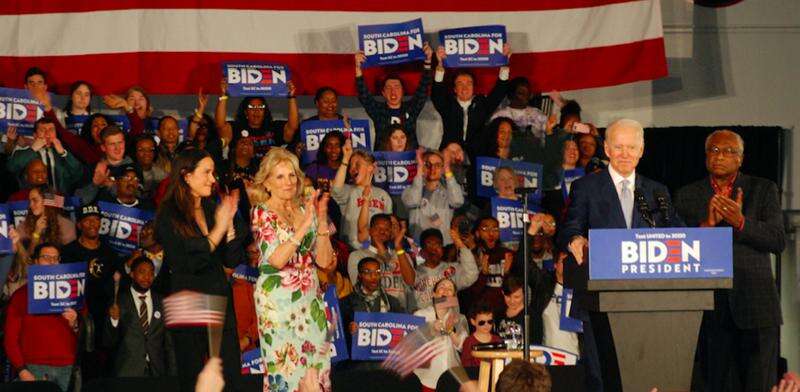 CHARLESTON, S.C. – The minute polls closed in South Carolina on Saturday, news network MSNBC called the race for former Vice President Joe Biden, who swept the race with 48.4% of the votes.
Sen. Bernie Sanders, D-Vt., came away with 20% of the votes. Tom Steyer, a hedge fund manager and philanthropist, garnered 11% after pouring most of his campaign energy, time and funding into the state. As Biden gave a victory speech at University of South Carolina's volleyball gym in Columbia, across the city, Steyer was announcing his concession in the Democratic presidential race.
Former mayor of South Bend, Indiana, Pete Buttigieg and Sen. Elizabeth Warren, D-Mass., were each left with less than 10% of votes in the state. Buttigieg and Sen. Amy Klobuchar, D-Minn., both dropped out of the race Monday before the Super Tuesday primary vote.
In advance of the Super Tuesday presidential primary in Colorado, Emily Hayes, The Durango Herald's intern from American University in Washington, D.C., traveled to South Carolina to ask the candidates about their thoughts on health care and college student debt.
Health care
Sen. Elizabeth Warren
Health careWhen voters in South Carolina talk about poverty, they are also talking about health care. The cost of long-term care and child health care is weighing on what Warren calls the "sandwich generation," or people who are supporting both their parents and their children.
Warren is proposing a transition to Medicare for All over three years. Her Medicare for All plan would eventually fully cover every service and procedure, including dental, vision, long-term care and abortion at no charge to patients.
"We can do it, we've just got to decide to do it," Warren said at a televised CNN Town Hall in Charleston last week.
Erica Staley, a surrogate, or representative, for Warren, said at a Baptist church in South Carolina that she understands a plan like Medicare for All is "scary for people." But Medicare for All would not be paid for by average working Americans, or seniors.
Under Warren's plan, health coverage would be free for children under the age of 18 and for families making at or below twice the federal poverty level (about $51,000 for a family of four). For everyone else, the cost would be "modest," according to Warren's campaign website. Eventually, coverage under the plan would be free for everyone.
How would this work? Warren said families with a net worth of more than $50 million would pay a 2%, or 2 cents, tax on every dollar of their net worth above $50 million and a 6%, or 6 cents tax, for every dollar above $1 billion.
Warren said the root of the problem is the past 40 years of "failed trickle-down economics."
Medicare for All would cover long-term care for retirees so the "sandwich generation" isn't stuck trying to provide or find that care for their parents, Warren said.
Sen. Bernie Sanders
But Sanders, the champion of Medicare for All since the 2016 presidential race, said any role for private insurance is unacceptable and argues for an immediate switch to an exclusively government-run plan. He guarantees no-cost coverage for a wide range of benefits, including dental services and both home and community-based long-term care.
Under Sanders' plan, the cap price for medicine would be $200 per year for each citizen. He emphasized during a campaign rally in Columbia last week that in Vermont he is an hour away from the Canada border, where prescription drug prices are considerably more affordable and health care is considered a right, not a privilege.
But other candidates argue Sanders has not been forthcoming about how to pay for the switch to Medicare for All, including Biden.
Former Vice President Joe Biden
Biden has emphasized maintaining the Affordable Care Act throughout his campaign, and making improvements like lowering prescription drug prices to match other developed countries like Canada, the United Kingdom and France.
The former vice president has suggested potentially adding a public option, but improving on the current system is better than risking another massive health care reform, he said.
Biden's proposal resonated with voters in South Carolina, where health care, and rural health care in particular, was a top priority. But polls show Sanders leading in Colorado and other Super Tuesday states like California.
Former Mayor Michael Bloomberg
Former longtime Mayor of New York City Michael Bloomberg's plan is similar to Biden's, in that it will allow people to keep private insurance by building on the Affordable Care Act.
However, Bloomberg would also create a public insurance option, put a cap on health care prices, lower drug costs and protect access to care in rural areas. This means capping out-of-network hospital charges at 200% of Medicare rates.
Additionally, Bloomberg would change the payment models for rural hospitals so they receive a fixed annual budget. They should not be "dependent on the number of patients who walk through the door," according to his website.
Bloomberg also plans to increase funding for the National Health Service Corps, which offers loan repayment and scholarship opportunities for doctors who practice in high-need areas.
Student debt
Sen. Elizabeth Warren
Student debtFree college is another policy proposal from Sanders' campaign in 2016. But Warren has said her 2% tax on families with a net worth of over $50 million would cover the cost of four years of tuition and allow all students to attend public colleges and universities for free.
Similarly, Warren's student loan-forgiveness plan is for low- and middle-income borrowers. The same "ultra-millionaire tax" would eliminate $50,000 of student-loan debt for borrowers who earn less than $100,000.
"When I put out a plan like this, I say how I'm going to pay for it," Warren said at a CNN Town Hall last week.
"Taxpayers supported that opportunity two decades ago," Warren said, referring to the commuter college she went to part time while paying only $50 per semester.
"We need to build an economy from the grassroots up," Warren said. If people aren't spending money on student loans, they can spend that money locally on a house or on starting a business.
Sen. Bernie Sanders
As with Medicare for All, candidates like Warren have criticized Sanders for proposing sweeping changes without a plan to pay for it. The same is true when it comes to the cost of free college and student loan debt
Sanders proposes waiving tuition for public colleges, universities, historically black colleges and universities, and trade schools for every student. States would shoulder 33% of the cost, and the federal government would cover the rest.
Sanders has also proposed eliminating all $1.6 trillion in existing student loan debt held by both the government and private lenders. He would cap student loan interest rates going forward at 1.88%.
To pay for it, Sanders will impose a tax on Wall Street, which "nearly destroyed the economy a decade ago," according to his campaign website. The 0.5% tax on stock trades, or 50 cents for every $100 of stock, would raise $2.4 trillion over the next 10 years.
"If Wall Street can be bailed out for several trillion dollars, 45 million Americans can and will be bailed out of the $1.6 trillion burden of student loan debt," Sanders' website says.
Former Vice President Joe Biden
Former President Barack Obama wanted to make two years of community college or technical school free, and his former vice president has continued to back this plan. Biden said the cost could be covered by closing tax loopholes.
When it comes to student loan debt, Biden's proposal would fix the current Public Service Loan Forgiveness program, especially when it comes to teachers. The benefit program is supposed to cancel the debt of borrowers after they have worked in public service jobs for 10 years, such as nonprofit workers. But the eligibility requirements are complicated.
Biden has often said his campaign aims to uphold the "legacy of the Obama administration" by improving on existing programs and carrying out the things Obama wanted to address in his presidency.
Robyn Butler, a voter from North Carolina, drove to Biden's victory party Saturday in Columbia, South Carolina. She supports the former vice president because of his work with Obama and said she hopes he cancels her student loans through the benefit program.
"I'm definitely struggling," Butler said.
Former Mayor Michael Bloomberg
Similar to Biden's plan, Bloomberg would make two years of public college tuition-free for all students and debt-free for students who qualify as low-income. Four-year public colleges would be tuition-free and debt-free for the lowest income students. For example, he would double the size of Pell grants, as well as open them to DREAMers and formerly incarcerated students.
Bloomberg plans to make public college debt-free by covering costs beyond tuition, such as books, meals, transportation and child care.
By building career-training programs and encouraging employers to work with community colleges, Bloomberg said his administration would "ensure graduates are equipped with skills needed for good-paying jobs."
Emily Hayes is a graduate student at American University in Washington, D.C., and an intern for The Durango Herald.