Aging activists have been fighting for the cleanup of the Cotter Uranium Mill Superfund site for decades
Heading south on Pine Street, we pass the dead remnants of fruit orchards before rounding the corner onto Cedar Avenue. We pull over next to a gated, gravel drive that leads to an earthen mound and a swath of seemingly vacant land.
The northern peaks of the Wet Mountains are visible in the distance.
The gate keeps out only large vehicles, and it's just a short walk across land marked by dirt bike trails and paths to the mound, which is actually a Soil Conservation Service dam built in 1972 to prevent flooding.
Near the dam, a more secure gate and fences are posted with no-trespassing signs and a warning: "This site may contain radioactive material."
Indeed. Beyond the berm is a geologic bowl in which an estimated 5.8 million tons of radioactive waste is buried under dirt. Most of the bowl is hidden from view by a rocky ridge. This area was declared an Environmental Protection Agency Superfund site nearly 40 years ago, but there still is no plan for how to clean up the 2,600 acres of the former Cotter Uranium Mill.
And a recent setback to the EPA's process has aging community activists worried that work on a plan to clean the site may be delayed yet again.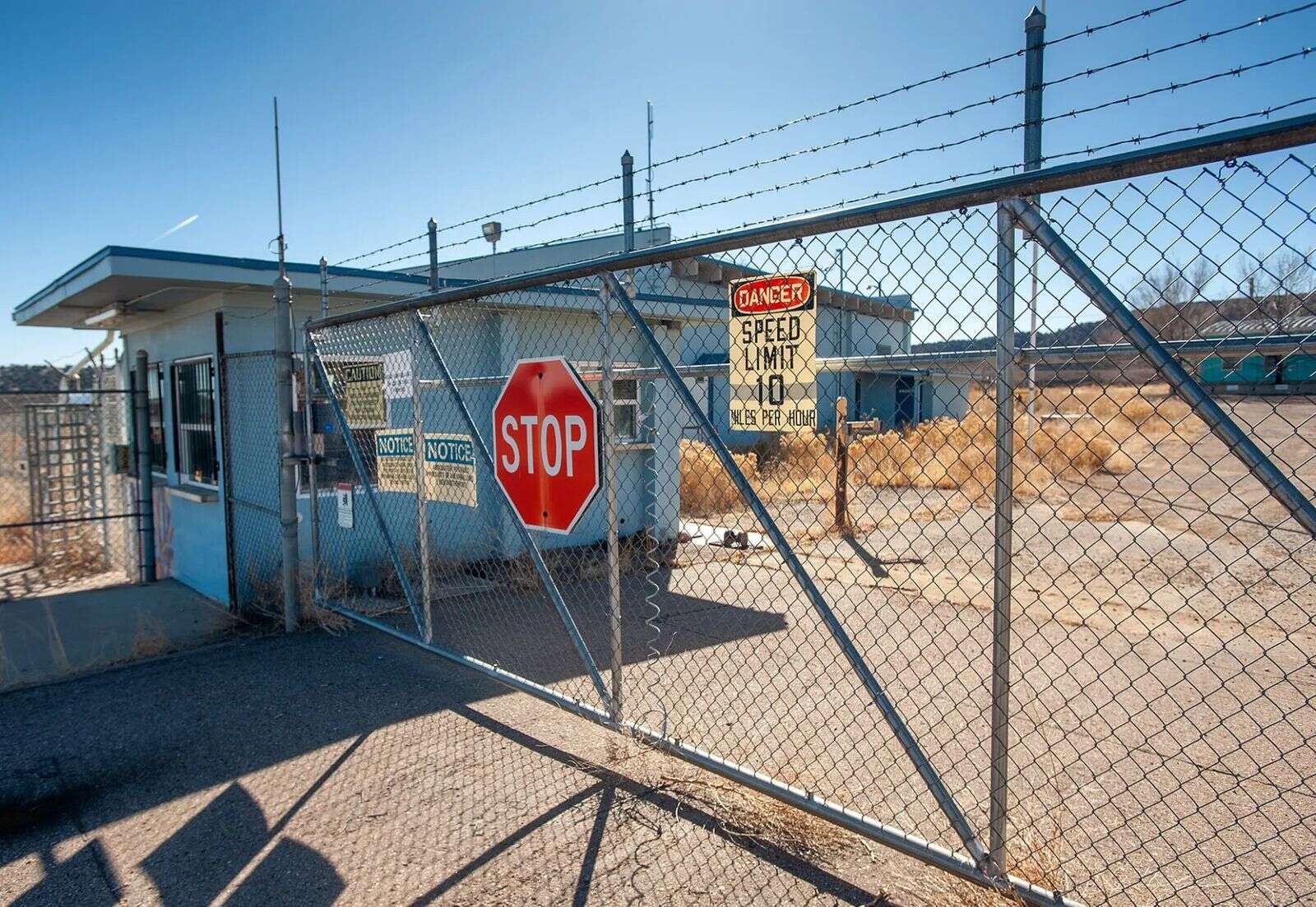 Signs of danger, but few warnings
Cedar Avenue runs along the southern edge of Lincoln Park, an unincorporated rural neighborhood on the south side of Cañon City dotted with farms of a few acres and mobile home parks.
We crisscross the area, never more than about two or three miles from the Cotter mill site.
"There are 6,000 people living within two miles" of the radioactive waste, says Jeri Fry, a co-founder of Colorado Citizens Against Toxic Waste, or CCAT.
This is Fry's tour of the neighborhood where she lived with her family starting in 1958, when her father, Lynn Boughton, took a job as a chemist with Cotter. It was during the early years of the Cold War as well as a time when the Atomic Energy Commission pushed to find peaceful uses for nuclear energy.
Fry rustles through papers as fellow activist Carrie Trimble drives slowly through the neighborhood, stopping occasionally so Fry can point out a highlight: McKinley Elementary School, where an informal CCAT survey in 2004 uncovered a higher than usual number of certain birth defects; a farm where in 1969 cattle were sickened by chemical poisoning from molybdenum; the house where she grew up; spring-fed ponds, and the town of Brookside, just over two miles from the mill, but excluded from the Superfund site.
Along Oak Creek Grade, a road that runs on the west side of the Cotter mill, is a dirt road that leads to the old guard shack that's been spray painted, ironically, with the words: "World Vision." Signs warn of radiation.
"We've brought a Geiger counter up here and it's not so bad," Trimble told us. But we don't linger.
On the way back to the main road we search for signs warning of danger and find a couple of small ones along the fence. Nothing indicates this is an uncleaned Superfund site.
Just to the north is the abandoned Shadow Hills Golf Course that Cotter built for the community in a special water deal with Cañon City. The mammoth clubhouse perched on a hill and the 200-acre golf course have been advertised for sale and proposed as a site for low-income housing.
Fry, Trimble and a small group of community members, mostly women, know these places. They are the collective repository of decades of information in a fight to protect the community from radioactive waste, some of which will not decay for 4.5 billion years.
They haul out stacks of tab-marked notebooks and yellowed newspaper clippings with photos of their younger selves at community meetings. State and federal websites about the Cotter site are filled with their comments on violations, investigations and cleanup plans.
They've combed courthouse records, visited other communities with waste sites, conferred with other groups doing the same work in their own polluted communities. They pushed four bills through the state legislature and have testified in Washington, D.C.
Year after year. Decade after decade.
"Sometimes we joke about ourselves being the little old ladies of Cañon City," Emily Tracy said with a laugh. Now the chairwoman of the Lincoln Park/Cotter Community Advisory Group, she said she was 31 years old when she went to her first public meeting about the contamination. She's 75 now.
Because it has taken so long and so little has been done, this core group of women – now in their 60s and 70s – worries about who will carry on their work to protect the community from the pile of radioactive waste that they believe is unsafely buried, but out of sight, behind that ridge south of Cañon City.
They've turned increasingly to community outreach and education, including offering a series of classes at the upcoming Senior Mini College at the Fremont Campus of Pueblo Community College. They eagerly welcome new members to community groups, and Fry has created a short PowerPoint presentation that can quickly bring people up to speed on the issues.
"I believe in miracles," said Sharyn Cunningham, who helped found CCAT. "When one person leaves, another shows up. People have come in to fight with us."
Even though they say they often feel powerless, they're not ready to give up.
"After all this, we just have to see it through," Tracy said.
Fry said that the Community Advisory Group has formally commented on documents more than 60 times.
"That's the arena we had to play in and so that's what we've done," she said of the bureaucratic process.
"It's not like something I can retire from," said Fry, 67, who is leading a CCAT campaign to educate people on how to live next to radioactive waste.
"They started putting tailings right on the ground 68 years ago," she said. "In my heart of hearts, I don't think it will get cleaned up. It has become a landscape feature, like an ocean is a landscape feature. We must learn to live with it as safely as possible.
"This site lives in geologic time," she said. "People don't."
A complex history
When a uranium mill was proposed for Fremont County in February 1957, the Atomic Energy Commission rejected it because there was insufficient ore to process in the region. David Marcott, one of the founders of the New Mexico-based Cotter Corporation, was persistent and a license to operate was granted later that year.
The mill opened in 1958 on land leased from the state of Colorado, with a contract to deliver 500,000 pounds of uranium hydroxide, known as yellowcake, to the federal agency over the next two years. It also produced vanadium and molybdenum as byproducts.
Later the mill would process radioactive waste, including from the Manhattan Project, the secretive program that produced the atomic bombs dropped on Japan at the end of World War II. All the ore that was processed came from elsewhere, by dump truck and in open trains cars.
In the rapidly evolving world of atomic energy regulation, Colorado became a so-called Agreement State in 1968 and the Colorado Department of Public Health (now the Colorado Department of Public Health and Environment) took over the radioactive materials licensing for Cotter.
For 20 years, Cotter dumped liquid waste containing radionuclides and heavy metals into 11 ponds, only three of which were lined to keep the soil and water below from being contaminated.
Although the geologic bowl containing the mill site is on a bed of impermeable shale, Sand Creek cuts directly through the site and into Lincoln Park. In addition, the ground beneath it is full of old coal mine tunnels and at least one oil well that Fry and others suspect are conduits for groundwater.
An extensive hydrological study has not been done, but the EPA last week in an emailed answer to questions said: "A comprehensive investigation of the nature and extent of contaminants in groundwater will be conducted during the CERCLA (Superfund) remedial investigation of groundwater at the site."
Fry said such a study should examine where the water is flowing and help establish an outer boundary for contamination. This could include testing spring-fed ponds in the area and more well testing.
In 1965, a flood carried uranium tailings and other waste into Sand Creek and into Lincoln Park. In 1972, the Soil Conservation Service built a dam to prevent future flooding from the site, and Sand Creek no longer flowed into Lincoln Park. Surface water and spring runoff was pumped back to the impoundment area, where it evaporates. That pump-back system still operates today.
By the late '60s residents began to suspect that something was wrong. People and animals were sick, but their pleas for help were mostly unheeded until March 1979. That's when Fry's father, Chief Chemist Lynn Boughton, whose repeated warnings to Cotter management about contaminated groundwater were ignored, quit his job and began to speak with investigators and the public about what he knew.
But it would be another decade before the residents of Lincoln Park saw relief from the pollution in their water and air in the neighborhood that they believed was making them ill.
That came only after the state sued Cotter in 1983 for natural resource damages, a lawsuit that was settled in 1988 – four years after the federal Environmental Protection Agency had declared Lincoln Park a Superfund site. Several lawsuits were also filed by residents, beginning in the 1970s, seeking compensation for human and animal illnesses they believed were caused by the poisoned water and air. The lawsuits were mostly settled out of court, although in 2001 a jury awarded a group of plaintiffs $16 million ($43.5 million with accumulated interest). The decision was appealed by Cotter and later settled.
The settlement with the state led to Cotter paying the cost of connecting homes in Lincoln Park to city water, excavating contaminated sediment from Sand Creek, moving tailings into a lined impoundment and removing soil from railroad loading areas around Cañon City where uranium ore had spilled.
In 2002, the EPA said all cleanup work in Lincoln Park was completed. That was the same year that Cotter proposed bringing in radioactive waste from Maywood, New Jersey, for processing.
The state health department continued to renew Cotter's radioactive materials license, over the objections of local residents, and the mill continued to operate on and off until 2011. It did reject Cotter's proposal for the Maywood waste, a decision that Cotter appealed and then dropped when it announced it would close.
"For 27 years, Cotter operated in its own Superfund mess," said Fry, who regularly hiked up a nearby ridge to photograph changes at the site because she and others didn't trust the health department or EPA to monitor Cotter's activities. They wanted to see what was dumped into the impoundment and how it was – or was not – maintained.
"All of these things were going on and they just let the company continue to operate," Tracy said. "It used to just be a battle with the state health department. For many years we were fighting the regulators. It's better now."
When Cotter, a subsidiary of defense contractor General Atomics, ceased operations, most of the buildings were dismantled and buried along with equipment in the impoundment on the site, adding to the radioactive waste pile.
The Boughtons
When Jeri Fry was a child, sometimes she and her siblings and their mother would walk past the cemetery behind their property and into the adjacent field, making their way southwest to meet their dad at the lab where he was finishing up work for the day. Then they'd ride home with him.
"My dad was quite the scientist," Fry recalled. "The sugar in our pantry was labeled C12H22011."
She rattled off the chemical formula easily and chuckled at the bittersweet memory.
They owned three acres, where they grew vegetables and raised chickens, Fry's mother, Deyon Boughton, said. At one time, they were the third-largest egg producer in Fremont County. Fry and her two brothers, Keith and David, were active in 4-H.
The family also started Lynde Garden Center on South Ninth Street, which today is Brady's Garden Center.
As Lynn Boughton's concerns arose over possibly contaminated water, he began to test the well at his family's home in Lincoln Park, and soon their bucolic life would begin to crumble.
When he found contamination, he reported it to Cotter management. Nothing happened.
The family had city water in the house, but they worried about the vegetable garden and chickens. About the kids playing in the sprinkler.
"We protected them as much as we could," Deyon Boughton said.
The neighbors were skeptical and didn't know whom to believe. Real estate agents, with a few notable exceptions, played down the idea of contamination.
Lynn Boughton grew increasingly concerned about the health of his employees and the community's health, Deyon Boughton said. And his own health was deteriorating.
"He came home for lunch one day and he was crying and I said 'Lynn, don't go back,'" Deyon Boughton said. "And he didn't."
Instead, he became a whistleblower, talking to investigators from the Colorado Bureau of Investigation who were investigating allegations of falsified records, speaking out at public meetings, talking to local officials who didn't want to hear what he had to say. The CBI never brought criminal charges because of the statute of limitations, according to a 2002 article in the Cañon City Daily Record that was part of "The Cotter Files" special section.
The Boughtons were vilified by many, and while they were in Grand Junction for the wedding of one of their sons, their home was vandalized. Lynn's library was destroyed, she said.
She said they didn't quite fear for their lives, "but I won't say I didn't look over my shoulder."
They moved documents to protect them, and battled health issues and efforts to put their garden center out of business. But they kept fighting.
Lynn Boughton was diagnosed with lymphoma, which went into remission for 13 years. When it returned, tissue samples showed the tumor contained 600 times the normal amount of uranium. The test was done by a lab contracted by Cotter.
He filed a workers' compensation case that took 13 years to settle – a settlement in his favor that came two years before his death in 2001. He was 71 years old.
A year later his daughter cofounded Colorado Citizens Against Toxic Waste because Cotter wanted to bring more radioactive waste to Fremont County.
Fry's husband, Mike, had been involved in the unsuccessful fight against renewal of Cotter's license in 2000. They decided, though, that they couldn't both be involved.
"My husband and I decided only one of us was going to get buried in this," she said. "I saw what it did to my parents – emotionally, physically, financially."
Lynn Boughton's ashes were scattered near Lake DeWeese in Custer County because his wife did not want him buried in Fremont County after all they had been through. Lake DeWeese, a reservoir, provides irrigation water that serves Lincoln Park through the DeWeese Ditch.
After her husband's death, Deyon Boughton stepped away from activism for a time. She sold the home the family had lived in for 47 years and moved to Florence.
"I retreated for a while," she said. "I wanted to get away from it all."
She donated many of Lynn's documents to the University of Colorado, but squirreled away those she needed for a book that she published in 2009: "Yellowcake Road: Cotter Corporation's Unfortunate Journey from Nuclear Production to Nuclear Waste Recycle."
She also does what she can to support her daughter's efforts through CCAT to create a community education program.
Now 93 but still active in her new community, she reflected on the unexpected turn in their lives.
"Why do people do what they do? Because you have to," she said. "Lynn could not not do what he did."
The fight continues
Many of those in the core group that's working to bring the Cotter saga to a conclusion knew Lynn Boughton. Others have their own reasons for joining the fight, but they're all frustrated – and often angry – that things have moved so slowly.
Carol Dunn's family had a butcher shop just a couple of blocks from the Lynde Garden Center, and Dunn recalls hearing Lynn and Deyon talk about the contamination.
The Dunns' shop was on city water but used water from a well to run compressors for the coolers. Their kids were there all the time – essentially raised in the backroom, she said.
Dunn joined the fight in 1986 and was diagnosed with breast cancer on the day in 1989 that a lawsuit in which she and her family were plaintiffs was filed. Her daughter has thyroid issues.
"Of course you can't really say Cotter caused this," she said. "For Lynn Boughton, yes. The rest of us, maybe."
She's served with one group or another ever since, and what she wants is "for that tailings pond to be moved."
Sharyn Cunningham agrees, but she also wants her water back.
Cunningham moved to Lincoln Park in 1994, buying a house and 5 acres with two wells. They grew alfalfa and vegetables and watered them with the field well.
She thought the Cotter mill was closed and being cleaned up, and neither the real estate agent or the seller mentioned the well contamination. She went to a community meeting in 2002 after hearing Cotter wanted to bring in more radioactive waste and was soon deeply involved.
At a meeting with the health department a couple of days later, an official mentioned that they didn't need to worry about wells in Lincoln Park because people no longer used them. Dozens of wells were contaminated and continued testing is required by the state with test results reported to the owners and posted on the CDPHE website.
"I raised my hand and said 'We use our well' and they kind of freaked out," she said. The field well had above allowable levels of both uranium and molybdenum. Cunningham and her husband stopped using the well and growing alfalfa, a financial loss.
Her husband has had three types of cancer, her son has had thyroid issues and she has autoimmune illnesses.
Two other things Cunningham would like to see are a water treatment plant at the dam instead of just a pump-back system and signs proclaiming the area is a Superfund site.
Too many people, she said, don't know it's there.
Cunningham estimates that she spends 40 to 60 hours a week diving into historic records, commenting on filings, and connecting to community groups in other Superfund communities, and she is discouraged by the lack of progress in getting the Cotter site cleaned up.
The latest setback came in late February when the Community Advisory Group learned that Colorado Legacy Land, which took over management of the site from Cotter, was insolvent.
Although Colorado Legacy Land initially said it would cease work at the site at the end of February, officials with CDPHE and the EPA said last week that they've met with company officials who have told them they'll continue site security, water management and inspections at least through the end of March. Both agencies said they are working to ensure all those duties continue when Colorado Legacy Land departs.
It's unclear, though, what will happen with the company's draft work plan for site cleanup. Public comments were due Feb. 15 and the EPA and CDPHE returned theirs Feb. 28.
"The agencies found 'significant deficiencies' and 'material defects' with the plan," the EPA said in response to emailed questions. The comments are posted on the CDPHE website.
Community Advisory Group members, the town of Brookside and the Cañon City Area Metropolitan Recreation and Park District also commented on the draft work plan, with the latter two asking for well testing.
The CAG and CCAT members are bracing for more delays, more work to respond to revised plans and perhaps a new cleanup manager to deal with.
That's why, Fry said, she's focusing more and more on a sustainable plan to educate current and future Cañon City residents so they understand the dangers lurking "up the hill." And to find people to carry on the fight when she and the other "little old ladies" are no longer able to do so.
"There are people who don't even have voices yet who will be affected."
The Colorado Sun is a reader-supported, journalist-owned news outlet exploring issues of statewide interest. Sign up for a newsletter and read more at coloradosun.com.