Time away doesn't slow down Durango mountain bike star in legendary performance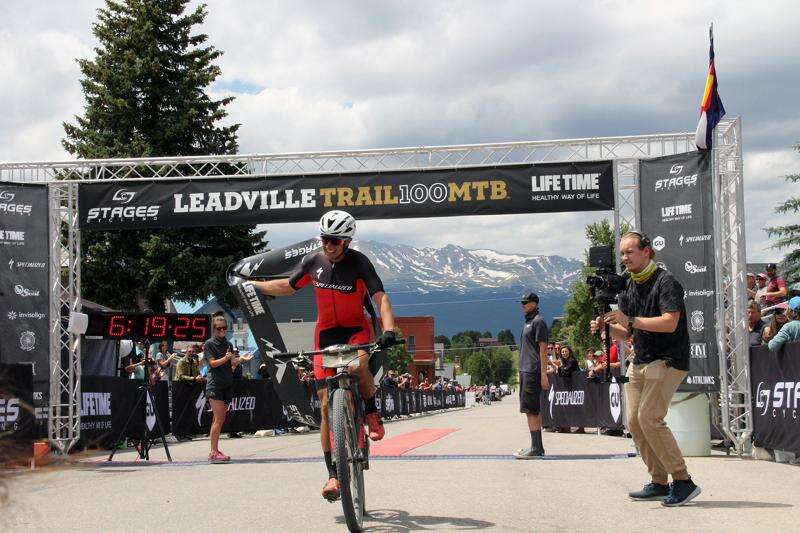 LEADVILLE – Howard Grotts couldn't help it. Coming down the last pass of the race, he started to cry. Perhaps it was the emotion of knowing he was about to go on to win his third consecutive Leadville Trail 100 MTB. Maybe it was the joy of the moment, or maybe he subconsciously came to terms with a closing chapter of his professional mountain bike career.
Chances are, it was a mix of everything.
"There was one point, it's like super random coming down the last pass ... I just was crying for some reason," Grotts said. "I was like, 'Whoa, this is weird.' You just gotta roll with the emotions out there. I got over that and just kept on going."
Grotts kept going the final 14 miles after St. Kevins all the way to the finish line Saturday to win yet another Leadville 100 mountain bike race. After about 104 miles and 11,000 feet of climbing on a course mostly above 10,000 feet of elevation with a high point of 12,725 feet at the top of Columbine Mine to complete 3,000 feet of climbing to finish the first half of the race.
After an early flat tire, Grotts recovered and was one of the lead three riders coming down from the Columbine climb along with EF Education First WorldTour pro road cyclist Lachlan Morton and Luis Mejia of Colombia.
Grotts would go on to win in 6 hours, 19 minutes, 18 seconds, his slowest winning time yet but on par with his finishes of 6:15:00 in 2017 and 6:18:08 in 2018. He edged second-place Quinn Simmons, an 18-year-old from Durango, by 3:06.
Grotts joined David Wiens of Colorado as the only other rider to win three consecutive Leadville 100 mountain bike races. Wiens, a mountain bike hall of famer, won six in a row from 2003-08. Grotts also joined fellow Durangoan Todd Wells as a three-time champion. The only other rider with three wins in Leadville is Alban Lakata, the course record holder of 5:58:35 set in 2015.
"Leadville is a cool one," the 26-year-old Grotts said. "It suits me fairly well since we live at altitude in Durango. It's a unique one every year; just a different story that plays out. Today, it was more of a road racing feel, but it was fun.
"I have a huge amount of respect for both (Wells) and (Wiens). Now, I get to see (Wiens') son, Cooper, develop at Fort Lewis College, too, and I am getting to ride with him. I hope to see him do it some day."
Grotts had to overcome an early flat tire, and friend and fellow racer Payson McElveen took control of the pace to slow it down to allow Grotts an easier time to catch up.
"This race suits him to a tee. He's a soul rider," said McElveen, Grotts' roommate in Durango. "For him to go out with a bang like this, it really makes me happy. I told everyone that this is probably his last pro race, so let's be cool and chill for a second when he got that flat, and, for the most part everyone did. I couldn't be happier for him to win."
Morton said he didn't have the legs on the steepest section of the Powerline climb near Mile 80 to stay with Grotts after fighting so long to do so all day.
"I took it up at the bottom, but I knew he was going to make a move," Morton said. "He made it pretty clear all day he was the strongest guy out there. For me, it felt nice to experience that being with the big mountain bike guys. Howard made his move right on the steep section like I thought he was going to. I knew if I tried to respond, I'd probably blow fully. I tried to hold him, but he got away and got the win he deserves."
Morton, 27, finished third in the sprint finish for second behind Simmons, while Trek-Segafredo WorldTour pro road cyclist Peter Stetina, 32, was a close fourth.
Wells, 43, finished eighth this time around. Reigning pro road national champion Alex Howes was fifth. Mejia ended up in ninth.
McElveen battled a stomach bug the evening before the race and all day Saturday. The two-time third-place finisher finished 12th on Saturday.
"Honestly, I wanted to quit out there the first 10 miles," McElveen said. "I had Ken Chlouber, the race founder, in my head. He gives an amazing speech every year. Yesterday, he was saying, 'One pedal stroke turns into two. If you're moving forward, keep moving forward.' Honestly, if it is any other race, I might have pulled out, but this is one you don't quit on."
Sunday, Grotts turned around and ran the 10 kilometer trail run through the rain in Leadville. He quietly finished second, showing no fatigue from Saturday's effort. Grotts took the summer off of international racing, and almost all racing. He decided to focus on his happiness and aimed to rediscover his joy for mountain biking. He has spent time coaching the Durango DEVO youth program that first taught him how to race. He showed up at the USA Cycling national championships two weeks before Leadville in Winter Park as the four-time defending cross-country national champion. This time, he finished second behind Keegan Swenson of Utah, though McElveen said he thinks Grotts would have won if he raced a different bike set up. But Grotts chose a hardtail bike because he planned to ride back to Durango from Winter Park on his bike.
Saturday was likely Grotts' final race as a Specialized Racing team rider. He said he will still be an ambassador for Specialized and ride their bikes. McElveen said he believes Grotts will race nationals again next summer, but now Grotts will enjoy the chance to go to races he selects instead of fulfilling team duties and World Cup goals on behalf of the U.S. He is also going back to school.
"I've been taking it easy," Grotts said. "Apparently, it makes me fresher."
And happier.
jlivingston@durangoherald.com