Durango's Howard Grotts teamed with Jaroslav Kulhavý of the Czech Republic for one of the best weeks of his career on a mountain bike.
Grotts and Kulhavý, both Specialized Racing Team members, joined forces to form the Investec/Songo/Specialized team for the 2018 Absa Cape Epic, an eight-day race across the Western Cape region of South Africa regarded as the Tour de France of mountain biking.
Grotts, the three-time defending USA Cycling cross-country mountain bike national champion and 2016 Olympian, and Kulhavý, the 2012 Olympic gold medalist, 2016 Olympic silver medalist and 2011 World Cup overall champion, dominated the final five stages of the race en route to a big victory.
Grotts, 25, and Kulhavý, 33, conquered the nearly 409-mile race that boasted 44,390 feet of climbing in a winning time of 25 hours, 29 minutes, 48.9 seconds. That was 9:38.5 faster than the second-pace Canyon Topeak team of Austria's Alban Lakata and the Czech Republic's Kristian Hynek. The Cannondale Factory Racing team of Germany's Manuel Fumic and Brazil's Henrique Avancini was third, 13:12.9 back of the winning time.
It was the second Cape Epic finish for Grotts, 25, while it was the third win in the event for Kulhavý.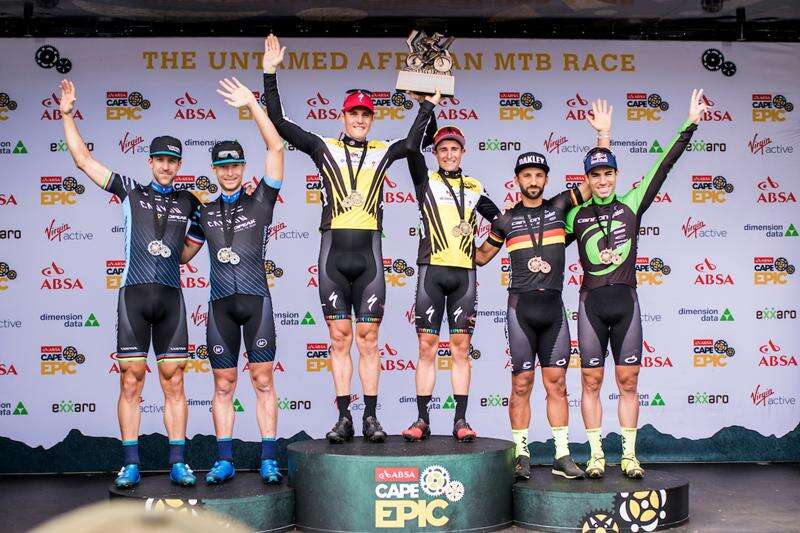 This was the 15th year of the Cape Epic, which features the unique two-rider team format. Riders must remain within two minutes of each other at all times during the race or else they will be penalized one hour. The team concept is necessary for safety as the race travels through remote areas with grueling terrain that causes many mechanical issues. Racing in teams also has created for thrilling race tactics.
Grotts and Kulhavý earned $17,082 for the overall win and an additional $854 for two stage wins.
Grotts said he had to give everything to stay with Kulhavý on the early stages, but his elite climbing skills shined through as the week wore on. That was evident on the final stage Sunday.
"For the first few days, I was struggling quite a bit, but things changed in the last few days," Grotts said after the race. "I felt comfortable on the climbs, and I'm happy with the way things have worked out for us."
Grotts and Kulhavý were fifth after the prologue on Table Mountain. They were second on Stage 1, a 68-mile ride through the Arabella Wine Estate that featured more than 6,200 feet of climbing.
The second stage was tough on Grotts. The 66-mile stage had 6,561 feet of climbing.
"Stage 2 threw a lot at us today – I missed a bottle in the feedzone and had a cleat come loose (which meant no clipping out), while Jaro had a couple punctures when we were off the front – but – until about 10 kilometers to go, at which point the tank was empty – the legs were feeling good, so that's a good takeaway," Grotts said in a post to Instagram.
But the winning team went into the yellow jersey on Stage 3, a 75-mile course with 5,905 feet of climbing. They finished second on the stage and took another second place on Stage 4, a 70-mile stage with another 5,905 feet of climbing.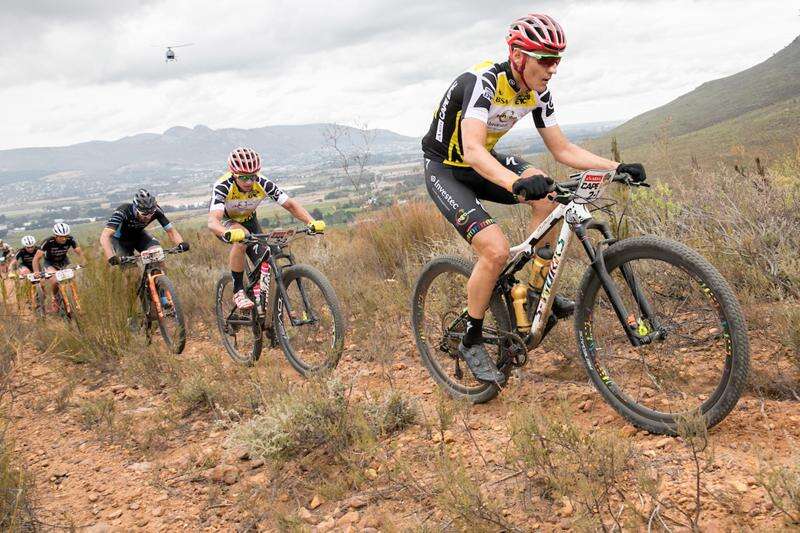 Grotts and Kulhavý then won Stage 5 and Stage 6 to build an 8-minute lead. Stage 5 was only 24 miles with 4,691 feet of climbing. Stage 6 was 47 miles with 6,561 feet of elevation gain.
Stage 7 wasn't the typically easy final stage at the Cape Epic, as this year's finale was a 41.6 mile ride with another 6,500 feet of climbing to the finish at Val de Vie Estate.
"We had a pretty good ride," Kulhavý said after the race. "I'm very happy for Howie (Grotts), as he is a newbie and he rode really well. Maybe we will come back next year to win again. Who knows – maybe I can try and beat Suzi's (Christoph Sauser) record of five victories. I've learned a lot from him and he helped us a lot this year."
It was a big week in South Africa for the entire Specialized team, as Denmark's Annika Langvad paired with Kate Courtney of the U.S. to win the women's race. It was Langvad's fourth Cape Epic win and the first for Courtney, the 22-year-old phenom from California. They finished in 29:57:06.5.
After a second-place finish at the Cyprus Sunshine Cup and a 21st-place finish at the season's first World Cup in Stellenbosch, South Africa, Grotts will return to the U.S. for some domestic races.
jlivingston@durangoherald.com