San Juan County has second-highest number of COVID-19 cases in New Mexico
FARMINGTON – Protesters on Thursday lined both sides of Farmington's Main Street in front of the Animas Valley Mall to demand businesses and state parks reopen throughout New Mexico.
More than 500 people – the majority not wearing masks and within 6 feet of their neighbors – lined both sides of the six-lane road for about four blocks, waving American flags and signs expressing frustration with the closure of businesses. The Mile Long Rally, the second rally in two weeks, drew honks and yells of support from those driving through.
San Juan County, which has lagged behind the rest of the state's phased reopening because of its high number of coronavirus cases, began allowing curbside pickup for some businesses May 16. McKinley and Cibola counties, also in northwest New Mexico, have been on a delayed reopening schedule, too. Other counties in the state were allowed to open retail stores and some state parks as of May 16.
But protesters say the slow, partial-openings aren't enough for small businesses.
"We're such an important part of the economy," said Jarret Johnson, an organizer of this week's rally. "First we're being hit by oil prices, and then shut down all of the small businesses. Yet big-box retailers, who aren't local to the economy, are being allowed to operate while the small mom-and-pop places aren't being allowed to."
Johnson said "a lot of businesses in the Farmington area are really struggling" as a result of the closures. Johnson, who owns Navajo Lake Marina and Sims Marina, said during the height of the summer he typically employees 70 people. He said for the most part, he didn't feel like the voices of small-business owners were being heard by the state and Gov. Michelle Lujan Grisham.
He added the smaller businesses are likely able to clean and implement health safety protocols better than large retailers, yet they "aren't getting the same opportunity as the big-box retailers."
As of Thursday, San Juan County reported 1,451 COVID-19 cases out of 10,366 completed tests, with 99 deaths related to the coronavirus. It has the second-highest number of cases in the state, behind McKinley County.
"Our governor thinks since we're one of the places hit hard (by the virus), we shouldn't have the same rights as the rest of the state," said Rose Carter of Farmington. Carter, along with her daughter and daughter-in-law, organized the first protest while sitting around the dinner table on Mother's Day. For that rally, they created the private Facebook group All Americans Are Essential, and as of Thursday afternoon, it had 3,492 members.
Lujan Grisham's office did not respond to a request for comment Thursday. But last week, Nora Meyers Sackett, a spokeswoman for the governor's office, criticized the protest of a large group of people in an area of high COVID-19 transmission.
"Our community has been double-hit with the oil and gas industry and then with the coronavirus," Carter said. "People are going broke here left and right."
Jack McDowell, who also attended last week's protest, echoed the concerns about the impact to small businesses in the community. He said his friends who owned businesses were doing what they could but they're still struggling.
"It's preferential treatment for corporations and big-box stores," he said.
Terri Fortner, who is running for the San Juan County Commission, said the governor was asking people to give up liberty for security, but they should be able to have both. "We can open safely, especially small businesses" she said.
San Juan County Commission Chairman Jack Fortner echoed the call to reopen. He said he "wanted to let people know we're small-business people and we're safe and we're ready to open." Fortner also owns a small business as a lawyer.
Participants attending Thursday's protest were encouraged by organizers to practice social distancing and wear face masks. Last week, Lujan Grisham issued a health order mandating anyone in public wear a face covering. Navajo Lake Marina set up a tent in the Applebee's parking lot and had about 500 face masks to hand out. While some participants complied, others opted not to wear masks and stood in large clusters.
"It's your right to wear it or not to wear it," Carter said of face coverings. "Be self-responsible."
Throughout the rally, people held signs saying "Open New Mexico or we'll close Santa Fe," referencing a possible rally in the state capital. Johnson said Thursday's rally will likely be the last in Farmington, and if residents' concerns aren't addressed, organizers plan to take the protest to Santa Fe in two weeks.
Dacia Rogers said she grew up around Farmington and loves it.
"A lot of businesses are closing permanently in this town. And we were already losing business before this happened," Rogers said. "We can't take it. I don't want to see these businesses dying."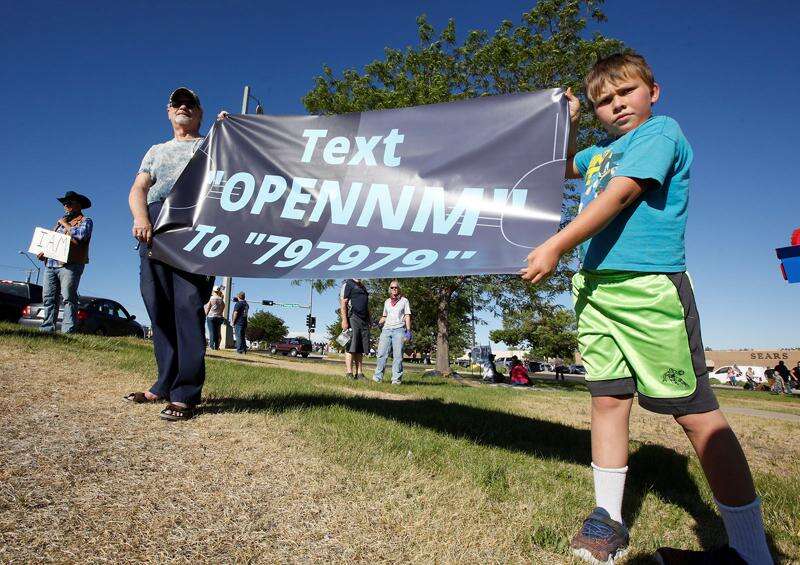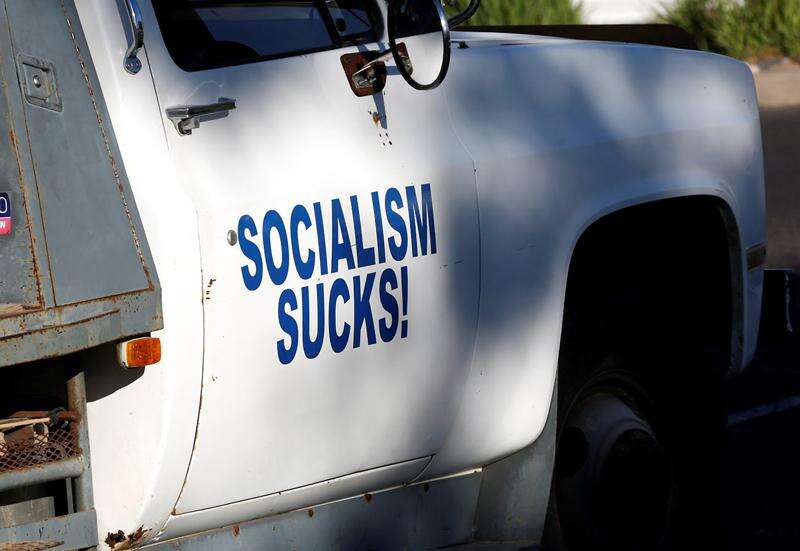 lweber@durangoherald.com