High-powered offense looks to propel Ignacio back to state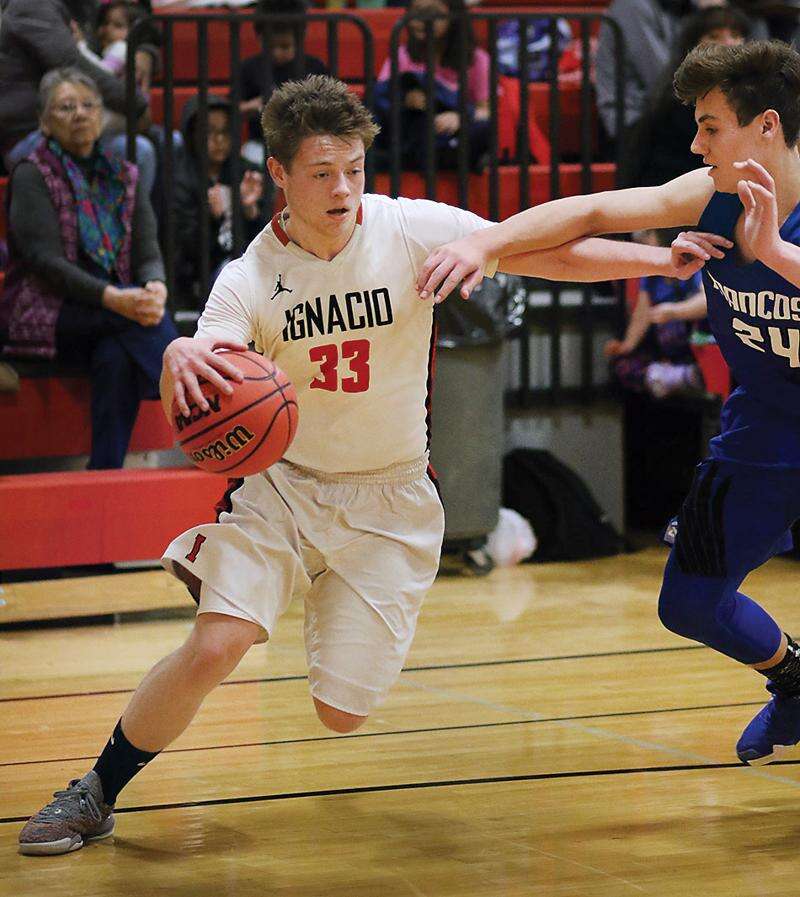 The Ignacio High School boys basketball team is poised for a sky-high rebound after missing out on last year's Class 2A regional tournament for the first time in 11 seasons.
The Bobcats have a strong core of upperclassmen returners and, after a season that ended a few games earlier than expected, Ignacio is ready to challenge again.
"That one year of experience is big because last year, I thought we were a top-10 team, and we went flat at the wrong time," said Ignacio High School head coach Chris Valdez. "We lost Bryce Finn for five or six games before the district tournament, and when he came back, we were so out of rhythm. ... I'm telling you, I believe we're a top-10 team without question. Our problem is defending the post on big teams and working a little bit more on our help defense, that's going to be big there. We have the depth needed for a deep run."
Ignacio, which came into the season ranked as the No. 10 team in Class 2A, will return the vast majority of its scoring from a team that tied for the San Juan Basin League championship, its 11th title in the last 12 seasons. While the Bobcats ultimately came up short against Telluride in the district consolation championship game, Valdez said the group learned a lot and will look to grow from last year's shortcomings.
Returners include junior Finn, who led the team in scoring last season with 15.8 points per game and scored double digits in all but one game. Finn is not the only threat this season, as Brady McCaw will be back at point guard, and Keegan Schurman and Ocean Hunter have also stepped up their game. With complementary players in Gabe Tuscon and Dylan Labarthe, as well as 6-foot-3 Bird Red, who returned to the team after a year away from the program, the Bobcats have all the pieces for a dangerous offense.
"Nobody expects anything from us this year," Schurman said. "I'm definitely going after it being my senior year, and I'm definitely not going to lose that drive. Not making it to regionals last year, losing districts after having an 11-year streak, it's really driving us to get after it this year."
Schurman stepped up in so many ways over the course of the offseason that he is now one of the favorites to be named a team captain.
"Keegan Schurman has come on strong," Valdez said. "I think he's really stepped up his leadership game and would say that he's a kid that can be a captain. I think his team would actually vote him a captain. That's how hard he's working and that's the demeanor that's changed with him. If he can stay consistent, that's going to be big for us."
Valdez said the team has stepped up in a number of ways, particularly in the athleticism department.
"Last year, we weren't athletic enough, and every kid we've got here has stepped up double in athleticism," Valdez said. "They become young men. You just see it all of a sudden. Even with Keegan where he wasn't as strong. Dylan Labarthe is remarkably faster this year, Gabe Tucson, too. They're all a little stronger, a little more mature. It's going to be big in the long run."
Valdez said Ignacio will look to push this year on offense, as he believes a run-and-gun tempo will suit a deep team like the Bobcats.
"We want to do a little bit of pressing against weaker teams or even stronger teams to keep them out of starting their offense," Valdez said. "Our transition is what we really want to get into with this team because we are deep enough to do it. Last year, we weren't athletic enough, but now that we are nine or 10 kids deep depending on grades, we could rotate in and have constant energy."
In order to win a league title, the Bobcats will have to fend off stiff competition in the San Juan Basin League, including Dolores, which lost four seniors and have a new coach in Justin Schmitt. Telluride also looks to be a contender after the Miners stunned IHS to reach last year's 2A regional tournament.
The biggest rival to keep an eye on is Mancos, which reached the Class 2A Boys Basketball State Tournament Great 8 as the No. 8 seed last season. The Bluejays entered the season ranked No. 5 in the Class 2A preseason poll and will return two of their top three leading scorers. Caden Showalter, a 6-foot-5 post, averaged 15.8 points per game, and his younger brother, Connor, averaged 11.8 points per game.
Beating Mancos is one of Finn's top priorities, and while he knows that there will be other chances to earn a league championship, he already has the matchups against the Bluejays circled on the calendar.
"We can't take any game for granted," Finn said. "Sometimes going into a game (last year), we'd be like, 'Oh, this is just this team, we should be fine.' It's something we always need to be ready for and expect a good game every time and play our hardest. That's the way it has to be."
bploen@ durangoherald.com