Bobcats earn No. 13 seed, will face No. 20 Dolores Huerta Prep
The Ignacio High School boys basketball team is staying in Southwest Colorado for its regional tournament.
After losing the Class 2A District 3 San Juan Basin League championship game Saturday to Mancos 54-50, the Bobcats (16-4) earned the No. 13 seed when the Class 2A Region 4 bracket was released on Sunday. Mancos won the right to host, and as a result of the final RPI standings, the Bobcats will travel to its San Juan Basin League rivals for the tournament.
"It's RPI and that's just where we ended up," said Ignacio head coach Chris Valdez. "There were some things that could've been done, but three regional hosts could potentially face their district runners up in the regional championship. It was just easier to leave it that way instead of switching everything up. We could have faced Sedgwick or Crested Butte at home if we won yesterday, but we didn't earn that, and we came up a bit short."
Action will begin at 6 p.m. Friday in Mancos with the hosts, Mancos (18-3) set to face No. 29 Hoehne (11-11) in the first semifinal matchup. Ignacio will take on No. 20 Dolores Huerta Prep (16-5) of Pueblo at 7:30 p.m. in the semifinals. Tip off for the regional championship has yet to be determined.
"I'm going to focus on Dolores Huerta, that's who we are playing," Valdez said. "That's the only team that we will be playing until we earn the right to move on. ... It's about the kids and getting them prepared for this level. Some kids have never been at this level, and I'm hoping that me being calm will keep them focused and calm. They have to play their game, not overthink things and making solid basketball plays."
Ignacio is led by Bryce Finn, a junior forward who is averaging 12.0 points per game. Fellow junior point guard Brady McCaw is right behind Finn with 11.8 per game, and Triston Thompson is third on the team with 9.2. The Bobcats went 9-1 in San Juan Basin League action, and split the league title with the Bluejays for the second consecutive season.
With Valdez and the Bobcats focused on the Scorpions, here's a closer look at the Class 4 Regional tournament:
Dolores Huerta Prep
The Scorpions are led by a trio of seniors, starting with Isiah Trujillo, who leads the team in scoring with 17.6 points per game. Charles Winston is second with 15.9, while Xavier Gomez is third with 9.1 per game. The Farmers average 69 points per game and went undefeated in the Black Forest League. Entering regionals, the Farmers have won seven out of their last nine games, but lost in the District 8 championship to Peyton on Saturday.
Hoehne High School
The Farmers enter the regional tournament at .500 with an 11-11 record. They went 8-5 in 2A Santa Fe League play, and finished fourth in the District 6 tournament, with losses to Holly and Crowley County. Nic Navarette, a senior, leads the team in scoring with 16.4 points per game, while junior K.J. Rael is second with 11.4 per game.
Mancos High School
The Bluejays will have home advantage, as they prepare to host regionals for the second consecutive season. The Bluejays have won 10 in a row, with their last loss coming at Ignacio in January. Mancos has also been formidable at home, going 10-0 this season, and have lost just once in the last two seasons with a 15-1 record.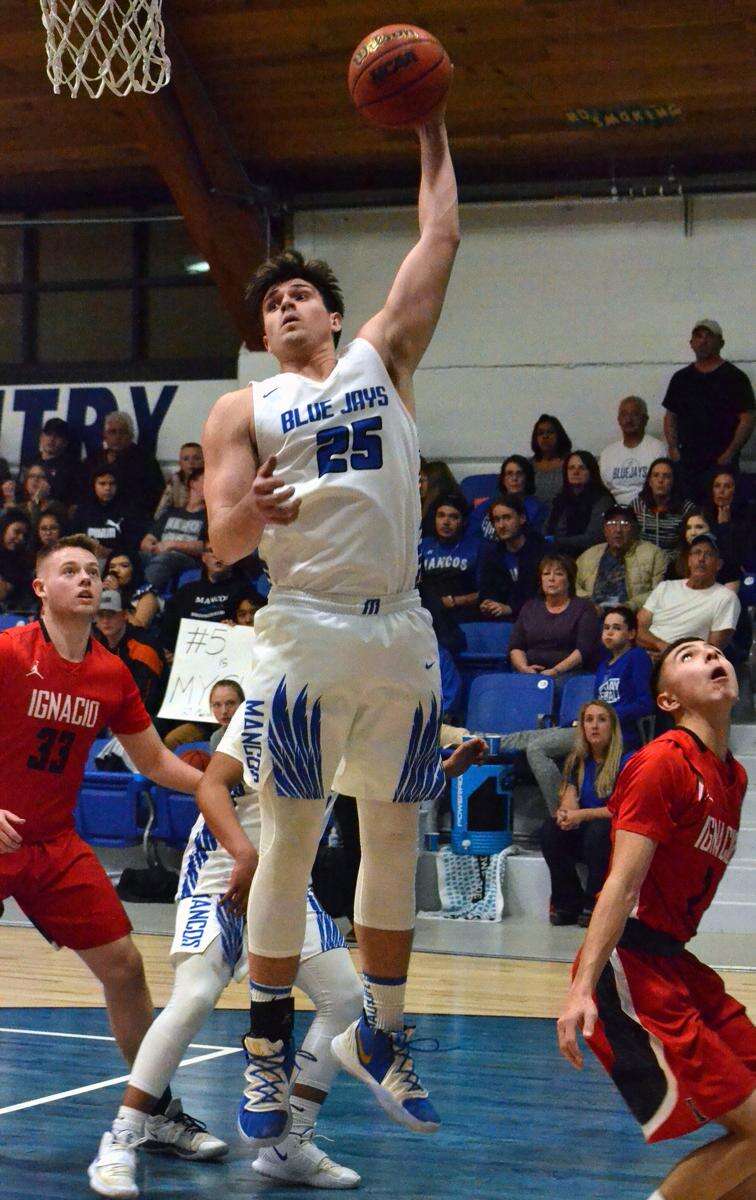 Caden and Connor Showalter have been the Bluejays' biggest weapons, as they have proved to be a tough rebounding and post presence. Connor leads the team with 15.7 points per game, while Caden averages 13.4. Evan Sehnert has proven to be a strong 3-point shooter, as he averages 11.9 points per game, while Anthony Medina is at 9.7.
bploen@durangoherald.com