Brunson makes four 3-pointers in win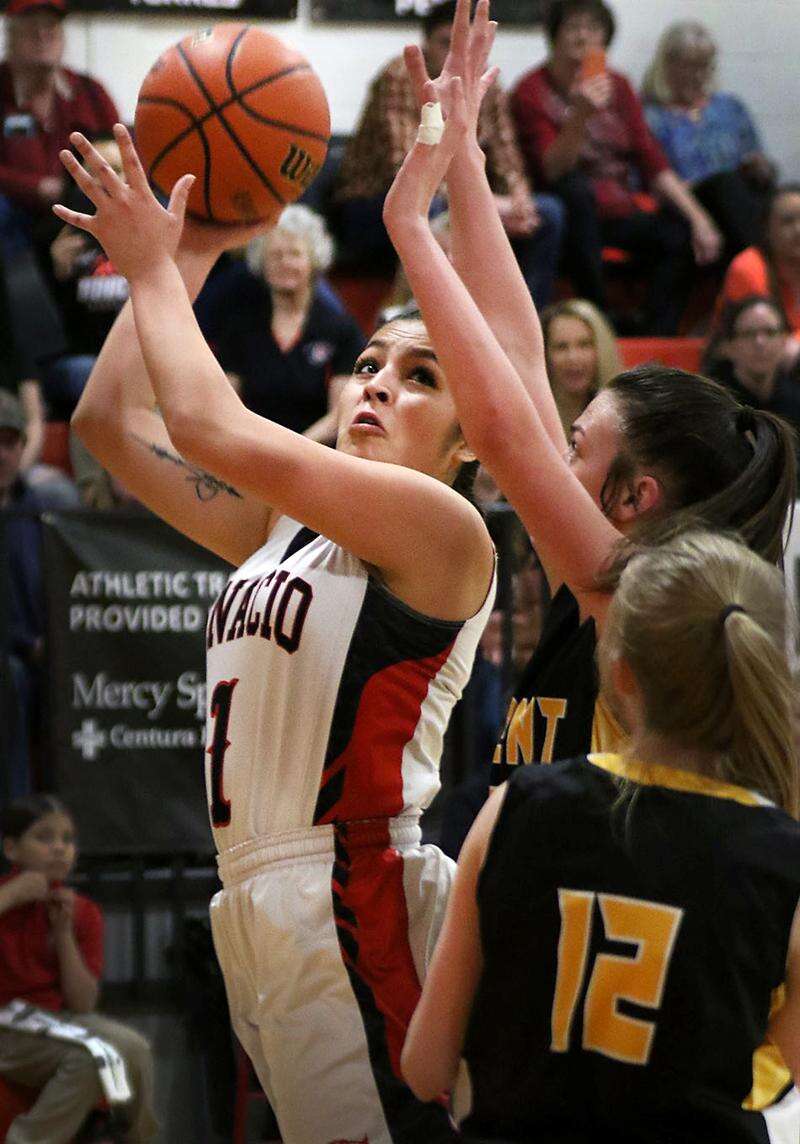 IGNACIO – Ignacio High School's Avaleena Nanaeto was the last player to be introduced off the bench in Friday's Colorado High School Activities Association's Class 2A Region 8 semifinal against No. 25 Sargent at Ignacio High School. She was the first player to make an impact.
Nanaeto, a sophomore, scored six points in the opening three minutes and finished with 11 points in a 51-29 win. No. 8 Ignacio will play in a Class 2A regional championship game for a sixth consecutive season. That game will be held at 2 p.m. Saturday at IHS against No. 9 Rocky Ford. The winner will advance to the Great 8 of the state tournament next week in Loveland.
"I felt sluggish early on, actually," Nanaeto said. "I knew I had to wake up and get going because it was a big game. After I got a few steals and scored, I thought that I'd be alright and we'd be alright as a team."
Ignacio's Jayden Brunson led all scorers with 15 points, including four second-half 3-pointers to help the Bobcats pull away. Charlize Valdez scored 13 points. Sargent was led by McKinzie Tolliver with 10.
The Bobcats (17-5) got out to a 10-0 lead to start the game thanks to aggressive defense, as it forced Sargent into turnovers on four of its first six possessions. Sargent responded to end the quarter on 7-3 run that included a 3-pointer from Jozylnn Moreno, but IHS had a 13-7 lead after one quarter.
Tolliver knew that the Bobcats would come out aggressive on defense, but she thought the Farmers struggled to get into an offensive groove from the opening whistle.
"It was really tough early on because of how strong their press was," Tolliver said. "They trapped us in the corners, and we're really weak in that area. But other than that, we knew we had to get past half court to set up our offense. Once we did that, it was still tough, but we were better with our sets. It was a slow start and we were trying to get back into it, but it wasn't our night."
In the second, the Farmers (9-14) could not buy a basket despite getting good looks, as they were held to just two points. On the other end of the floor, IHS found its rhythm, as Larissa Gallegos recorded five points and Valdez added four. Ignacio took a 22-9 lead into halftime.
Even with a fairly comfortable lead, Ignacio head coach Justa Whitt thought the Bobcats offense seemed a step off. She told her team to shoot more, and the Bobcats received her message loud and clear.
"We came out nice and strong but we separated a bit on the court, and we talked about it at halftime," Whitt said. "It still wasn't the stellar performance that I would have liked to have seen, but that's OK. Get it out of our system so we can move forward with what we need to do tomorrow."
In the third, IHS blew the game wide open from the 3-point line. Twelve of Ignacio's 20 came from beyond the arc. Brunson made three. The run prompted Farmers coach Stan David to spend a timeout, as IHS took a 37-19 lead midway through the quarter. The Bobcats led 42-22 after the third quarter.
"We knew we had to set our own pace and not let them get the momentum because it was still close at halftime," Brunson said. "I wasn't looking for my shot in the first half, and coach just told me to focus, look at the basket and do what you know how to do. That's what all of us did."
The fourth quarter was about damage control for the Bobcats' defense, as they did not let the Farmers close the gap. IHS outscored the Farmers 9-7 and Sargent was unable to close the deficit to under 20 points.
"Everybody had their moments, some good, some not so good," Whitt said. "We have to make sure that everyone has on moments for tomorrow."
Rocky Ford 54, West Grand 25
In the other semifinal, No. 9 Rocky Ford advanced to the regional final with a convincing 54-25 win over No. 28 West Grand.
The Meloneers (22-2) were led by Abi Snyder with 23 points, including 12 in the third quarter. Rocky Ford also had strong contributions Meghan Saltzman with 15, including three 3-pointers. West Grand (13-12) was led Emma Daly with seven points, and Alex Schake had six, but was 2-of-12 from the free-throw line.
Rocky Ford also pulled away in the second half, as it outscored the Mustangs 28-11. The Mustangs finished 5-of-24 from the foul line.
The Class 2A Region 8 championship game will be held at 2 p.m. Saturday at Ignacio High School.
bploen@durangoherald.com