Ignacio senior part of 24-0 win in Orlando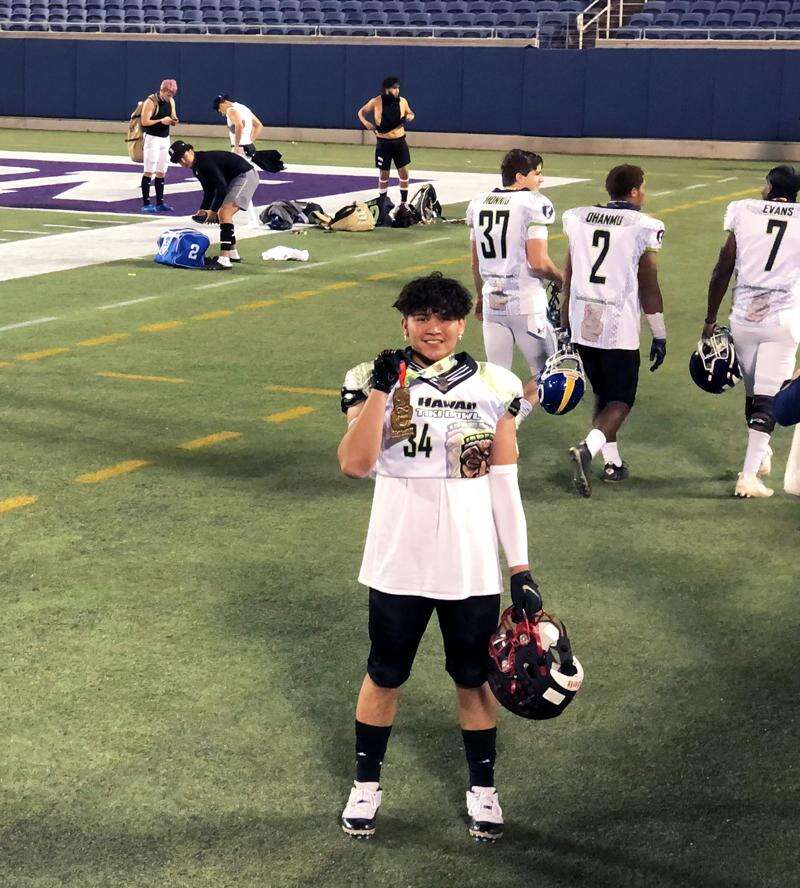 Joe Garcia pulled on a new jersey for the last time in his high school football career. The Ignacio High School senior then prepared to do something he had never done before.
The running back and linebacker earned the chance to compete Thursday at the 2021 Hawaii Tiki Bowl, which was moved from Hawaii to Orlando, Florida, for purposes related to the COVID-19 pandemic.
Garcia got his chance to shine amidst a small galaxy of prep stars illuminating the event at Camping World Stadium. There were five running backs on Garcia's "Team Laulima," and each would rotate out every three plays to allow each to get playing time.
Despite playing a position not exactly prime within a pass-happy game plan, the Bobcat still had a trick under his hat.
"I had a specialty play, the halfback pass," Garcia said. "At practice, they'd told us about it, then they just lined us up like, 'We're going to see who can throw the farthest, best pass.' I did it, then they gave it to me."
Garcia ultimately broke it out on the first play of the fourth quarter.
Leading 14-0 and driving from their foes' 35-yard line, Garcia and Team Laulima – meaning teamwork or cooperation – employed trickery to effectively subdue Team Lokahi – unity – and close out the day's tripleheader.
Taking a shotgun handoff from 6-foot-4, 216-pound quarterback Jordan Manley of Kentucky's Class 6A George Rodgers Clark High School, Garcia scrambled right and threw toward the near sideline at Brandon McClendon Jr.
A Kentuckian representing 2A Holy Cross, McClendon snagged the throw at the 11-yard line and tip-toed to the end zone to put Laulima up 20-0. The team would go on to win 24-0.
"I got more scared than I should have," Garcia said with a laugh. "Because at first when I threw it, it looked like I overthrew it out of bounds, but the kid I threw it to, he had three touchdowns and an interception. So, I threw it to the right kid."
Garcia was able to spend a week in Orlando to prepare for the game. He called it an eye-opening experience.
"It was very competitive here," he said. "It was really a different atmosphere for me and definitely a first. All the kids were hyped to play, and it was ecstatic there at the practices. You had to bring it to stand out."
Doing exactly that in the grand finale, McClendon caught the game's first touchdown on a 37-yard pass from Idaho's Clayton Franssen, a product of Class 5A Skyview High School. The play, which began with a play-action fake to Garcia in the backfield, was the final play of the first quarter.
Following a timeout late in the second quarter, Team Laulima struck again with 1:12 before halftime when McClendon split two defenders up the far sideline to haul in a perfect 38-yard rainbow from 6-foot-4, 220-pound Adrian Stringer, who was Laulima's starting quarterback out of Hopkins County Central High School, a Class 4A program in Kentucky.
Garcia again found himself on the field as part of the extra point crew as Laulima entered intermission up two scores.
McClendon's Tiki-torching of Team Lokahi's defense warranted MVP consideration, though in post-game interviews streamed online, Colorado standout receiver/tight end Cole Walker (5A Legacy) was praised for multiple possession-sustaining catches, many coming via Stringer throws.
Woodland Park WR/DB Tyler Baldus, Legacy guard/long snapper Austin Stallan plus Dove Creek's Gauge Thompson also represented the Centennial State under Laulima's collegiate coaches Zach Crissup (named in Sept. 2020 the head coach at Northeastern Oklahoma A&M College) and Trent Hosick (a former QB at University of Missouri, Arizona Western College and Youngstown State University).
"I met quite a few kids down there, kids from Idaho, Kentucky, California, Oklahoma Oregon," Garcia said. "We got to ride the bus to the stadium. We got out, went straight to the locker room, the locker rooms were all nice, and were just treated like royalty."
The school colors of Auburn and 14th-ranked Northwestern – pit New Year's Day in the 2021 Vrbo Citrus Bowl, won 35-19 by the highly-rated Wildcats – were still painted and prominent in Camping World Stadium's end zones.
Had Ignacio skipper Alfonso "Ponch" Garcia made the World League of American Football Orlando Thunder's final 1991 roster, he'd have played there regularly, though the historic venue was known then by its more familiar Florida Citrus Bowl name.
Foremost on Joe Garcia's mind last week was carrying himself in a manner befitting his school, which had produced players electing to venture to places such as Australia for the Down Under Games' own showcase-style action.
"I take great pride in that," he said, of carrying IHS' banner east to the Sunshine State and, more or less, west to the String of Pearls. "When I was asked, it was such an honor and I wanted to go so bad. And I try to stay humble about it; I didn't really, like, brag about it. I just wanted to go show everybody little Ignacio and what can happen when you're from there. Just wanted to make everyone in Ignacio proud.
"Dealing with college coaches, being around kids who know the game of football and love it that much, or as much as me, was just a great experience. Everything we did this week, you've just got to want it; it's about who wants it more, And it was definitely worth it."