COVID-19, digital divide harm academic progress in rural Colorado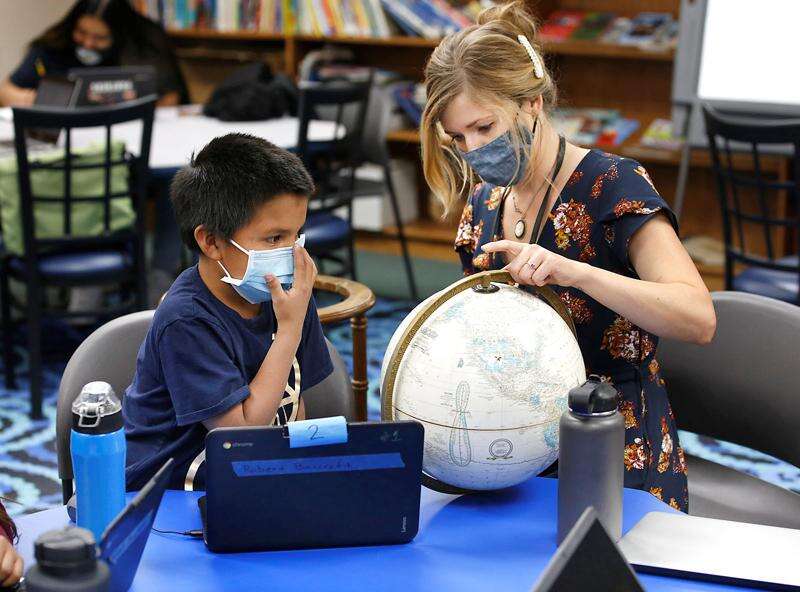 TOWAOC – Crystin Furse sits with a young boy in the Ute Mountain Ute Tribe Education Center. His laptop, provided by the Montezuma-Cortez School District, is open and ready for the day's online lesson. But Furse forgoes the laptop in favor of a globe.
She points to different spots on its textured surface, turning the student's laptop lesson into a three-dimensional, hands-on learning experience.
The Ute Mountain Ute Tribe in rural Southwest Colorado is keeping elementary school students on the reservation instead of busing them to the Montezuma-Cortez School District to help limit spread of COVID-19 within the community.
But many families in Southwest Colorado, including those in Towaoc, struggle to access the internet. Broadband infrastructure is lacking in this corner of the state, and as late as October, at least some students in all grade levels had not yet logged into Colorado Digital Learning Solutions, the online learning platform and curriculum school districts adopted when students were forced to go online in the spring.
It is already becoming clear that school closures during the coronavirus pandemic are hurting students' academic progress. To help mitigate the effects, Tina King-Washington, director of education for the Ute Mountain Ute Tribe, has partnered with Fort Lewis College's Teacher Education Department to bring college students to Towaoc to tutor tribal students and help them access the online learning platform.
It is a win-win for Ute students and FLC students: Students pursuing a teaching degree at FLC need 300 hours of teaching or tutoring practice before they can work in a classroom as student teachers. Tutoring is a way for practicum students to meet their required hours and gain experience while helping the students in Towaoc.
FLC students were flung into the same challenges teachers around the world are facing – how to coordinate the logistics of a global pandemic and new online learning platform while ensuring students receive the education they need.
"They miss the connection, and you can't make connections through online learning," said Tori Archuleta, one of the FLC tutors.
Some Ute students visit the Education Center because it provides access to a printer, FLC tutor Kiara Stacey said.
"It's not just little kids who are struggling," she said.
Some students have not been able to submit assignments, so FLC tutors started working with teachers in the Montezuma-Cortez School District to track students' progress from Towaoc using Google Docs. Tutors log the number of hours students worked and what they worked on.
It's not just a lack of sufficient broadband that is preventing students from achieving academic success. Some students and parents have difficulties understanding the various technologies and how they work, said tutor LaRosa Hall.
She described one grandmother who came to the Education Center flustered.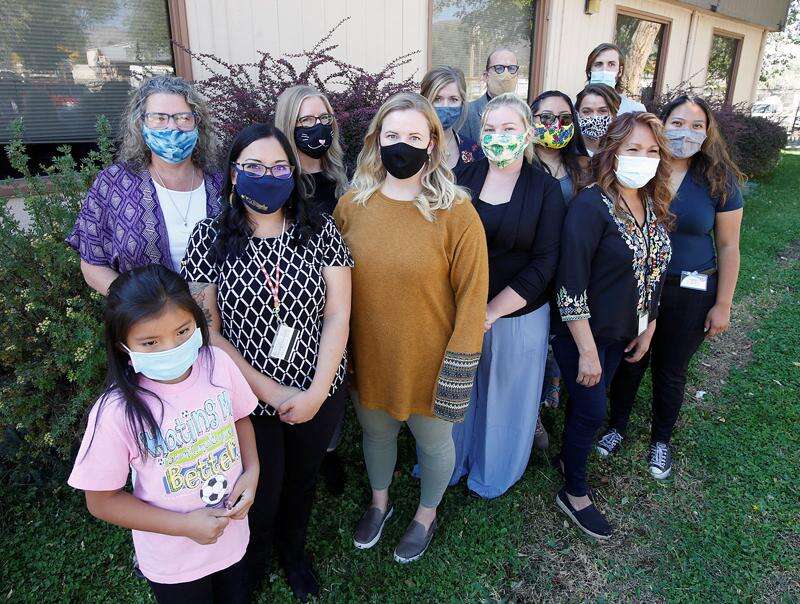 "She wanted to be a part of (her grandchildren's education experience), but was overwhelmed with the new technology," Hall said.
When parents or students come in with questions about Colorado Digital Learning Solutions or other online technology, tutors help them, too.
"It's little things like that really help parents and families," Hall said.
The experience is a benefit for the FLC students as well.
Before students arrive, tutors meet to discuss goals for the day, identify areas where students are struggling and formulate a game plan for how they can help.
"They've become a faculty, generating contact with the community and teachers," said Will Camp, coordinator of field experiences for education students at FLC.
Tutors drafted a letter to parents explaining the role they play. They also make adaptions to their processes along the way based on COVID-19 restrictions and the needs of students.
"We learn something in class, then apply it the next day," said Cassidy Bush, an FLC tutor.
Filling the digital, cultural divide
Education students at FLC take courses in Southwest languages and culture, such as Spanish language and Native American history. The courses are helping students interact and relate to families on and off the reservation, Stacey said.
Several of the tutors are Native American, and Madeline Powelson said working with her Native peers opened her eyes to the culture and experiences of Native students.
"Growing up, my mom and dad did what they could to give me the best education, and I want to do that for them," Archuleta said. Her mother is a member of the Southern Ute Indian Tribe near Ignacio.
Growing up, Archuleta said she didn't have teachers who looked like her, or the opportunity to meet and work with students who were like her. Native tutors can make connections to the personal life and culture of students in the Ute Mountain Ute Tribe.
Maethalia Yazzie, one of the tutors from FLC, said she has family in the Ute Mountain Ute Tribe, and tutoring is a way to help her community.
FLC student Yvette Shorty grew up on the Navajo Reservation where she had access to her language and culture, but many of the disparities, including education disparities, are the same.
"I want to empower Indigenous communities," Shorty said. "Having to go to school where your language and culture is dismissed adds to a split you feel, and I want to be part of that healing process."
If students across the state are using the same standardized online learning platform, but those students don't have equitable access to education or the same strong foundation, they are more likely to "fail" the modules on the online learning platform and become discouraged with themselves, Furse said.
"It is damaging how they feel about school and learning," Bush said.
Some schools have cut classes in science and social studies because of how behind students are in subjects like reading and mathematics.
Tutors struggle deciding whether to put the computer aside and focus on individual facets of the dense lessons within the online modules, or keep students on schedule with the online learning lessons assigned by their teachers.
As tutors instead of teachers, it is "easier for us because we're not in the spotlight – the pressure is off," Bush said.
The ability to work with one or a handful of students at a time instead of facilitating an entire classroom allows tutors to explore and experiment with this new way of learning.
The Teacher Education Department at FLC changed the spring schedule for its student teaching and practicum students so they have Wednesdays free to continue tutoring, and the tribal students have consistency in their learning.
"It's so important to all of us," Powelson said. "All of us are better educators because of our experience."
ehayes@durangoherald.com