Former School District 9-R teacher aims to support students and their families
Over the last decade, the life coaching industry has boomed as it has found robust support worldwide and in the U.S.
In its most recent global study, the International Coaching Federation estimated that there were about 71,000 coaches worldwide in 2019, up 33% over the last half decade. In North America alone, some 23,300 coaches practiced.
But there's a relatively new type of coaching that has begun to grow and has now come to Durango: kids life coaching.
Kids life coaching aims to help children navigate their emotions and the challenges they face in school and at home, providing them with a skill set that they can then use for the rest of their lives.
Sarah Strouthopoulos, a former Durango School District 9-R teacher, started her kids life coaching business, Confident Kids Coaching International, while teaching in Europe in 2019. Since returning to Durango two years ago, she has brought kids life coaching to the area and begun to tap into a local audience alongside her national and international clients.
"I think adult coaching has been more widely accepted, that's become more of a norm," she said. "Kids life coaching is definitely a newer concept and equally beneficial, but just not as recognized."
Strouthopoulos spent more than two decades with Durango 9-R, first as an elementary teacher at Needham Elementary School and later as a gifted specialist at Park Elementary. While living and teaching in Europe for two years, she was introduced to kids life coaching and decided to become a certified coach through Kids Life Studio, a United Kingdom-based program.
"I started looking into it and realized that it was a thing," she said. "It was this up-and-coming profession that really put into play a lot of things that I wanted to do with kids to help support them and have them grow."
As a general education teacher and gifted specialist, Strouthopoulos, who also has a master's degree in education, saw some of the challenges that her students faced.
Often, their learning or behavioral struggles were not tied to their aptitude in school. Instead, they were linked to things like a difficulty handling emotions or expressing themselves.
"What I saw was a lack of confidence, just this uncertainty," Strouthopoulos said. "When they were having trouble with learning, it often wasn't necessarily linked to their inability to learn, but it was more they didn't believe in themselves."
While a family might enlist a psychologist or therapist, kids life coaching offers something different, said Bronwyn Bergen, president of STARS Kids Life Coaches and a certified kids life coach.
Kids life coaching looks ahead where a psychologist might look back. Coaches create a unique program for each child they work with. The goal is to instill resiliency skills, coping mechanisms and confidence in children that they can then take forward, she said.
"I work on confidence-building. I work on emotion management," Bergen said. "These I tell parents are lifelong skills. These are things that I weave in that they're going to use until adulthood and beyond."
Strouthopoulos compared it to a sports coach offering encouragement and guidance from the sidelines, arguing it was more interactive and proactive than therapy.
With Confident Kids Coaching International, Strouthopoulos focuses on gifted and talented children from age 6 through middle school. Her programs run for 10 weeks, meeting with students once or twice per week and also meeting with their parents.
Strouthopoulos works with kids on four "foundational pillars": an empowered identity, the power of beliefs (which looks at mental strength and the impacts of beliefs), interpersonal connection, and goals and dreams.
She relies on various activities and games to engage with the children she coaches, including coloring sheets and a "switch ball," which changes colors. When the ball is yellow, Strouthopoulos asks her students to say something they can control. When it's blue, she asks them to say something they cannot.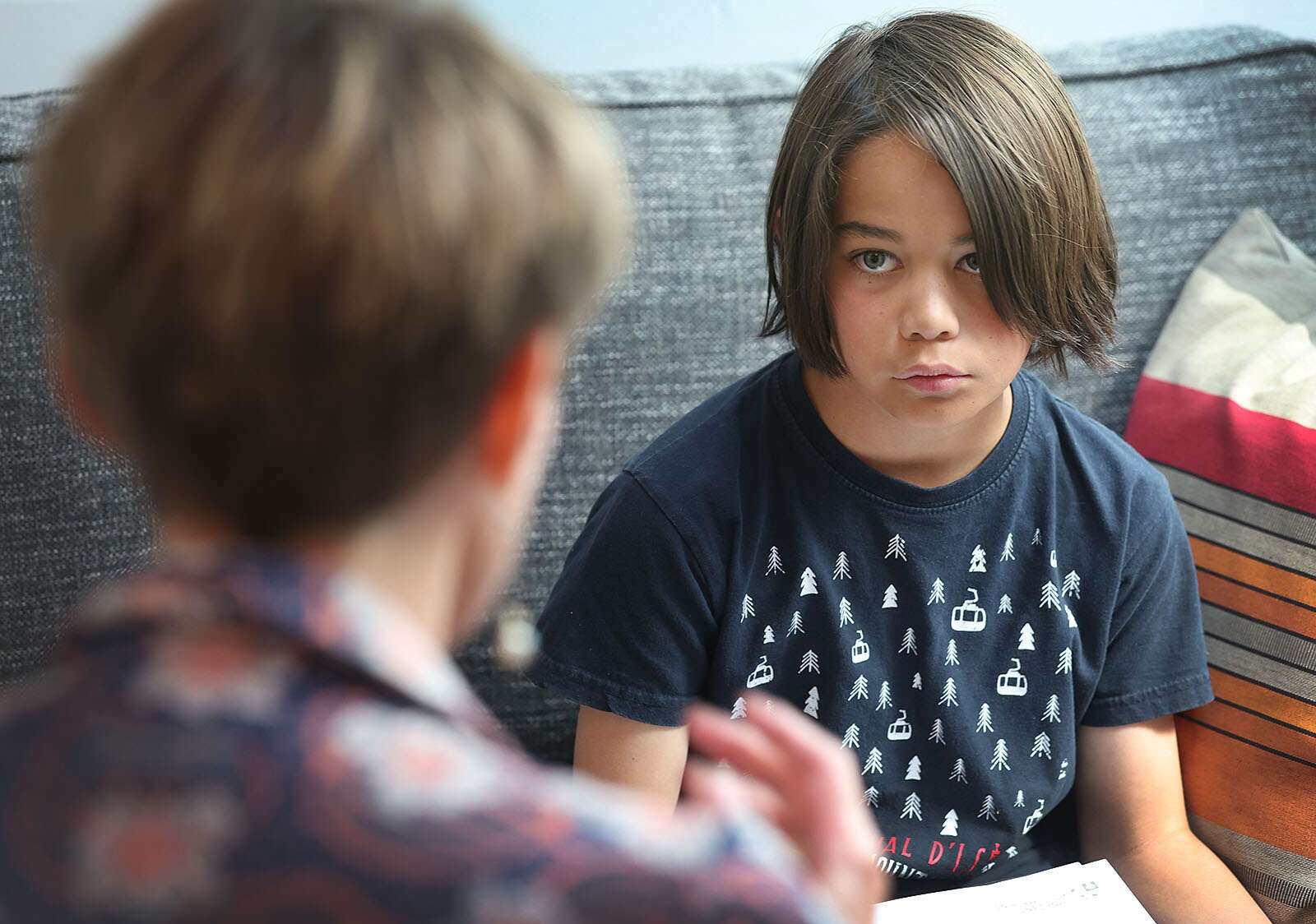 In January, Strouthopoulos began coaching full time and opened her business to families in Durango alongside her other national and international clients.
Her first local client is Kai Zinser, 10, a fourth grader in Durango School District 9-R, who Strouthopoulos helped to identify as gifted and talented when she taught him during kindergarten in the district.
With the learning disruptions of the coronavirus pandemic, Louvelle Zinser, Kai's mom, said her hope was that kids life coaching would strengthen skills that would help Kai excel both inside and outside school and supplement what he was learning in school.
"A lot can happen in two years. When they're young, this is when they develop the most and develop the skills of perception and empathy and feelings about themselves," Zinser said. "I feel like the longer you wait on that the harder it is to be able to develop those things."
About halfway through his program, Kai said he most enjoys the emotions wheel, a coloring activity he does with Strouthopoulos to sort through emotions.
"I usually don't think about them, so then I have to actually think about what I felt," Kai said.
Zinser has noticed more self-awareness and reflection in Kai since starting kids life coaching. Strouthopoulos' outside perspective has also helped her better understand Kai and his needs, she said.
"It's been invaluable for me to be able to have the perspective of how my kid sees the world because that affects how I then help guide him," she said.
Zinser said kids life coaching has been supporting Kai in the ways that she hoped.
"We want all of our kids to thrive however they learn, so to be able to give him those tools it just makes him more successful and independent," she said.
Though Strouthopoulos' kids life coaching has been slow to take off in Durango, her business has grown nationally. Since January, she has worked with 14 gifted or high-ability kids across the country.
After gaining a foothold in Europe, kids life coaching has taken off in the U.S. in the last five years as more parents have sought coaches for their children for both proactive and reactive reasons, Bergen said.
Strouthopoulos expects that growth trend to continue both around Durango and nationally. She envisions that kids life coaching will become as widely accepted and robust as life coaching for adults, and her goal is to support more children and their families in the area.
Strouthopoulos said she does not share her rates publicly, but she works closely with families to make sure that working together is a good fit and that her services meet the child's needs. She does not currently offer scholarships or reduced costs for her coaching, but she said she plans to once her business becomes more established in Durango.
"I think kids life coaching is starting to really come into play. It's just rising a lot slower," she said. "People just aren't as aware, but what we provide as kids life coaches is really needed. It's all about trying to unleash their full potential and help them thrive and get an edge on life."
ahannon@durangoherald.com