Regular training sessions help first responders sharpen skills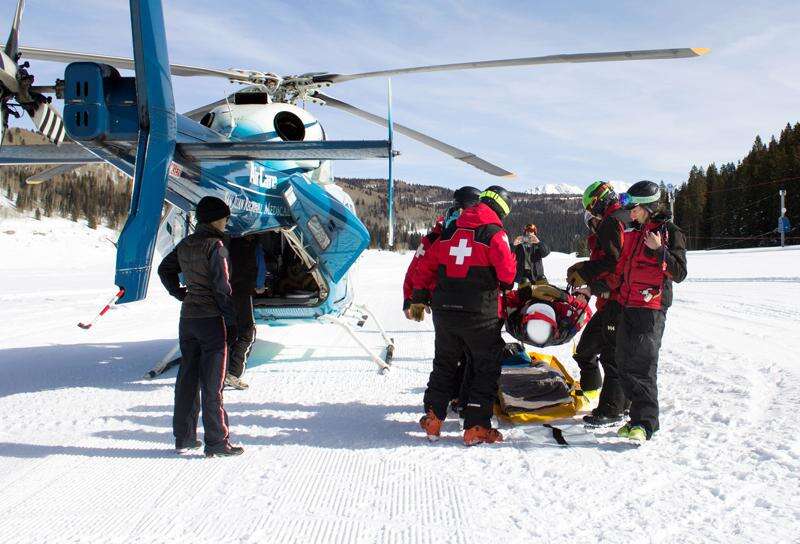 PURGATORY RESORT – Within minutes of the helicopter landing at Purgatory Resort, Petra Bier was out the door and rushing to the ski patrol officers huddled around a man lying on a stretcher.
Bier, a nurse with San Juan Regional Medical Center in Farmington, received the vitals and incident details from the lead ski patroller. After care had been coordinated, the first responders lifted the man into the back of the helicopter.
A few second later, the "patient" popped out of the side door, shaking off the cold and thanking his fellow ski patrollers for not dropping him.
The helicopter run in late January with the AirCare team at San Juan Regional Medical Center and Purgatory Ski Patrol was practice – a chance to offer feedback and for each team to hone its responses. But it is a responsibility first responders know has real-world implications.
On Saturday, a 70-year-old man from Dallas was skiing with his wife at Purgatory Resort when he hit a tree and died. Ski patrol transported the man to the front side of the mountain and called a Flight for Life helicopter – out of Mercy Regional Medical Center in Durango – for emergency transportation. The coroner later told The Durango Herald the man died on the mountain. It had been almost three years since someone died at Purgatory Resort.
While Purgatory Resort would normally call Mercy's Flight for Life, as it did last weekend, the team at San Juan Regional Medical Center typically holds a practice run with the ski patrol once a year, said Mike Berve, AirCare and trauma manager with San Juan Regional Medical Center. It's an opportunity to connect with the resort's first responders and familiarize them with the aircraft.
Butch Knowlton, who has worked with La Plata County Search and Rescue for over 30 years, said air rescue plays an important role in emergency services for the region.
"It's a very important resource because we have a lot of backcountry recreationists," he said. "Getting medical personnel in to that location is vitally important when we have critical injuries."
The AirCare team
In 2011, the medical center's AirCare department purchased the newer helicopter, larger than many of those used in emergency medical services, Berve said. He said smaller helicopters, like Flight for Life, can limit the access care providers have to the patient. In the larger, back-loading AirCare helicopter, "it's easier to take care of patients. You have full access to them," Berve said.
The helicopter is capable of flying a range of 150 miles, he said. But as more locations within that range acquire helicopters, the crew based in Farmington is not often called to its full 150-mile round-trip capacity.
"It just depends on who's busy, who's available and who is used to calling who," Berve said. He added, a lot of the flights are within the Navajo Nation. "We go out there all the time," he said.
While La Plata County Search and Rescue typically relies on Flight for Life to assist in air rescues, Knowlton said rescuers have also used AirCare's larger helicopter, which is capable of flying to higher altitudes.
"There's been times we called them in to provide a higher level of safety for high-altitude missions that we become involved in," he said.
An AirCare crew consists of three individuals – pilot, nurse and paramedic – trained specifically for providing medical care on a helicopter. In addition to the helicopter, San Juan Regional Medical Center has an airplane, typically used to transport patients between hospitals in Las Cruces, Salt Lake City, Grand Junction and Denver, he added. The medical center has four helicopter pilots and four airplane pilots on rotation.
In 2019, the air crews transported 803 patients in the airplane and 470 in the helicopter, which can include trips from the scene or between hospitals, according to its records. About half of the helicopter patients were transported from the scene, and 125 of the patients were considered traumatically injured. Less than half, about 55 patients, were injured in a motor vehicle crash, according to the medical center's records.
The department typically holds training sessions with fire departments and first responders throughout Southwest Colorado and northwest New Mexico. Berve stressed the difference these practice runs can make in real-world situations.
"It's important so they know how to call us, where to land us and how to access the helicopter," he said. "We need people to be comfortable, competent and know what not to do."
Knowlton, who is also the director of La Plata County Emergency Management, said the trainings with both Flight for Life and AirCare play an important role.
"It's imperative we train with the medical aircraft personnel so that we have a clear understanding of what the air crew needs, so we can provide that on the ground and so we can communicate with those folks," he said.
At the Purgatory training, the two teams took almost an hour to debrief. Members of the AirCare team answered questions about calling in a helicopter for a landing, what patient care information was important and when to share it. There was a quiet intensity to the conversation, both sides knowing the next time they see each other might not be for practice.
lweber@durangoherald.com