Democratic state lawmakers dispute claim that pretrial reforms are to blame
From 2010 to 2020, Colorado's property crime rate increased more than that of almost any other state, and its motor vehicle theft rate more than doubled.
That's according to a new report from the Common Sense Institute, a nonprofit, nonpartisan, conservative-leaning think tank based in Greenwood Village.
The report, released Thursday, sought to quantify the so-called "crime wave" in Colorado. Its lead authors were George Brauchler, a Republican who until this year served as the district attorney for Colorado's 18th Judicial District, and Mitch Morrissey, a Democrat who formerly served as Denver district attorney. Both are currently criminal justice fellows with the Common Sense Institute.
"The amount of money that's involved in terms of the cost to Colorado is breathtaking in terms of the annual amount," Brauchler said. The report estimated tangible costs associated with crime in 2020 at $8.5 billion.
While the national rate of property crime has fallen consistently over the last 30 years, Colorado's rate "remained largely flat or even increased slightly since 2009," the report says. The national property crime rate declined by 30% between 2009 and 2019. In Colorado, it dropped by just 2%.
"During the first year of the pandemic, the difference was exacerbated. Nationally, the property crime rate fell by another 8%," the report says. "Colorado went the opposite direction, increasing by 8%."
Colorado had the highest rate of motor vehicle theft among all states in 2020, the report notes. Only the District of Columbia had a higher rate.
"Only 10 years ago, the rate of motor vehicle theft in Colorado was lower than the national average," the report says. "Since then, Colorado's auto theft rate has increased by 135%, while the national rate has increased a relatively scant 3% through 2020."
FBI data shows that Colorado in 2020 had the fourth-highest property crime rate in the nation, after the District of Columbia, Louisiana and New Mexico.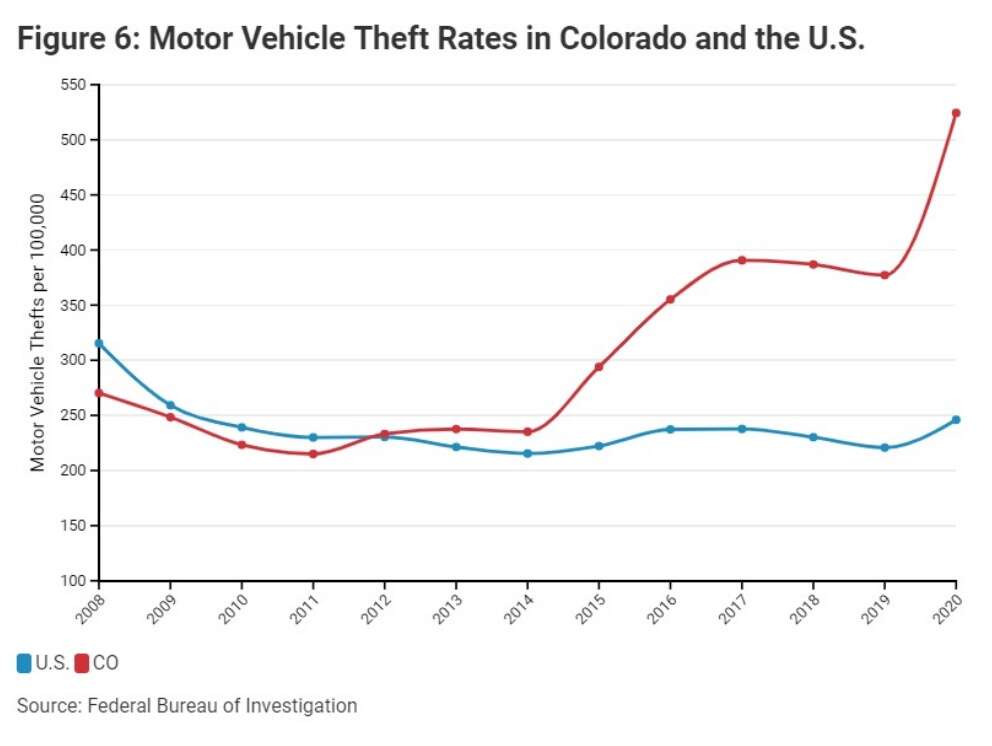 Growth in Colorado's violent crime rate between 2010 and 2020 also outpaced the national average, the report found. Colorado showed a 35% increase in violent crimes compared with a 3% increase nationwide. However, based on the FBI's 2020 data on violent crime rates by state, Colorado's ranked among the middle of the pack.
During a virtual news conference on Thursday, Brauchler and Morrissey attributed the increase in Colorado's property and violent crime rates to pretrial reforms that meant fewer people had to wait in jail before their trials. A recent increase in personal recognizance bonds – agreements that don't require suspects to pay bail – meant accused people were able to commit more crimes, the former prosecutors argued.
"(There) used to be a point in time in my career when a two-time convicted felon couldn't get a PR bond," Morrissey said, but that's no longer the case.
To tackle the increased crime rates, Common Sense Institute recommended that lawmakers make more data available on the effectiveness of PR bonds and low-cost bail at deterring crime, and establish a task force dedicated to addressing organized retail theft.
Colorado lawmakers weigh in
State Rep. Adrienne Benavidez, a Denver Democrat, questioned whether pretrial reforms were really the driving factor behind increased crime rates.
"This isn't something that happened overnight," she said, noting that the Colorado General Assembly funded additional judges, public defenders and prosecutors in 2019 to address the problem. "The biggest increase was motor vehicle thefts. That's a huge problem, but I can't say it's because of pretrial reforms. I haven't seen any statistics on how many people charged with theft of an automobile are being released early."
Benavidez worked with Sen. Pete Lee, a Colorado Springs Democrat, on a bill this year that would have limited when judges can set monetary bonds, but the bill died in committee. Though data shows the use of PR bonds has increased recently in Denver, "those were judges' decisions," she said.
"There's been something for several years on our statutes that encourages judges to consider the crime, and (for) lower-level crimes should look to other methods instead of cash bond to have people return," Benavidez said.
State Rep. Steven Woodrow, a Denver Democrat, was also skeptical that more PR bonds were to blame for the increase.
"The indicators of crime have far more to do with poverty, mental health issues and other socioeconomic factors, and that while it might sound nice to simply say we need to get tough on crime, we haven't done a great job of addressing the underlying root causes," he said. "Individual responsibility is certainly important. At the same time, we can't ignore the impact of things like the pandemic and people being unable to afford the basics."
To read more stories from Colorado Newsline, visit www.coloradonewsline.com.