Four girls, two boys make all-state teams
The high school basketball season never had closure on the court in 2020, but the announcement of all-state teams Thursday provided some normal finality to a season that was anything but normal.
Two weeks earlier, teams from across Colorado were on the court in state quarterfinal games all along the Front Range. Those games were played with minimal attendance. Each player was allowed to bring four family members or guests as the Colorado High School Activities Association looked to do its part in limiting the spread of the new coronavirus and keeping players and their loved ones safe from COVID-19. But after the final quarterfinal games had been played March 12, CHSAA made the tough decision to cancel the remainder of the state tournaments with no champions crowned.
In La Plata County, both the Ignacio High School boys and girls teams were in Loveland to compete in the Class 2A state tournaments. Each of the Bobcats' teams lost in the quarterfinals and were to play in the consolation semifinals March 13 when the tournament was called off.
"We had lost to Holyoke that evening and got back to the hotel and got the team all pumped up and ready to go again after a tough loss," IHS girls head coach Justa Whitt said. "That's when, right after we got them pumped up, we got word they were canceling it. That was rough. But then we got some closure at the hotel. It was an emotional breakdown for a little while with sadness that the year was over and we didn't get to finish what we wanted or get a second chance to prove ourselves and get that win at state. It's been difficult. I'm hopeful, once all this passes, we can come back together and celebrate the good things that happened this year."
Fittingly, it was the Bobcats that led the county in CHSAA All-State selections Thursday with four players – two boys and two girls – named to the Class 2A honorable mention lists. The Bobcats hope to celebrate them at a season-ending banquet sometime this year.
To be named to the all-state team, players are selected by a vote of the state's coaches. The player pool consists of those named to their respective all-league first-team. Thursday's announcement came a year after no Bobcats were named all-state selections.
For the San Juan Basin League and 2A Region 8 champion Ignacio girls, those players were senior Makayla Howell and sophomore Avaleena Nanaeto.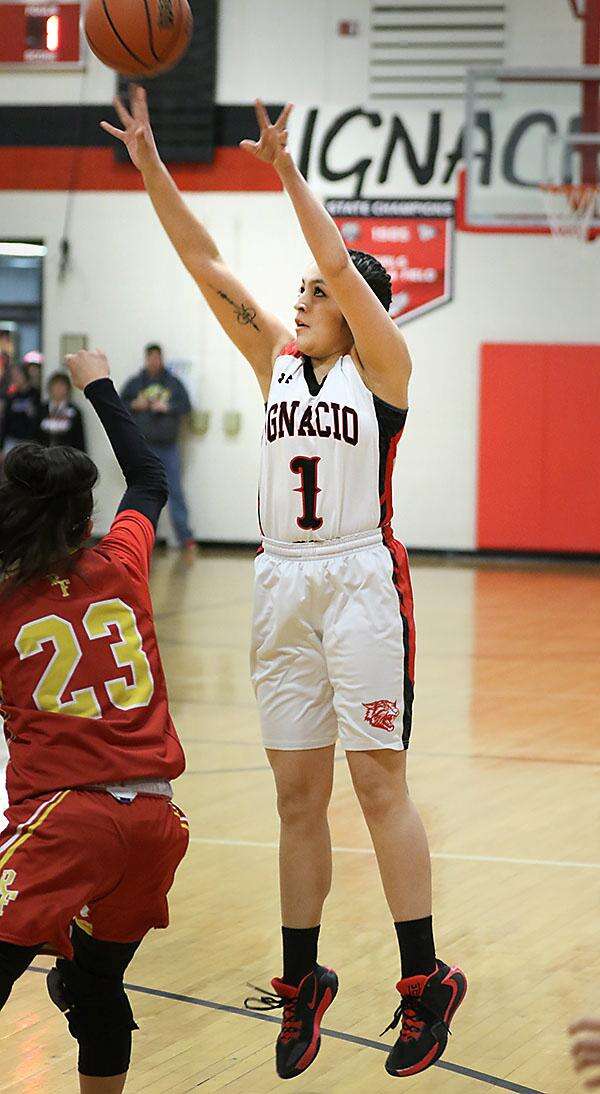 Howell and Nanaeto helped lead the Ignacio girls to an 18-6 overall record, a perfect 8-0 mark in league games and a regional championship while on a 15-game winning streak going into state. The No. 7 Bobcats' season would end with a 47-34 loss to No. 2 Holyoke.
Howell, who was named the SJBL player of the year, scored a team-high eight points per game for Ignacio and added 3.9 rebounds and 2.3 steals per contest while providing senior leadership.
"The players nominated her to be the captain at the beginning of the year, and that says a lot about her actions and how she works as a leader," Whitt said of Howell. "She's fair and tough when she needs to speak up but in a loving and kind way. She played her heart out and helped the team win."
Also for IHS, Charlize Valdez and Ebonee Gomez were named to the All-SJBL second team.
Nanaeto was second on the team in scoring with 6.4 points per game to go with 3.3 rebounds, 2.1 assists and a team-best 3.7 steals per game. The sophomore is set to have a strong two years as an upperclassmen for the Bobcats in the upcoming two seasons.
"She's improving every minute it seems like," Whitt said. "Her athleticism and love of the game is what drives her. She's a great kid and a hard worker. She was by far the leading stealer in our league and was so quick she could snatch the ball away quicker than anyone knew what happened. She really stepped up on the defensive end helping her be a tandem with Charlize. We could put those two on any player and keep them under wraps."
Finn and McCaw helped the IHS boys get back to the state tournament with an 18-5 overall record and 9-1 mark in the San Juan Basin League. IHS tied with Mancos for the league championship, but it was the rival Bluejays that earned the right to host the 2A Region 4 tournament. It was the McCaw-led Bobcats that would win the regional in enemy territory, though. The No. 8 Bobcats would eventually fall in the state quarterfinals, 80-35, to No. 1 Highland.
McCaw helped the Bobcats with 11.8 points per game. He also had 3.7 rebounds, 2.4 assists and 2.2 steals per game. He scored 24 points in the regional final at Mancos.
"That right there shows leadership," IHS boys head coach Chris Valdez said of McCaw's performance in the regional title game. "Look at every great team at state, they have one or two guys that just pick it up at the right time. For us most of the time, it was Bryce and Brady. What Brady did in the pressure of that situation to pull us through to victory in the fourth quarter in a hostile environment against a team that knew us well, it's something I haven't seen out of a kid in a long time."
Finn finished with a team-high 12 points per game to go with 5.8 rebounds, 1.7 assists and 1.3 steals per game. With Finn and McCaw to come back next season as seniors along with Triston Thompson, a second-team all-league selection, and Dylan Labarthe, the Bobcats will be a mighty foe once more for the 2020-21 season.
"Those guys worked their butts off this year, and it's nice to see them get recognition," Valdez said. "Brady and Triston will get some more muscle on them over the summer, and Bryce is a strong kid who will work on his footwork to guard quicker against bigger guys. We have stuff to work on, but we have a good base. Anybody would love to have kids of that caliber coming back."
Here's a look at the other two girls from La Plata County to be named to honorable mention lists:
Bayfield Wolverines
An imposing force in the paint, 6-foot-2 center Macee Schulz of Bayfield is now an all-state player in Colorado's Class 3A.
The star for the Wolverines averaged a double-double of 11.4 points and 10.8 rebounds per game for BHS in her junior season. She also tallied 2.6 blocked shots per game along with 1.5 steals.
"She has worked really hard and come a long way these past couple of years," said BHS head coach Josh Kitchen. "This year, she did a good job of expanding her offensive game. In the past, she was great under the hoop with second chances and putbacks. This year, she developed as a player and had a couple moves she could go to. There were times this year she faced adversity and overcame it. That showed her quality as a person."
Schulz helped BHS to a 9-13 overall record, a 3-7 mark in the 3A Intermountain League and a trip to the league tournament semifinals. BHS will return nearly its entire team next season.
"When I took over this program a while back, we knew we were young. We've been young for years," Kitchen said. "Next year, we can say we have age on the team and experienced girls who have played against the top-five teams in the state consistently the last three years of varsity basketball. I'm nervous about the potential of summer basketball and whether it happens or not. I hope it does. If we can fill a few more holes, we can compete with all the great teams in this state."
Durango Demons
It didn't take long for freshman Mason Rowland to make her mark on Durango High School girls basketball.
In the 12th game of the season, Rowland hit a buzzer-beating shot against arch rival Montrose to send the Demons to a 35-33 win and a second consecutive Aztec "Rumble in the Jungle" tournament championship.
Rowland finished the regular season with 7.7 points and 4.7 rebounds per game, and she also added 1.7 steals per contest. When the Class 4A state tournament began, Rowland elevated her game to another level. She finished with 18 points in a second-round tournament win against Skyview, and she added another 16 in the Sweet 16 game against Green Mountain. That's where the Demons' season would end with a 58-45 loss. Durango finished 15-10 overall and 5-3 in the 5A/4A Southwestern League. DHS went 6-1 at home.
Fitzpatrick called Rowland the best player on the floor in the team's two state tournament games.
"She's definitely a talent," Fitzpatrick said. "Her potential is limitless. It just depends on her and what her goals are. Like most Durango kids, she does everything; she plays volleyball, basketball and would be playing soccer this spring. She's a very talented athlete. I'm not even sure what her favorite sport is, but I'm guessing it's probably the whatever season she is currently in."
A scrappy team known for its defensive intensity, the Demons can build around Rowland's offensive talent with eight varsity players to return next season.
"To get recognition as a freshman is wonderful," Fitzpatrick said. "If she keeps progressing, who knows where she might be when her high school career is over."
jlivingston@durangoherald.com