After failed efforts to establish a managed camp, officials say dispersed camping can no longer continue
La Plata County commissioners said this week they have exhausted all options for opening a managed homeless camp near Durango and plan to close Purple Cliffs before the end of the year, saying the "de facto homeless camp" south of city limits is no longer tenable.
Commissioners said they remain committed to addressing homelessness in Durango but need additional support from the city, local groups and the broader community to identify and establish another location for Durango's unhoused.
"We've just exhausted all of our options; we haven't exhausted our efforts," said Commissioner Matt Salka. "We're still wanting to be an active partner."
The commissioners, along with La Plata County Sheriff Sean Smith, explained their position on mitigating homelessness and closing Purple Cliffs in a letter that is scheduled to be published in Saturday's edition of The Durango Herald.
"The recent, disappointing news that the Highway 160 property will not work for a managed camp due to site constraints that cannot be overcome means that La Plata County has now exhausted all of its options for opening a managed camp to replace the unregulated camp at Purple Cliffs," the letter reads.
It goes on to say: "While there have been numerous efforts and stated intentions to find an alternative to Purple Cliffs as four winters have since come and gone, we and the community can simply no longer tolerate the situation there and will evacuate and close that area to camping in 2022."
The position is not new, but the letter reinforces the county's promise to close Purple Cliffs, potentially leaving the city scrambling to find a location where people can legally camp.
"We're kind of shocked that it's happened so quickly and didn't happen maybe over the next joint meeting where that could have come out (and they could have) said here's our intention and had those discussions," said Durango City Manager José Madrigal.
On April 12, commissioners approved a contract to purchase four properties along U.S. Highway 160 near the Durango Dog Park for a managed camp. The county planned to use $1.7 million in American Rescue Plan Act money to obtain the roughly 1-acre site specifically for the purpose.
But earlier this week the board voted to terminate the county's contract to purchase the properties after due diligence identified limitations imposed by the flood plain of the site, among other concerns.
The turnaround from committing more than $1 million to establish a managed camp to announcing plans to close Purple Cliffs this year surprised Madrigal.
"A week and a half ago we thought we had a managed camp that was coming through. In two days it changes, and not only does it change that that site doesn't work, it's like, 'We're closing the camp.' Not even, 'We're going to look at some other sites,'" he said. "Closing the camp has really kind of placed us in a bit of a corner."
Salka and Commissioner Marsha Porter-Norton said the closing of Purple Cliffs should not come as a surprise.
Since Purple Cliffs opened in 2018 in response the 416 Fire, the county has reiterated in various meetings and forums that the camp was meant to be temporary and that the county and city needed to work together to find another location.
For more than two years, commissioners and staff members have expressed concerns about the camp, its impacts and the safety of those who live there. Fire danger, graywater, trash and violence are a few of the hazards the county has cited in its reasoning for closing Purple Cliffs.
But the camp has also placed a strain on county resources.
A few weeks ago, it took the La Plata County Sheriff's Office 40 minutes to respond to a call about gunshots at Purple Cliffs. The five deputies on duty at the time were attending to other incidents in the county. When deputies have to respond to Purple Cliffs, which they do with frequency, it limits their availability to meet the needs of other parts of the county, Smith said.
"It's a very difficult situation to manage right now, and it's resource-intensive," he said.
With the myriad impacts, the county has decided Purple Cliffs must close. And with no county-owned properties or other sites the county can take action on, commissioners say it is time to defer to the city and other local groups in finding a site for a managed camp.
"We are defining a different role and a boundary for the county given that we have given the best faith effort, the good old try – put whatever word you want in there – for 4½ years," Porter-Norton said.
Commissioners have directed the county to close Purple Cliffs by September, but staff members have yet to determine the feasibility of that plan, said County Manager Chuck Stevens.
The Sheriff's Office and Smith have already begun visiting the camp to inform those living there that it will be closing sometime this year.
"We want to do this in a trauma-informed way to the best of our ability, so we think we need about 60 days in order to start enforcing no camping at Purple Cliffs," Stevens said.
While the county has committed to closing Purple Cliffs this year, it has yet to release any concrete plans. The county will begin by giving campers notices and connecting them with services around Durango. It will then help them move when the camp officially closes, Stevens said, though another site has yet to be identified by either the county or the city of Durango.
"I would hope that over the next however many weeks we can identify that spot. We need to identify that spot," he said. "The only difference here in this conversation is the county is not going to take lead on finding that spot."
Smith met with about 20 campers Monday to notify them that the county intended to close Purple Cliffs by the end of the summer. While discussing the shutdown, residents asked where they would be asked to move next.
"I told them I was not sure at this time, but we are hoping that the city of Durango will be identifying a site as they have committed to do so," he said.
With the county stepping back, the jurisdictional conflict between the two local governments over homelessness has reached a boil.
Salka and Porter-Norton both spoke of the responsibility La Plata County has to all of the residents of the county, not only those in Durango.
As the urban center of the county, Durango has supportive services that attract the unhoused community, and both the city and the county have a responsibility, Madrigal said.
"When you look at homelessness, it doesn't have jurisdictions. It doesn't have boundaries," he said. "When you look at residents, they're not looking at, 'It's your jurisdiction. It's my jurisdiction.' They're looking at leaders to solve it, and that's where I see the city. We're actively addressing it."
In their efforts to establish a managed camp and relocate Purple Cliffs, neither government has been able find an answer for "NIMBYism," which stands for "not in my backyard." Both governments have encountered significant community opposition to locating a managed camp closer to downtown Durango.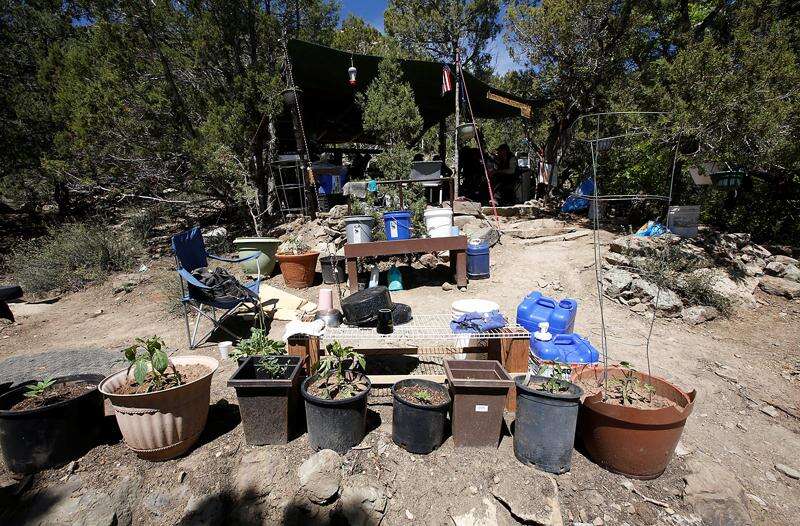 Though the county intends to close Purple Cliffs without a managed camp in place, Salka said the county is not giving up on finding an alternative. He called for more involvement from the city and other local groups.
"We're committed. We've been hunting down properties, but I would like to see somebody else step up. The city, Neighbors in Need Alliance, faith-based organizations, whoever. I would love for them to help out and have them try to see if they can see it at a different angle," he said.
In their letter, commissioners and Smith wrote that the county has designated $1 million in American Rescue Plan Act money to address homelessness.
The county will remain an active member of the Coordinating Council on Homelessness, put Joint Sales Tax funds toward solutions, connect the unhoused with services and coordinate with other entities, they wrote.
Mayor Barbara Noseworthy said the impending closure of Purple Cliffs may necessitate the two governments meet weekly to set goals and find a solution.
"The city and county have been working together, and in my view, will continue to work together to address this," she said.
With the county announcing it will close Purple Cliffs, City Council will meet for its regular session Monday to discuss its plans for the first time. The two governments will meet in late July for a joint work session.
"We're not against closing Purple Cliffs," Madrigal said. "The concern is what's happening now is closing it without anywhere else for (the unhoused community) to go. That's the part that's the biggest concern for us."
ahannon@durangoherald.com