Bow Wow Film Festival benefits local shelter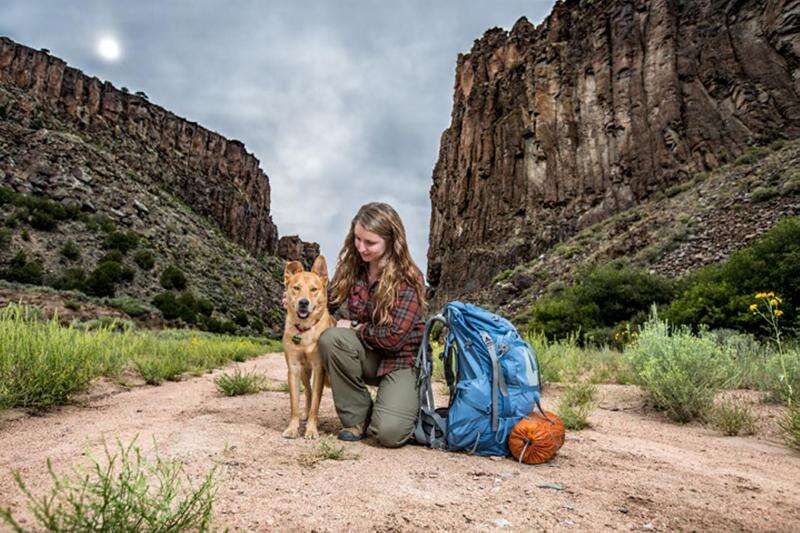 There's no question Durango loves its dogs, and when it comes to helping them out, residents tend to show up.
La Plata County Humane Society will host the fourth annual Bow Wow Film Festival on Thursday at Durango Arts Center.
The festival is a traveling event featuring short, dog-related films that is a fundraiser for humane societies around the country.
The films come from all over the world, including two of this year's shorts, "Lester," a film from Santa Fe, and "A Dog Called Moose," from DogSky Films in London.
'Lester'
Jamie Merideth, videographer at Santa Fe Animal Shelter and Humane Society, is showing her short film "Lester" at this year's Bow Wow festival. She was contacted to participate this year after her film, "The Dog Bachelor,"(a parody of the television show "The Bachelor") was included last year.
And this year's film is personal.
Merideth adopted Lester about two years ago, when he went to the Santa Fe Humane Society. He was in rough shape, "kind of mentally or behaviorally," she said. The two bonded, and the adoption happened.
"I hadn't planned on getting a dog that was what I'd call special needs, but once you open your heart and your house to another living creature, those obstacles just kind of fail to matter," she said, "So, I wrote a story about that connection, which is every dog, every person, just everything has a story, and I connected to Lester on that kind of basic level of overcoming the trials and tribulations of life together."
The motivation for Merideth to tell her and Lester's story came from an assignment using the theme "Connection" she was given for one of her shelter's annual fundraisers.
"I had hit some dead ends, I guess, with the stories I had in that process, and my boss at the time had seen that I was struggling," she said. "She kind of just sat me down and said, 'Forget everything else and just tell your story, the story you want to tell.'"
So "Lester" began to take shape. It took Merideth a couple of weeks to write, and once she had the story, she already had the visuals in mind, so it was just a matter of hiring a videographer to do the shots.
"Lester's story is just one story of a stray dog facing a lot of challenges. Many animal shelters, due to the lack of funding, might not have been able to save dogs like Lester," Merideth said. "If a dog isn't immediately adoptable, euthanasia is something that shelters sometimes have no choice in."
She said that euthanasia could be avoided if communities step up financially to support life-saving programs, such as behavior help for dogs like Lester, or low-cost spaying and neutering. "Luckily here at the shelter in Santa Fe, events like Bow Wow Film Festival play a part in allowing us to be a no-kill shelter."
The film festival is also a fun community event, she said.
"Bow Wow's important because it's a creative and fun way for a shelter of any size really, to raise funds, and it brings the community out and everyone loves to celebrate dogs," Merideth said. "It's important because it gives people a chance to give the gift of life to thousands of homeless animals that really need the help."
As for Lester? He's making great strides, Merideth said.
"He has made drastic improvement. He used to be really, really fearful of males specifically," she said. "Now at the dog park, he'll run up to people and give them a sniff and stuff, so that's great success in my opinion."
'A Dog Called Moose'
London-based DogSky Films is headed by Shay Kuehlmann and Kate Roxburgh. The two write, direct and produce their own films. They're currently finishing up a documentary about a cat charity in Ibiza, Spain.
When it came to "A Dog Called Moose," the two knew where they wanted to submit it.
"We both have rescue dogs and we're very big on animals, and we volunteer a lot at rescues," Kuehlmann said. "We made this film as kind of a tribute to the dogs and something that we love, and it seemed appropriate to find festivals that were more dog-friendly or dog-oriented for this, so we came across Bow Wow and we thought, 'OK, that's great; let's submit it.'"
The 11-minute movie is about a man who is out on a memory walk after having just lost his dog. Headed to a shipwreck that sits on a beach that was their favorite place to play, the man encounters a strange little girl dressed in a sort of dog costume. She won't leave him alone, and her behavior is odd: She keeps asking him if he's got any water or any treats and ... no spoilers here.
"It's a magical story – you kind of take from it what you want," Roxburgh said.
"A Dog Called Moose" was filmed over three days with a team of about 40 people at Hunstanton Beach in North Norfolk in the United Kingdom.
"It almost looks like whale bones or something. It's very animal-based in its look, and we just thought, 'We have to film it here,'" Roxburgh said. "There are amazing red and white cliffs and these old fossil beaches, and basically, when we were location scouting, we came across an old shipwreck that is only revealed when the tide goes right out," Roxburgh said.
"We missed it the first time. We kept going, 'Where's the damn shipwreck?!'" Kuehlmann said, laughing.
While the two said "A Dog Called Moose" was a fun film to shoot, there's a serious side, too: Festivals such as Bow Wow are an important way to get the word out about the plight of shelter dogs.
"I lived in America and worked at an animal rescue for a long time in LA and South Central LA ... and I know there's a massive issue with needing homes for dogs," Kuehlmann said. "We're just massive, massive fans of trying to support the humane society and all the rescues that do this amazing work."
There's also an emotional element to it, Roxburgh said.
"Half the world is completely animal-friendly and the other half is a little detached, so if you can move someone through your story, perhaps you can change their point of view about how special an animal or a creature can be to their journey, to their experience in life," she said.
katie@durangoherald.com
What:
Bow Wow Film Festival, hosted by La Plata County Humane Society.
When:
6 p.m.(doors), 7 p.m. (show) Thursday (Aug. 2).
Where:
Durango Arts Center, 802 East Second Ave.
Tickets:
Online advance: $12 general admission, $7 children younger than 12. Available at
. Online ticket sales will end at noon Friday (July 27), but tickets may be purchased at the door at a cost of $15 for adults and $9 for children. All proceeds will benefit the Humane Society
More information:
Visit