Window washing company helps lift Nathan Pease out of homelessness
In a few months in 2020, Durango resident Nathan Pease lost his job, car and apartment. He was living on the streets by March.
It was the generosity of a local business that helped Pease get back on his feet.
Pease is one of many people who have felt the economic, health or social impacts of the COVID-19 pandemic. In May, Casey MacNiven, owner of Squeegee Monkey Window Washing, saw Pease's situation and decided to give him a chance.
"For employers in a position to help someone like Nathan, we urge them to take the chance," MacNiven said.
Pease was working as a sous chef at Purgy's Slopeside Restaurant in Purgatory Resort when public health agencies ordered businesses to close or limit capacity to slow the spread of COVID-19.
He lost his chef job and found a new opportunity at Steamworks Brewing Co. But when his car broke down, he no longer had transportation to work. Within weeks in fall 2020, he lost his apartment.
He stayed with his significant other in Pagosa Springs for the winter, but he said he could not find a job. For two months, he lived on the streets of Durango or at the designated camp at Purple Cliffs while looking for work.
"I wasn't unhappy, but I was like, 'Man, I'd like to have a house or apartment to stay in again.' I just didn't give up," Pease said. "What kept me motivated was thinking about buying a piece of land and building a house on it. I've got the designs drawn up."
On May 1, he was sitting on a bench when he saw the Squeegee Monkey team cleaning windows on Main Avenue. He asked one of the employees, Patrick Kendell, if they were hiring.
"You could tell it wasn't alcohol, it wasn't drugs. Those weren't the reasons he was in the position he was in," said Kendell, who introduced Pease to MacNiven. "If all it takes is a second chance and a couple dollars to see if someone is willing to turn their life around and get back on their feet – why not?"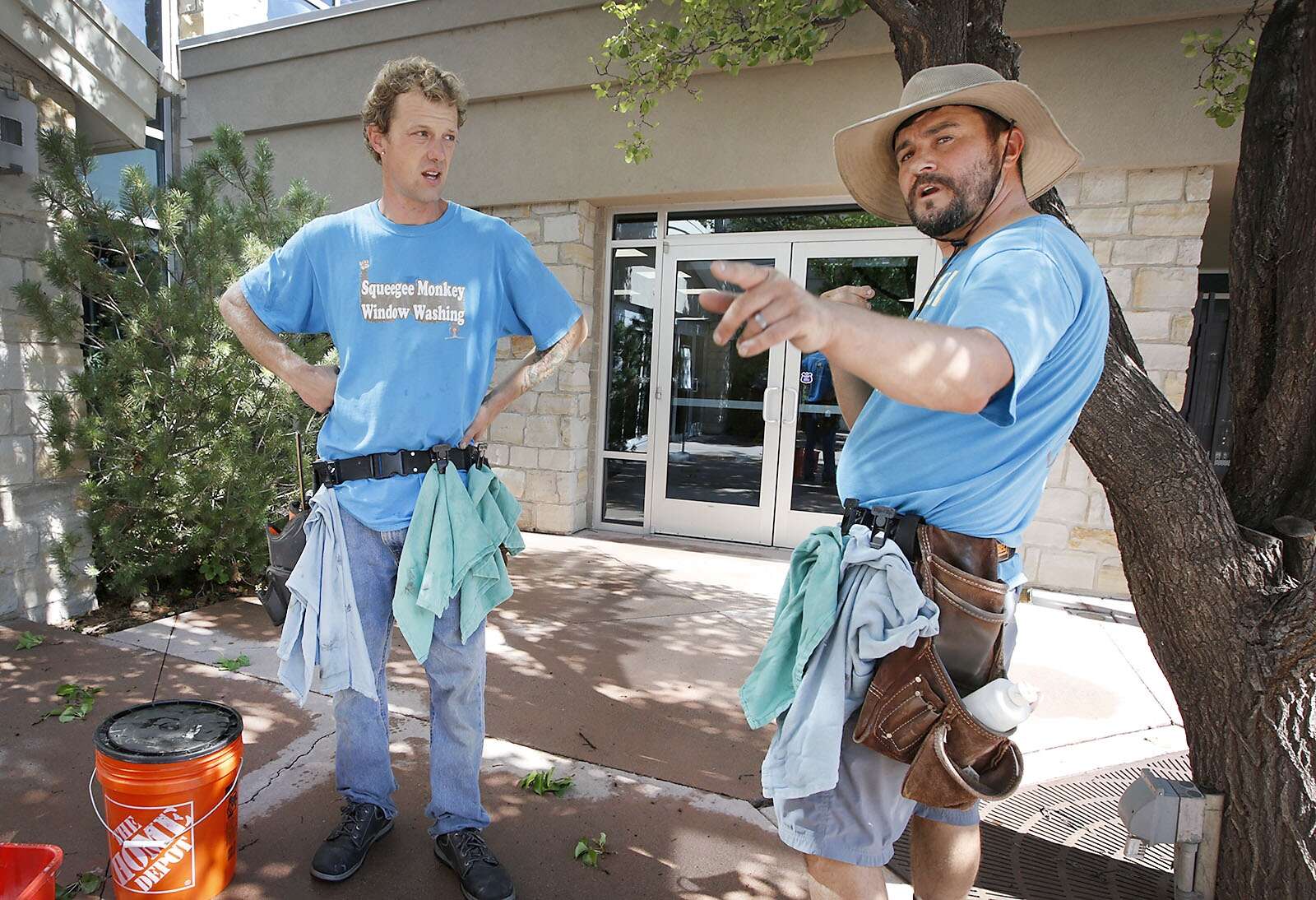 MacNiven told Pease to visit the company's new location in Bodo Industrial Park for an interview, but he forgot to tell him exactly where to go, he said.
Pease called to clarify the address, but the phones are off on Sundays. Because the shop recently moved to a new location, the Google listing and website did not include its current address, MacNiven said.
But Pease was waiting outside the back door at 7:30 a.m.
"From what I could tell, he looked for it all night," MacNiven said.
Over the next few days, he learned Pease had a type of autism and lost his job during the pandemic.
"You could tell he wanted it," MacNiven said. And the Squeegee Monkey team wanted to help Pease get back on his feet after a difficult year, he said.
Kendell took his tip money and bought Pease a haircut, food, clothes and other essentials.
"Once we knew we were going to hire him, we wanted him to look good and feel good," Kendell said.
In the mornings, Pease could shower at the new Squeegee Monkey facility. He could use the washer and dryer to clean his clothes, and MacNiven made him breakfast and lunch to help him out.
"It was very inspiring. It was like, 'Oh my God, I'm getting my feet back under me. This is awesome,'" Pease said.
As they started working together, the crew learned that Pease had a keen memory and a knack for trivia. For the first few weeks he was still living outside – but his attitude was always positive, MacNiven said.
"I said, 'Man, it was 25 degrees last night.' He was like, 'That doesn't bother me, I have a 0 degree sleeping bag,'" MacNiven said.
Following a lead provided by Southwest Housing Solutions, the Squeegee Monkey team helped Pease find an affordable apartment in Durango.
Kendell had a television, bed and other furniture in a storage unit, which he let Pease use to furnish the small studio apartment. Pease's mother in North Carolina helped cover the first month's rent, MacNiven said.
By mid-June, Pease had a place to live.
"When we went in there to go see this place, it's really small. There's no kitchen. He was really excited that it had a shelf," MacNiven said. "He runs his hand along it and says, 'This is perfect!'"
Pease and the company set up a direct deposit system to send Pease's paycheck into three different accounts: rent, spending money and savings.
"The idea was to ... systematically set him up for success so that this wouldn't happen again," MacNiven said. "It would guarantee the rent money (would) always be there."
Kendell also gives Pease rides to and from work, but Pease is close to buying a car, MacNiven said.
"I think it's good for the soul to see somebody – at a point in life where I don't know if you can get much lower – get to where he is now," Kendell said. "It's just amazing."
Pease's goal is to continue working for Squeegee Monkey as he saves money to buy property in La Plata County.
"I'm already better off now than I've ever been," Pease said. "I'm just hoping to get even more better off."
smullane@durangoherald.com
Editor's note: Photo cutlines in this story were updated to correct Casey MacNiven's name.