Seniors star in win over IML rivals
Scoreless during a frustrating final 3:33 of the second quarter and still searching for points beginning the third as visiting Bayfield steadily climbed out of a 15-6 hole, Ignacio turned to a senior to ensure Senior Day success.
Senior guard Laci Brunson's corner 3-pointer had put the Bobcats up by nine points approaching halftime.
Senior forward/center Harmony Reynolds then converted a key three-point play after BHS had crept as close as 15-12. Reynolds' and-one triggered a game-altering 10-0 run – highlighted by a Darlyn Mendoza-Lechuga trey and capped by a Reynolds breakaway layup – effectively putting IHS in the clear.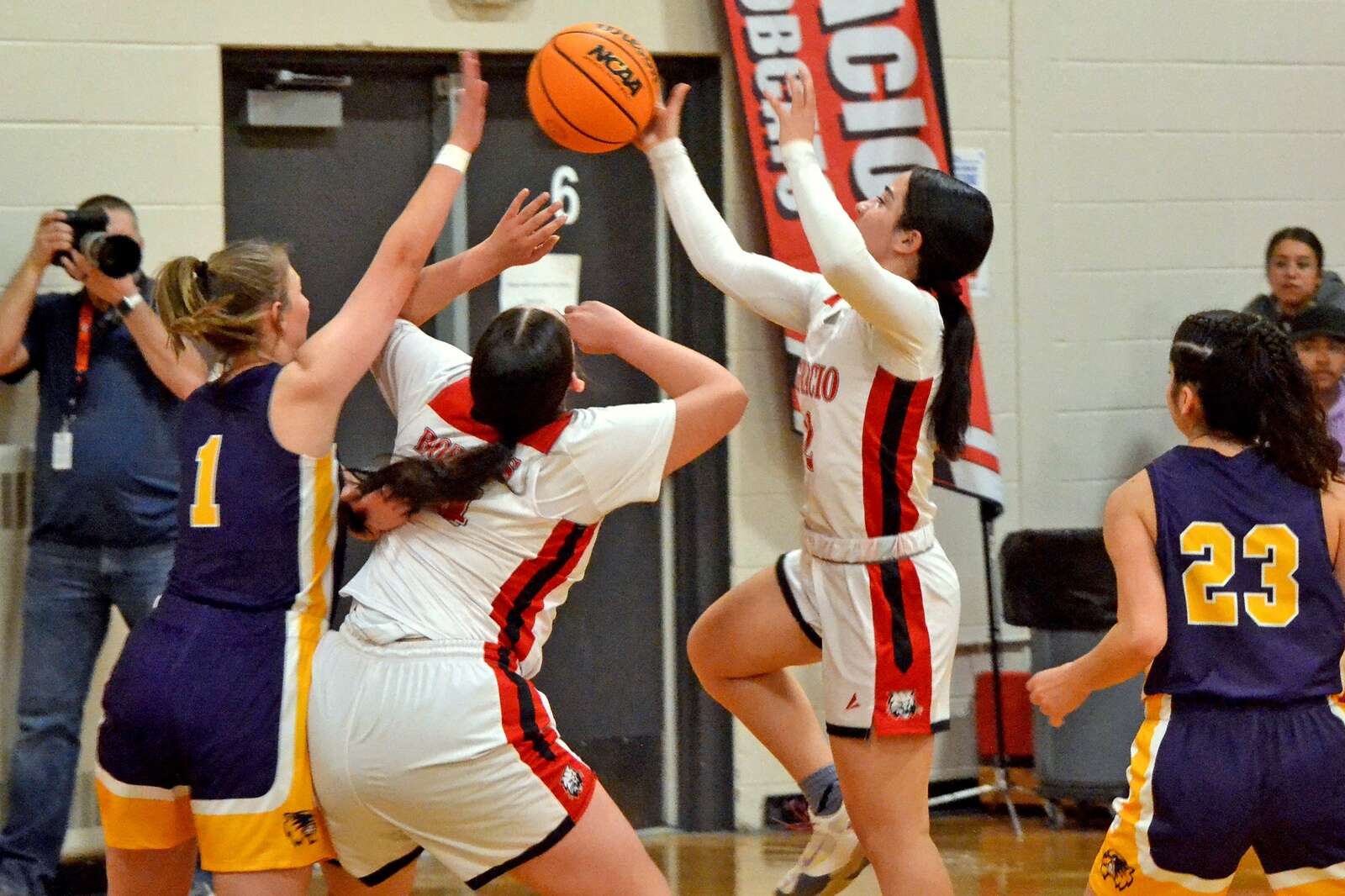 Junior reserve Maci Barnes buried a three late in the third, helping increase Ignacio's advantage to 29-16 entering the fourth quarter, then sophomore Marissa Olguin promptly sank IHS' fourth and last triple.
Sitting on a comfortable 32-16 cushion, the 'Cats got five more Reynolds points and four more from Olguin down the stretch, during which head coach Trae Seibel was able to get senior reserves Autumn Sage and Alexis Ortiz court time in what ended up being a 44-21 victory.
After making one of two free throws, Ortiz took a long pass from Brunson and dropped in a breakaway layup for the 3A/4A Intermountain League contest's final points.
Rebounding from the previous evening's nail-biting 32-29 home loss to 4A IMLers Pagosa Springs, the 'Cats improved to 8-7 overall and 2-5 in league play with the win over Bayfield. Reynolds ended up with 14 points, equaling her game-high total against Pagosa's Pirates. Brunson and Olguin each totaled eight against Bayfield (3-12, 0-8 IML).
Mendoza-Lechuga finished with four points, Barnes and Ortiz each booked three, junior Solymar Cosio scored two (while limited by four personal fouls) and sophomore reserve DaLaney Wesner added two. Brunson went 3-of-4 from the foul line and Reynolds 2-of-3 as Ignacio finished 8-of-13 as a team.
Sophomore Renae Foutz managed 10 points to lead the Wolverines in defeat. Junior Genesis Barrera chipped in four after logging a team-best six in a 71-8 loss at Centauri the previous evening. Seniors Alaysia Kremer and Abria Thayer were held to a combined four points, junior Michelle Kirk to two and junior Madison Mead one as BHS shot 9-25 from the free-throw line and didn't make a 3-pointer.
The 'Cats will continue league play Friday when they host Montezuma-Cortez. IHS welcomes CHSAANow.com's No. 3-ranked Centauri the following afternoon. Results from Ignacio's Tuesday's trip to nonleague Dove Creek – standing 12-2 overall and ranked No. 7 in Class 1A – were unavailable at press time.
The Wolverines, meanwhile, will host Pagosa Springs on Friday. Results from BHS' non-leaguer Tuesday against 2A Telluride (0-14) were unavailable at press time – as were those from PSHS' home game versus 2A Mancos (10-5).