Alcohol was sold at gas stations, grocery stores, breweries and distilleries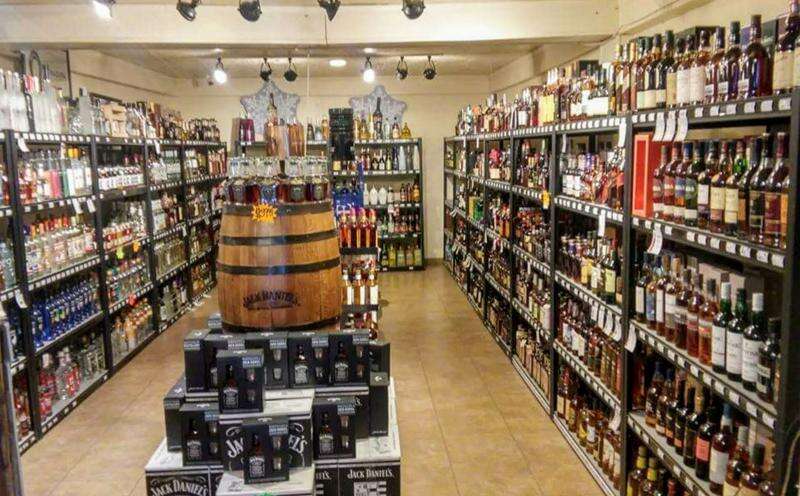 FARMINGTON – Adam Derizotis, owner of Zia Liquors west of Farmington, was one of the first local businesses to have employees wear masks and gloves, and offer contactless sales to customers. But earlier this month, Derizotis and other independent liquor store owners in New Mexico were forced to close their doors after Gov. Michelle Lujan Grisham issued an executive order characterizing liquor stores as nonessential businesses.
New Mexico, in its effort to fight COVID-19, appeared to be one of the only states, if not the only state, to deem liquor stores as nonessential businesses. Yet, larger retailers, such as grocery stores and gas stations, were allowed to remain open and continued selling the same product as Derizotis: alcohol.
"We're confused the state took away the only thing we can sell," he told The Durango Herald on Tuesday.
In a Thursday afternoon news conference, Lujan Grisham announced nonessential businesses, including liquor stores, will be allowed to sell products via curbside pickup or delivery.
During the news conference, Lujan Grisham was asked if she would consider allowing liquor stores to deliver, something Derizotis and the other store owners had petitioned for. While she said she agreed it would be helpful for business owners, it is not within her executive power to change the statute as it relates to banning delivery of alcohol.
Before loosening restrictions, Derizotis and some of the largest independent liquor stores in the state banded together within a few weeks of being deemed nonessential to form the Independent Liquor Retailers of New Mexico. The group asked Lujan Grisham to allow the about 175 small-business retailers to reopen.
Instead of allowing liquor stores to use online ordering or curbside pickup to limit physical contact, the forced closures caused more people to flock to gas stations and grocery store chains to purchase alcohol, Derizotis said. It exacerbated public health concerns and forced many small business owners into an economic crisis, he said.
No other state has deemed liquor stores nonessential, and the Department of Homeland Security has even classified them as an essential business, Derizotis said. Indiana allows curbside pickup and delivery.
In a confusing loophole for many liquor store owners, the state allowed wineries, breweries and distilleries to remain open.
Scott Weaver, owner of Traegers Bar in Farmington, decided to sell bottled beer and growlers from his extra stock, allowed under his liquor license. Yet, when the governor's office said independent liquor stores could no longer remain open, Weaver had to close his doors. Weaver said he was making about 10% of his normal sales "but at least there was some money coming."
Weaver opened Traegers in 2018 without taking out a business loan, after a 17-year career as an underground coal miner. He said the bar had been growing in the right direction and had a 20% growth in business last year.
"It really bothers me that we were becoming a successful business," Weaver said. "I didn't have to take out loans, and now I'm being forced to. It just leaves a bad taste in my mouth."
Weaver said he was unable to get a Paycheck Protection Program loan in the first round of funding but is hopeful he will receive one in the second round of funding.
"Liquor can be purchased at these big box chains whereas we can sanitize so much better than these other stores," Weaver said. "Let us try to make some money somehow."
One of the most frustrating aspects of the state's decision, according to Derizotis and Weaver, was the lack of communication from the governor's office. Despite petitioning for an explanation or a change in the regulations, they said they didn't hear from Lujan Grisham before Thursday's news conference. Derizotis also said he didn't know of anyone in the industry who the state consulted before classifying liquor stores as nonessential businesses.
The governor's office did not respond to a request for comment.
As of Tuesday, more than 4,000 people had signed an online petition asking Lujan Grisham to reopen independent liquor stores with curbside pickup.
Lujan Grisham released a plan to begin a gradual reopening of businesses statewide, but her office has not yet released a timeline. Weaver estimates he won't reopen until mid-June, with the state's stay-at-home order lasting until May 15, followed by a staggered reopening of other businesses.
lweber@durangoherald.com
An earlier version of this story gave an incorrect cost for liquor licenses.