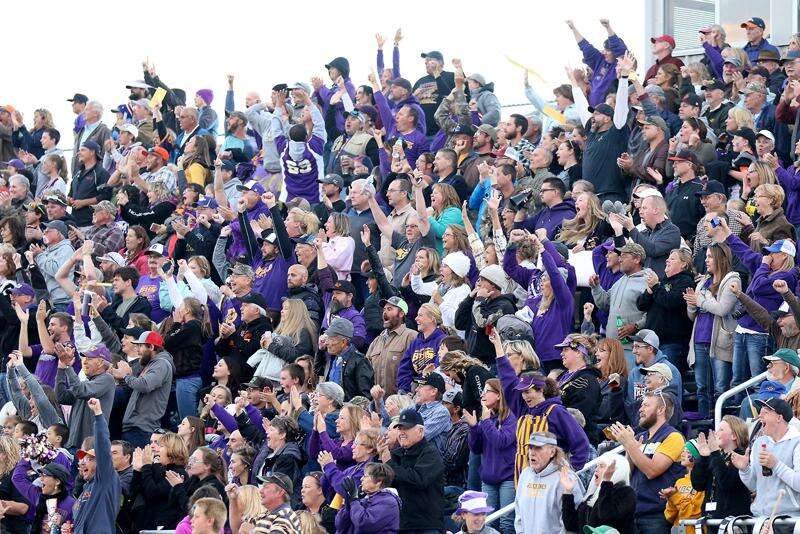 It took 80 years between games for the communities of Bayfield and Durango to meet on a high school football field for a varsity game before a special rivalry was renewed in 2016. As far as anyone knows, it might take another 80 years for the teams to meet after Friday night's game at Wolverine Country Stadium in Bayfield.
An overtime classic, a historic victory and the birth of a traveling trophy and a name for the game followed during the first three years of a four-year run of games. But, in a stunning turn, Bayfield declined to schedule Durango for the next two-year cycle set to begin in 2020.
It is possible the two teams could discuss continuing the Vallecito Bowl in 2022. For at least the next two years, La Plata County football fans will be deprived of an electric regular-season game environment and the thrill of a sold-out high school stadium on a Friday night with Durango red to clash with Bayfield purple.
"The game is a great event to celebrate the community that works together and lives in harmony all year, but for three hours on a Friday night, you have to declare if you back the red or the purple," said former DHS athletic director Adam Bright, now a assistant commissioner with the Colorado High School Activities Association who wanted to see the game continue when he did the schedule for the upcoming cycle. "That's what great rivalries consist of. After the game, it's back to one community, but those three hours are something special. That's one my favorite things about this new job at CHSAA. I get to look up the best Friday night lights rivalry type games each week and go watch communities come together. I don't cheer for either team, just for the American experience of small-town Friday night."
Thanks to the rivalry being brought back in 2016 after the teams hadn't played since 1936, fans got a taste of what that experience is about.
"I remember a former county manager saying that one day Bayfield would be bigger than Durango," recalled high school football historian and Bayfield resident Dan Ford. "That's still laughable, but playing on the same football field at the same time almost makes us equal."
With the renewed rivalry, Bayfield finally got to prove it could be Durango's equal on the football field. In 2016, it was a 14-6 overtime loss in Durango for the Wolverines, but Bayfield claimed a 20-13 home win in 2017 en route to a state championship season for its first win in 16 games against Durango dating back to 1924. It was the most memorable Friday night in Bayfield during what would eventually become a 24-game home winning streak.
Ford, known as the "Voice of the Wolverines," recalled how Durango radio voice Don Piccoli said that game in 2017 was the highlight of his long broadcasting career because of the huge crowd and the great game played. Ford also remembered how a Durango graduate had called a retired Durango coach with the news that Bayfield had beat Durango and said, "He won't believe me." It was a golden era of Bayfield football from 2015-2018, and the Wolverines knew it. That helped lead to the Durango game finding its way back onto the schedule.
"Durango played Pagosa in a two-game series about 15 years ago," Ford said. "Pagosa actually won one of the games, but everybody knew it was an anomaly because Durango was down and Pagosa was rolling for that period. They all knew it wouldn't always be that way. They didn't do it again until last year. That is probably part of the decision not to contest the Vallecito Bowl for a while.
"Little schools have a great group of athletes that come along about once a decade. BHS had two, the senior footballers of 2017 and 2015 and a smattering of others in between. It may be a while before another great class comes along for Bayfield."
Bayfield may no longer resemble the team that won 24 games in a row at home and two state championships in 2015 and 2017, and Durango appears to be a team poised to make a run beyond the first round of the state playoffs. Even if on paper the matchup will become less competitive on the field, the players and coaches have felt the importance of the game, and there's no doubt both teams would rise to the occasion if presented opportunities to continue the rivalry.
"The night we beat them two years ago, I like to think of that because it always feels good," said Bayfield head coach Gary Heide, who would not provide a direct comment as to why the Durango series would not be continued. "The first year, that was a blast. On the slippery field, tied, we came up on the short end, but that was a super lot of fun. Those first two were so close, they both were decided in the last second.
"A lot of fun because I really respect the (Durango) coaching staff. To me, anytime I've been around the players, they've been ultra, very respectful. But they're great football players and want to kick your butt. That's what they want to do, and that's what they should want to do. It has been fun, I'll say it, very much so."
Golden revenue opportunity
Not only will the loss of the football game be a disappointment to the coaches, fans and, most importantly, the players, the schools will also miss out on a chance for a big night of ticket sales. During the 2016 and 2018 games played at Durango, the athletic department estimated sales of $7,500 and $8,100, respectively, with more than 2,000 fans in attendance, by far the largest crowds ever at DHS. Road trips for a football team cost roughly $2,000, Bright said. That is if the entire team, including coaching staff and trainers, can fit onto one bus and factors in the price for 12 to 15 hotel rooms. That means one game against Bayfield could pay for nearly four full overnight road trips, which could come in handy with Durango currently in a Pueblo-based league and soon to move even further north into a Colorado Springs-based league for the next two seasons.
At the 2017 game played in Bayfield, athletic director Derrick Martin estimated 3,500 to 4,000 fans were in attendance. Ford called it the largest crowd for a Bayfield football game in history, only to be broken later that season when the Wolverines had an estimated 5,000 fans for the Class 2A state championship victory against La Junta in which hundreds of Durango fans were in attendance to support the cross-county rival. If Bayfield was able to get more than 3,000 fans into its stadium for the Durango game, that means it made even more money than DHS.
So, why in an age of budget shortfalls and rising costs of travel for school athletics would the two schools not renew such a fun rivalry going forward? Because Bayfield didn't want to, turning its back on a school 18 miles away in favor of playing a Denver-based team it has never once faced before.
Bayfield's schedule
While rumors have circulated as to why the game won't continue, Martin said he and Heide sat down and looked at the schedule and wanted to create more balance and play more schools that are more similar in size as Class 2A Bayfield, which averages an enrollment of 350 students compared to Class 3A's Durango, which has roughly 1,100 students.
"Gary and I sat down and looked at the schedule and were on the same page with not re-upping with Durango for the next cycle for a variety of reasons," Martin said. "The last two or three cycles or even four cycles, Bayfield's schedule has ticked upward in terms of the teams we play. Not just in our own classification, but we're playing teams in 3A and this year with Farmington, their enrollment is that of a 4A team. We've been playing up for a while now. Ask any (athletic director) in the state, our job is to create a balanced schedule. I think our schedule for the next cycle achieves that. There's not a game on our schedule that is a guaranteed win, so we are not softening the schedule by any means. But we looked at the 3A and 4A schools we had been playing and wanted to balance it out more."
Next season, Bayfield will tentatively play San Juan, a Class 3A school out of Utah with 415 students that BHS has a long tradition of playing. The Wolverines then will face Aztec, a New Mexico school with similar enrollment numbers to Durango, which beat Bayfield 16-14 last week in Aztec. With Class 2A Aspen and Class 3A Durango off the schedule, the Wolverines have added Class 2A Englewood in Denver, a school with double the enrollment of Bayfield, and Class 1A Centauri, which has 300 students.
While Centauri is a traditional Bayfield opponent in many sports and in its football history, it's hard to imagine that game creating the kind of buzz like the Durango matchup. Only dedicated parents will be eager to make the six-hour trip to Englewood for a game against an opponent the Wolverines don't know rather than facing the school from 18 miles away. And the handful of Englewood parents who will make the trip to Bayfield won't get the school nearly the ticket sales figures as Durango.
The non-league game Bayfield fans can get excited about is a potential matchup with La Junta, as teams in the Class 2A Intermountain League such as Bayfield have worked out an agreement to meet teams out of the 2A Tri-Peaks League. Martin believes the La Junta game can generate solid gate numbers.
When the next two-year cycle is up, maybe those factors will lead Bayfield to reconsider Durango.
"During the next cycle when it comes to be, if the Englewood or La Junta situation changes, which it probably will, we will look at scheduling Durango," Martin said.
Size of school vs. size of team
Many folks have expressed that it isn't fair for Bayfield to play against Durango's varsity because of the difference in school size. To that, many arguments can be made.
This season, the Wolverines do have only 37 varsity players on the roster compared to 68 at Durango. But from 2009-2018, the Wolverines boasted 50 or more players on their roster every year, including 67 in 2017 and 70 in 2016. During that span, Durango has averaged 55 players on its varsity roster. As many kids go out for football each year at Bayfield as in Durango. They all grow up playing against each other in the same youth league and continue to play through middle school. So, why not in high school?
"I always look forward to going against Bayfield, and it's a bummer I'm not going to get to play them my senior year one last time," said Durango junior quarterback Jordan Woolverton. "It's a fun game. We know them, they know us. Some of them are our friends, some of them are not. It's fun to go against another hometown team with the atmosphere the crowd brings and the hype the game brings. That's fun football."
Durango, for its part, has shown no fear in scheduling larger or smaller schools. When Bayfield fell off the schedule, a contract was renewed to play Pagosa Springs for another two years. Pagosa Springs, which is in the same Class 2A league as Bayfield, showed no hesitancy in scheduling the Demons despite losses of 34-6 and 47-0 to Durango the last two seasons. The Demons also will continue to play mighty Montrose, a Class 4A team and regional rival on the Western Slope that has beat Durango by one score in each of the last two meetings since that rivalry was renewed.
It's curious that Bayfield would want to back out of the game and not Durango. The way playoff seeding works and the importance of strength of schedule, the Demons only benefit from playing Bayfield if the Wolverines are an elite team and play a strong schedule. Win or lose, it's a win for Bayfield to play a larger school when it comes to strength of schedule. Durango has everything to lose. Still, the Demons are willing to take the risk of a massive hit to their playoff chances if they were to lose to Bayfield.
"We absolutely want to play Bayfield," DHS head coach David Vogt said. "We have a great relationship with their coaches, but they gotta do what they think is best for their program. It's disappointing we won't get to play them anymore after this because the atmosphere is so fun. Especially when you play at their place and they have their chants and all that stuff. It's what high school football is all about."
15-1-1
In the 80 years between matchups of Bayfield and Durango as varsity opponents, it can be said that the teams would not have played very competitive games. But it's hard to believe that since Bayfield won its first state championship in 1996 that the series would not have at least made for fun games. Durango has still yet to win a state championship, and the Wolverines have three.
The record remains that Durango has dominated the series dating back to 1924 with a record of 15-1-1 against Bayfield. Most of that is ancient history.
In the last three years, it's 2-1 in favor of Durango with the 2016 overtime game setting the tone for the series. In 2018, in the newly named Vallecito Bowl, Durango rode a dominant first-half effort to win 32-16 at home in the only game to not live up to expectations.
Despite the lopsided series record, Martin said the Wolverines have never felt like underdogs.
"I understand the historical wins and losses record between Durango and Bayfield, but I don't think it's ever an automatic loss," Martin said.
But Martin did say the Wolverines haven't felt like the game had any extra importance.
"It's just another game for us," he said. "We understand the significance of it for some people, but it's just one game on our schedule. Since I've been here, that's the way it's been approached. They're a good team, but I don't think it has any added weight on it from our end."
Just another game wouldn't have more than 3,000 fans in the stands or players trading barbs all offseason.
Settle it on the field
Some parents may not like the rivalry and trash talking that comes with the game, especially with perhaps some added pressure that came along with the traveling trophy created last year to be awarded to the winner of the game. Heide insisted that's not the case.
"It didn't add any more pressure. It didn't add too much distraction," the Bayfield coach said. "It's things you talk about, but it certainly doesn't make me want to do better because it's a trophy. I want to do well for our team, coaches and fans. You see it all over the nation, it's alright, nothing wrong with that."
It can be argued that the feud between the two teams was even greater in 2015 when the two schools did not play. Bayfield went undefeated and won a Class 2A state championship, while Durango went 10-2 and fell in the 3A quarterfinals. Trash talk in the community and social media was rampant between players and even parents that year and carried over into a baseball matchup between the two schools. A game that year would have settled everything. Instead, the rivalry returned a year too late, but it has yet to disappoint. The only disappointment is the failure to renew it for another two years.
Bayfield football does many things better than Durango. As a community, it does a better job of supporting its student-athletes. Businesses get behind the school and paint their windows purple and gold for homecoming, and there's nothing like the decorated drive into Wolverine Country Stadium on game day.
For a football community that usually does everything so well, Bayfield got this one wrong. For some, maybe it's easier to have the argument of which team is better than actually getting on the field and proving it.
John Livingston is the regional sports editor for Ballantine Communications. He can be reached at 970-375-4514 or via email at jlivingston@durangoherald.com. Follow him on Twitter @jlivi2.