Merchants take little flak from tourists or locals for face coverings
You know the era of COVID-19 has become the new normal when mask wearing is now the default while eating or shopping in downtown Durango.
"No one's really gotten upset," said Jim Carver, co-owner of Carver Brewing Co., in a phone interview. "In restaurants, you end up sitting at table and taking them off. I'm out on the patio now, and not one person is wearing a mask."
Servers are required to wear masks, and that takes a some getting used to, Carver said.
Waiting tables keeps servers active, and Carver said. climbing some stairs or other physical exertion can be more difficult wearing a mask.
"It restricts your breathing a bit, but all the servers are wearing them. It's not much of an inconvenience if it is helping to flatten the curve," he said.
Sitting outside has become a more popular request from customers, he said, adding the reconfiguration on Main Avenue has allowed Carver's to put five new tables in front of the brewpub – an area dubbed "the Front Porch" – and that has helped satisfy demand for outdoor seats.
"From everything I've seen, you pretty much have a zero chance of getting COVID-19 outside," he said.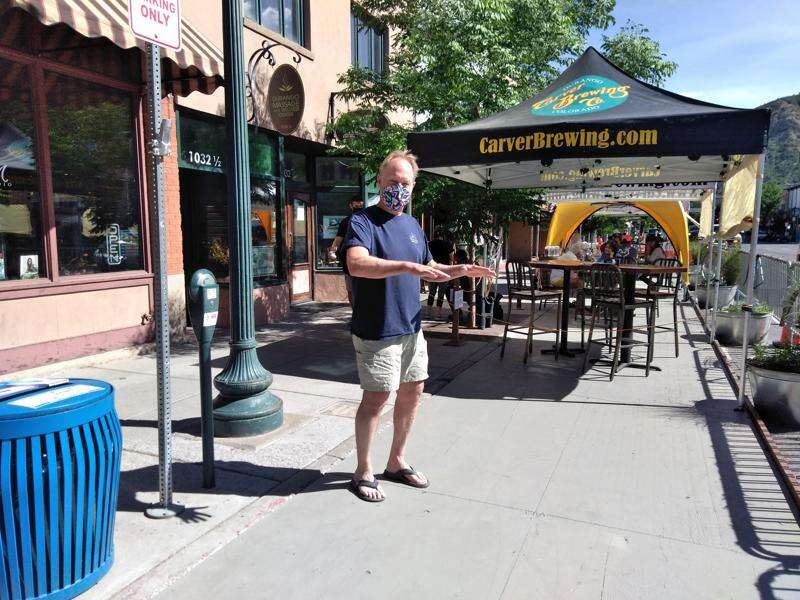 Inside the brewpub isn't too bad, either, Carver said, noting it has three swamp coolers for cooling and doesn't use recirculated, refrigerated air.
Nicole Feldman, a sales associate at Moose on the Loose Souvenirs and Sportswear, estimates 95% of people coming in to the shop are fine with the city of Durango requirement requiring wearing a mask in public places.
"Even if someone is not wearing a mask, they usually have one with them, and when we explain the city ordinance, they are usually fine with that. It is like the new normal," she said.
Some tourists coming from cities and states that have reopened faster than Durango and Colorado and are sometimes puzzled about tight restrictions still in place in Durango and the state, but she said once they understand the situation and the rules, the vast majority are happy to comply with restrictions.
"People will tell us their city is completely reopened, but they say they will wear a mask if that makes people here feel more comfortable," she said.
Locals, she said, are almost all cognizant, compliant and happy to wear masks.
"If it keeps the business open and people employed, I'm all for it," she said.
Matt Laningham, manager of Switchback Taco Bar, said about half the tourists don't have protocols in their hometowns dealing with COVID-19 restrictions, but most of them have masks on them anyway.
"Some refuse to wear them, some are happy to oblige," he said.
Employees are required to wear masks and regularly use hand sanitizer, and that creates an atmosphere in which tourists are more likely to comply with mask-wearing, and, like Carver's, he said once people sit at tables the masks usually come off for conversation while eating.
Also, like Carver's, more people are requesting outside seating, he said. He added that three picnic tables Switchback has added in its bump out on Main Avenue have helped accommodate that demand.
"Outside is nice and sanitary. You're not breathing recirculated air, and the sun helps. It's a natural sanitizer," Laningham said.
parmijo@durangoherald.com