Wolverines' outside hitting overwhelms DHS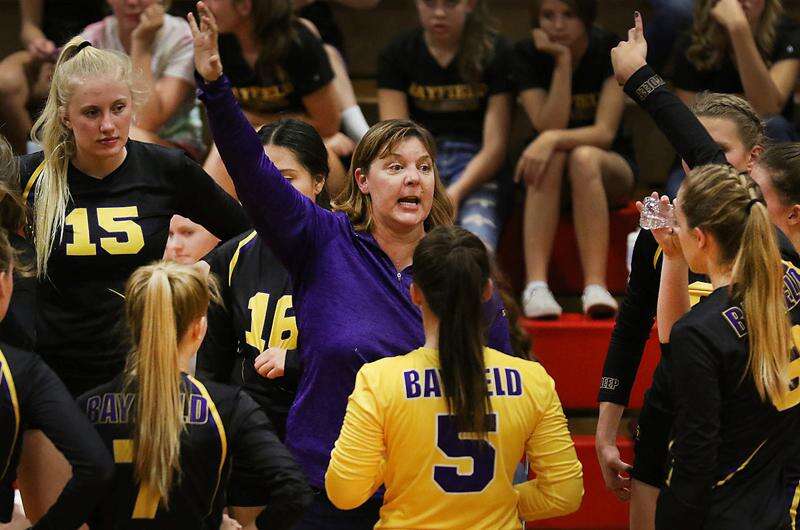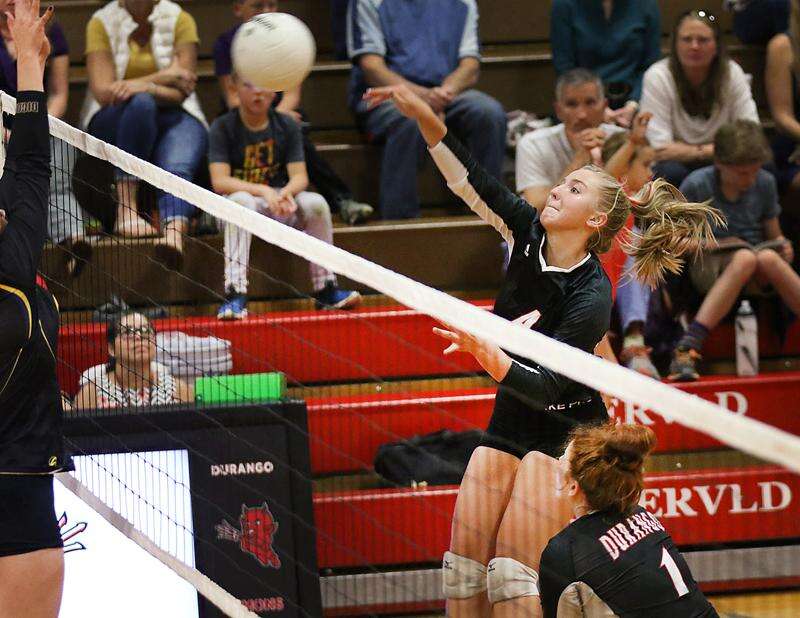 Mavis Edwards was everywhere Tuesday night for the Bayfield High School volleyball team, as she propelled the Wolverines to a three-set sweep of Durango at Durango High School, 25-23, 25-18 and 25-12.
The Bayfield outside hitter thwarted Durango's strong net presence by responding with 12 kills and seven digs of her own. Edwards, who recorded a triple-double in Saturday's narrow loss to Alamosa, said she was able to quickly read Durango's defense and was able to find holes on the court.
"Credit to our passers tonight," Edwards said. "Some balls were played to me on a silver platter. I've been working a lot on my eye work to not hit into their blocks. I noticed that a few of their front row players were pulling off. When only one or two would be at the net, I was able to find that hole. It's a lot of eye work, but when you put it all together, it pays off. A few of my kills, I just saw that opportunity and cranked on them, and it felt amazing."
Durango (6-3, 2-1 5A/4A Southwestern League) had the lead just three times Tuesday night and never led in the first set. When the Demons briefly led in the second and third sets, Bayfield's outside hitters found a response.
While Edwards paced the Class 3A 10th-ranked Wolverines (9-3, 4-1 3A Intermountain League), she was not the only key player at the net. Annie Fusco added 10 kills while Melissa Roberts had seven. Lana McKee had 20 digs, and Meghan Youngblood recorded 31 assists.
Durango High School head coach Collen Vogt knew Edwards was going to get a lot of touches, and the game plan was to hit away from her. Still, the Wolverines found their star outside hitter, who made the most of her chances.
"That was always our goal," Vogt said. "Don't hit it to Mavis, don't serve at Mavis and don't set near Mavis. She's not only a great volleyball player but is also a great athlete. She never makes mistakes and is solid all the way around."
The Wolverines took the opening set behind the play of Edwards, and another strong serve game from Youngblood. The tandem helped their side get off to a quick 5-0 lead. Later in the set, Edwards dove full-stretch to save a potential kill from Durango's Sydney Summers, and the Wolverines went on to win a crucial point at 24-23. BHS closed the set on a Durango hitting error to take a 1-0 lead.
With the Demons missing senior Millie O'Ketter, who was out with an illness, much of their offense ran through Summers, a senior who tallied 10 kills. Defensively, Kyle Rowland and Lainey Voss recorded 15 digs apiece.
Vogt thought the Demons were as scrappy as ever throughout the night, but serve-receive and hitting errors made it tough on her team.
"We did so many good things tonight, and we're still getting better," Vogt said. "I didn't feel like we made that many mistakes, but when we did, they felt big because Bayfield took advantage of them. We served aggressive, our blocking was great and we swung well. Just when you make back-to-back errors, it was tough to overcome."
In the second set, BHS got off to a 9-4 lead and prompted Vogt to burn a timeout. After the Demons were able to get within three at 10-7, the Wolverines went on another run. Fusco had two key kills down the stretch for Bayfield, while Emily Nelson closed the set on a service ace to win the second set.
In the third, the Wolverines got off to a slow start after they had three hitting errors, and Durango got off to a 5-4 lead. BHS head coach Terene Foutz called a timeout.
"We're continuing to focus on developing our net game, driving consistency and a huge emphasis on reducing unforced errors," Foutz said. "In the third set, I called a timeout early because we had three unforced errors by three hitters. It was unacceptable because we knew we could play better. We had that conversation and we moved on. They did take their foot off of the gas early on. They responded, they knew it and put their foot back on the gas."
After the timeout, the Wolverines went right back to Edwards, who stopped the Demons' run after she slammed home another kill before she recored a block to give the Wolverines a 7-6 lead. DHS kept it close with a service ace from Rowland to make it 15-10. The Wolverines would go on to close the match on an impressive 9-0 run.
"It's always a privilege to play Durango, as a lot of these kids are in the club program," Foutz said. "I have the privilege of coaching them in the winter to play against us in the fall. I couldn't be more proud of them. I see Paige Ammerman developing into a great leader and great ball handler. I love the journey Durango is on. They're a young team, also. (Vogt) is doing everything she can to develop those kids, and they're developing. Some things take time, and this is one of those years where we're both trying to develop and get our teams back on top of our conferences. It's wonderful to play each other. We both share that."
The teams will meet again Oct. 29 in Bayfield. Next for Bayfield is a trip to Centauri at 2 p.m. Saturday. Durango will travel to the Battle Mountain tournament set to begin Friday.
bploen@durangoherald.com