A murder-mystery spoof just in time
Warning: This preview is filled with clichés. But so is the farce Merely Players will open on Feb. 11. Here goes.
It was a dark and stormy night.
An eccentric New York maven has invited a dispirited team from a recent Broadway flop to her mansion. It's 1940. A malevolent killer, not COVID-19, has been stalking Broadway, hence the retreat to create a new musical titled: "White House Merry-Go-Round."
Sounds silly. It is. Sounds formulaic. It is.
Playwright John Bishop's "The Musical Comedy Murders of 1940," however, is not a musical. He subtitled it: "A Farce to Die For."
Director Mona Wood-Patterson emphatically said as much in a recent interview.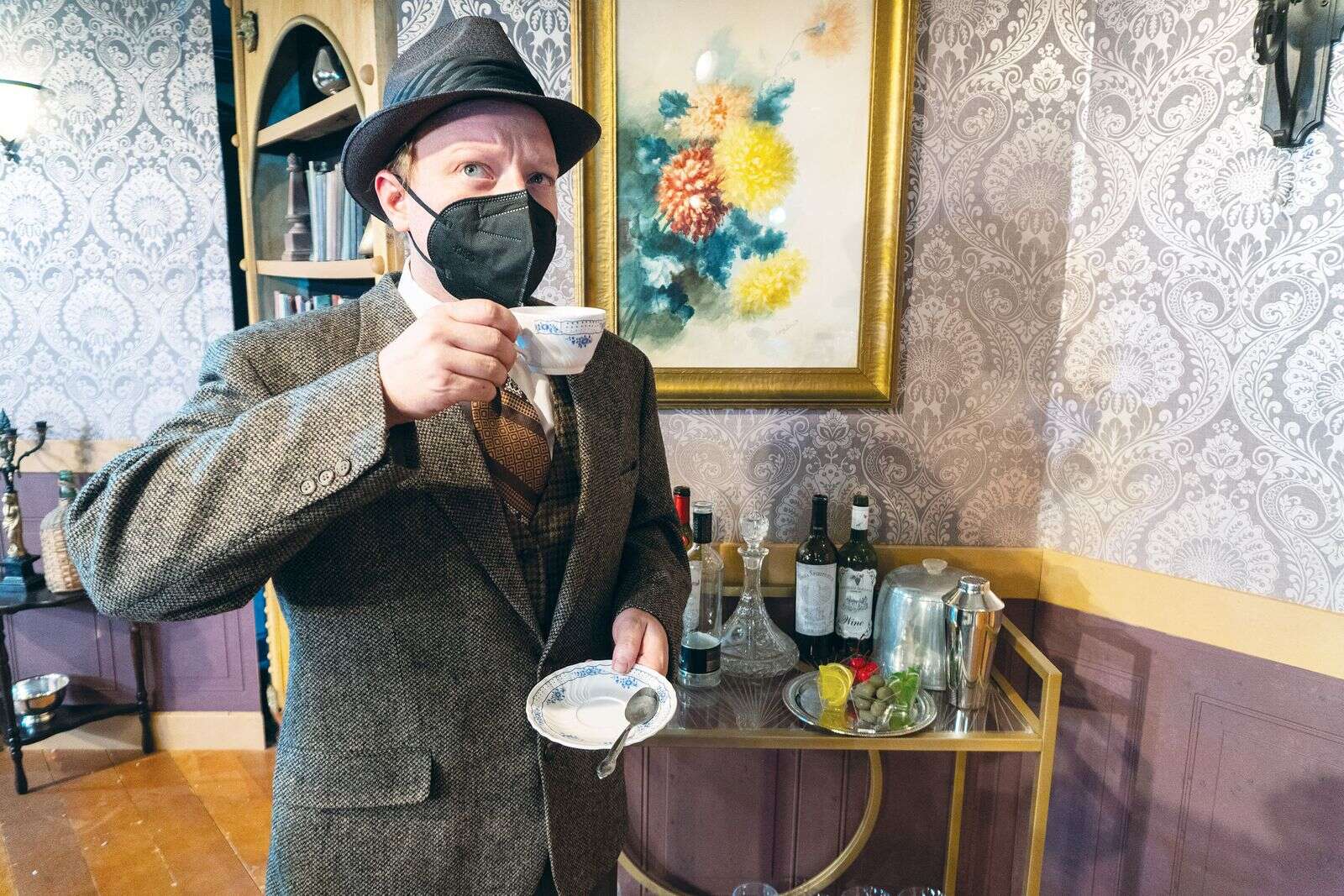 "It's a mystery- farce, a little like 'Noises Off,'" she said. "We selected this show way back, before COVID, and we didn't know it would be cast now in such a dark time.
"We added this comedic, old-school thriller to our season lineup with a distinct lack of seriousness. We need to laugh together. You will find no hidden messages and no deep thematic statements."
In 1987, when Bishop's comedy opened Off-Broadway, it quickly moved to Broadway for a successful run. Since then, colleges and community theaters have relished its well-worn shenanigans. That includes Merely Players for 2022.
A 10-member cast plus Ted Holteen's inimitable radio voice will bring Bishop's farce to life this month. You're likely to see one of your neighbors or old friends on stage in roles ranging from the maven, Elsa Von Grossenknueten (Melanie McLean), to her maid, Helsa Wenzel (Mohriah James). Brin DeVore plays Nikki Crandall, a Broadway chorus girl. Brian Devine steps into the role of Eddie McCuen, inspired by comedian Bob Hope. Charlie Grice and Linda Mack Berven will inhabit Roger Hopewell and Bernice Roth, a composer-lyricist team. And Geoff Johnson will deliver the name-dropping Broadway director Ken De La Maize.
The rest of the cast includes Riki Tsethlikal as Michael Kelly, Ian Thomas as Patrick O'Reilly and Deborah Heath as Marjorie Baverstock.
"Our goal has been to get as many of our actors on stage as possible," Wood-Patterson said. "It's been a year and a half since we performed 'Macbeth,' so it was time.
"Comedy is hard, and we're relying on experience. We've been following all the COVID protocols rehearsing in two-week sessions in and around and after the holidays."
WHAT: "The Musical Comedy Murders of 1940," a comedy by John Bishop, presented by Merely Players, directed by Mona Wood-Patterson.
WHEN: 7 p.m. Feb. 11, 12, 17, 18, 19; 2 p.m. Feb. 13 and 20.
WHERE: Merely Underground, 789 Tech Center Drive.
ADMISSION: $30. Tickets available at https://bit.ly/3s4AGvQ.
MORE INFORMATION: Visit www.merelyplayers.org or call 749-8585.
The company is entirely vaccinated and has been wearing masks throughout the rehearsal process, Wood-Patterson said. But the players won't wear masks during the run.
"Live performances at Merely Underground are a long-awaited joy," Wood Patterson said. "They require all of us, performers and audience, to work together to ensure the safety and health of our audiences, cast and crew."
Merely Underground has a state-of-the-art ventilation system. Audience members must be fully vaccinated or have a recent negative COVID-19 test. Face masks will be required. In addition, Wood-Patterson asks audience members to review their health status before attending.
"If you are exhibiting symptoms, have been exposed to anyone with COVID-19, or have tested positive in the past two weeks, please call us to release your tickets and do not attend," she said.
There will be one 10-minute intermission. Pre-show and post-show talks are not planned nor will intermission refreshments be sold.
"Feel free to bring your own nonalcoholic beverage," Wood-Patterson said. Board Vice President Mark Arbeeny will be available to assist in parking.
Judith Reynolds is an arts journalist and member of the American Theatre Critics Association.