Dozens of handcrafted wooden parts stolen, damaged on Emma Sweeney
Dozens of handcrafted wooden parts have been stolen or broken off the Emma Sweeney, a movie set locomotive displayed at Santa Rita Park, and the Durango Railroad Historical Society is unsure if, or even how, they might be repaired.
"The main thing here is these are all custom-made wooden parts. It took craftsmen hundreds of hours to put these together for us, very highly trained wood craftsmen, and they did it all on their own time," said George Niederauer, treasurer of the Durango Historical Railroad Society, which owns the old movie prop.
The society's board of directors, probably in the next month, will vote on whether to make repairs to the Emma Sweeney, which was damaged in late May, Niederauer said.
In 2011, Durango Railroad Historical Society began work to restore the Emma Sweeney, which was first used as a prop in a 1950 Marilyn Monroe movie, "A Ticket to Tomahawk," which first brought attention to the railroad history in the San Juan Mountains.
The prop was also used in as the iconic train in the introduction to the television series "Petticoat Junction," which ran from 1963 to 1970.
"Nothing like this has ever happened before in the park in my 20 years we've been working on it," Niederauer said.
"Two incidents come to mind when somebody hit the tent using paintball-game paint guns, and it washed off easily," he said. "Then somebody took the smoke box door when we had it removed and propped up against the fence, and when we noted what happened in the paper, it was returned voluntarily."
The parts broken or stolen probably are worth a few hundred dollars in material, but Niederauer said the real value was the hundreds of hours of donated time by woodworkers to craft the parts. Replacing the labor that went into making the parts might cost several thousands of dollars, he said.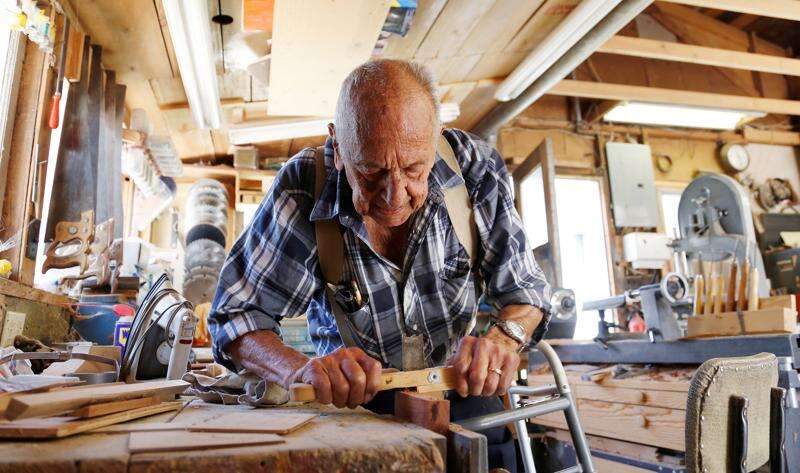 Charlie Schumacher, the longtime carpenter and craftsman at the Strater Hotel who died in 2015, donated his time and was the principal woodworker who made the wood parts.
Niederauer said he's unsure if the board will go ahead with repairs.
"I'm not sure whether it's worth doing it," he said. "If the public is going to keep breaking stuff like this, then there's no sense in us repairing it."
Niederauer said the best resolution to the situation would be for whoever broke and stole parts from the movie prop to return them and place them in the Emma Sweeney's tender car so they would not be out in the open for others to steal.
"The second best thing would be for the people, whoever did this, they would have a change of heart, and would actually come back and help us make repairs and make amends for what they did," he said.
parmijo@durangoherald.com