Group's board of directors described as a 'dysfunctional HOA'
Chris Castilian has resigned as executive director of the Lakewood-based National Ski Patrol after one year, citing "vastly different visions for the future of this organization" between himself and the group's board.
"This week I came to the realization our respective views on NSP's path forward are so different that it is highly unlikely we will ever align, and so, it is time for me to move on," he wrote in a letter sent to the National Ski Patrol board this week.
Castilian, the former deputy chief of staff for Gov. Bill Owens and one-time head of government relations for Anadarko Petroleum Corp., joined the 31,000-member National Ski Patrol last July after serving four years as executive director of Great Outdoors Colorado. At the time he said the then 83-year-old group that offers education and training for ski patrollers was "in need of a little bit of a refresh."
The venerable National Ski Patrol is a mess. Half the members are wondering why the group needs to think about diversity, equity and inclusion. Its outdated education programs are falling out of favor with major resorts that do not rely on volunteer patrollers. For the past 17 years staff at the National Ski Patrol have battled with the group's board of directors over how the association is governed. And churning through eight out of 10 of its employees in recent years is a symptom of the dysfunction that threatens the National Ski Patrol's relevance and role in a rapidly evolving resort industry.
Castilian is the third boss to leave the National Ski Patrol in five years. Meegan Moszynski in November 2020 split with the National Ski Patrol after three years as executive director. The timing of the departure of the first female leader of the group overlapped with a backlash over a racist comment by the group's then-board chairman, Brian Rull, in his fall 2020 column in Ski Patrol Magazine.
Rull's column described an airline trip during which he was "unfortunate enough to sit next to an Asian woman who coughed the entire flight."
NSP said the departure of Moszynski had nothing to do with the furor over Rull's column, which he blamed on "an unfortunate editing error." While the National Ski Patrol and Moszynski publicly said that she simply left the organization, several sources told The Colorado Sun she was fired by the board, presumably for criticizing Rull's comments.
"Everyone in the industry thought Meegan was great for the organization. Except for its board of directors," said a longtime ski industry insider who works closely with the National Ski Patrol. "It really is the board that is the problem."
Moszynski, who declined to comment, this month assumed the role of director at the Alterra Mountain Co. Community Foundation, which directs financial support into its resort communities. She has filed a discrimination complaint with the Equal Employment Opportunity Commission against the National Ski Patrol that includes more than 150 pages of exhibits and evidence, according to three witnesses she listed in the complaint.
National Ski Areas Association president Kelly Pawlak wrote a note to her members in December 2020 denouncing "the offensive and racist language" in Rull's column.
"We have formally asked the NSP Board for corrective action to address this mistake, including committing to reflection and a path forward where NSP demonstrates leadership on inclusion," Pawlak wrote.
An online petition in December 2020 signed by 626 people urged an overhaul of the National Ski Patrol and "acknowledge that what they published in their magazine is harmful and a direct result of the toxic culture that has been cultivated in the highest levels of NSP."
In 2014, Ski Area Management Magazine published two back-to-back articles entitled "Rescue Me: The National Ski Patrol has been through years of turmoil. Can it be saved?" Ski industry veteran and ski patroller Skip King wrote the articles, which detailed a decadelong battle between the group's leadership and its elected members. Among the issues were "irrational interpretations" of the organization's bylaws by board members.
"I wish I had read those stories before I started," Castilian said. "What is old is new again. I can't believe it's the same (expletive) nearly 20 years later."
Several board members in 2012 sued the group's leadership to get access to member contact information so the board could communicate directly with members. Board members also sued their own organization in 2005 over similar concerns with board member rights. Both of those lawsuits were settled after adjustments that ultimately delivered more power to the group's board.
"NSP's governance structure is ... ridiculous," King said in an interview this week. "Find any other organization with a mission even remotely comparable to NSP's that pulls its leadership out of democratic process. Take the Red Cross, for example. I guarantee you there is nobody on the Red Cross board who got their start handing out coffee from a truck at a major fire. The whole governance structure at NSP, in my view, sets them up to fail."
Emails sent to the 13-member board of directors at the National Ski Patrol and the directors of the group's divisions were not returned this week. A spokeswoman for the National Ski Patrol emailed a statement Wednesday saying a new online training program "has allowed the organization to strategically modernize our approach to education."
"NSP's national board of directors is steadfastly committed to supporting the talented and creative national office team and is actively working with them to develop a plan to identify, hire and support a new leader within the national office to continue to provide meaningful value to NSP's members and to all of our vital partners," the statement reads.
John McMahon served as executive director for the National Ski Patrol for three years before he quit in 2017. Like Moszynski and Castilian, he pushed hard to change how the National Ski Patrol was governed.
"When I came in there was concern about the relevancy of the NSP and the board's involvement in day-to-day operations. There was a considerable amount of the board overstepping its boundaries ... and acting like staff, not directors," said McMahon, who now works as the chief executive officer for the Associated Landscape Contractors of Colorado. "I went through the exact same thing Chris went through. So did Meegan. So the board had had three executive directors in a row calling for a change to NSP governance and three times now they have failed to act."
McMahon thinks it's time for all the former directors of the NSP to stand up and fight for a shift in how the NSP is operated.
"If this board continues this behavior they will probably become obsolete. More obsolete," McMahon said. "I think it's time for anyone who cares for this organization to stand up and say enough is enough."
'Disconnect and denial'
In June 2021, as the National Ski Patrol addressed the fallout from the Rull column, the organization deployed The Equity Project to survey members and hold focus groups. The hope was to find a way to better address equity, diversity and inclusion in the organization and industry ski patrols.
National Ski Patrol's 31,000 members at about 650 resorts are 64% male, 76% white and largely from resorts out East and in the Midwest. The group represents mostly volunteer ski patrollers. Volunteer ski patrollers play an essential role in the U.S. ski industry, making up more than 90% of the patrollers at ski areas in the 10 Midwest states with ski lifts and more than 80% of the patrollers at resorts in New England.
The National Ski Patrol offers its own emergency medical responder course and certification – the Outdoor Emergency Care training program first developed in the 1980s. Few Western resorts accept a certification by that program to meet patroller qualification requirements, but smaller resorts in the Midwest and New England do.
The Equity Project delivered a 26-page report in December 2021 that included 3,794 responses from the group's members. Only 52% of the respondents agreed there is a need to incorporate principles of equity, diversity and inclusion in the National Ski Patrol.
In focus groups with National Ski Patrol members, The Equity Project consultants identified what they called "disconnect and denial."
"Many NSP members disagree that the organization should be focused on equity, diversity and inclusion goals," reads the report, which urged NSP leadership to align with a comprehensive strategy that includes outreach to expand equity, diversity and inclusion in the ski patrol profession. "These members' inability to understand and / or their rejection of some of their fellow members' experiences pose a barrier to NSP's efforts to become a more inclusive and welcoming organization."
The report called for training for National Ski Patrol leadership, division directors and lead patrollers with the group. It called for the National Ski Patrol to make a public statement outlining its plans "to make NSP more inclusive for everyone" and require equity, diversity and inclusion training in all the group's certification programs and refresher course requirements.
The National Ski Patrol group has organized "DEI thought leaders" who will create the inaugural National Ski Patrol Diversity Council this fall, according to a new diversity, equity and inclusion page on the group's website, which promises to "consistently deliver its training and services in a culturally competent manner."
That isn't enough for Castilian.
"I was hired last July with the full confidence of the board to transform this organization into what it could be, and rather than joining me in that journey, the leadership remains firmly rooted in keeping the organization as it has always been," Castilian wrote in his resignation letter to the National Ski Patrol board this week – subject line: "Onward."
"From the outset, I built a dedicated team focused on member services, and we all worked hard to earn your trust so that we could clearly delineate staff roles and responsibilities to support the strategic direction of our board," he wrote. "Instead, the board has chosen to ignore the work of our strategic consultant and dedicated members on the Initiative for Change Task Force, ignore the advice of our peer organizations, has met in secrecy and isolation for the last eight months, and continues to treat their professional staff as an impediment to progress instead of a partner."
The National Ski Patrol formed in 1938. By 1950, it had 4,000 members working at 300 ski areas. It has evolved from a service group to offering education and training in outdoor medical care and mountain rescue. The group even has a federal charter – an act of Congress approved in 1980 – that affirms the National Ski Patrol mission "to promote, in every way, patriotic, scientific, educational, and civic improvement activities and public safety in skiing."
As resorts seek professional ski patrollers with more specialized training – emergency medical technicians and wilderness first responders, for example – many patrols at major Western resorts have moved away from volunteer patrollers and association with the National Ski Patrol. (Only 15% of the group's members hail from resorts in the Rocky Mountains and the West.)
"Bunch of East Coast dinosaurs that support not paying patrols. I don't know why we keep joining," said a patroller from a Colorado resort who asked not to be named.
Claire Smallwood, the co-founder and executive director of SheJumps – which has provided 36,000 girls and women with outdoor opportunities, training and guided trips since 2007 – severed her group's partnership with the National Ski Patrol after Rull's column and apology.
Specifically, Smallwood and her team took issue with the National Ski Patrol's apology that "some readers" found Rull's comments offensive or inappropriate.
"That signals that they did not categorically denounce the phrase or that 'some readers' were just being sensitive," said Smallwood, who suspended the SheJumps' junior ski patrol partnership with the National Ski Patrol, which offered girls as young as 8 training in how to be a patroller.
Smallwood offered strategies for improvement at the National Ski Patrol, including ways to infuse more acceptance and diversity into patroller ranks. The concern, she said, was marginalized skiers possibly being mistreated by patrollers who don't recognize or accept inclusion.
"Because NSP works directly with people, it's so important for all skiers and snowboarders to see and trust that NSP is inclusive," said Smallwood, who did not see the organization respond to any of her suggestions. "There is zero interest at any level of that organization to make any kind of change. That is incredibly harmful to all ski patrollers and really dangerous to the future of skiing."
The National Ski Patrol relies heavily on its partnership with clothing maker Patagonia and Subaru. Both of those organizations expressed anger over Rull's column in 2020 and Castilian said he spent a lot of time with those partners making sure the group was on track with its promises to be more inclusive. Those heavyweight partners could step in and push the National Ski Patrol to change in ways the previous executive directors could not, Castilian said.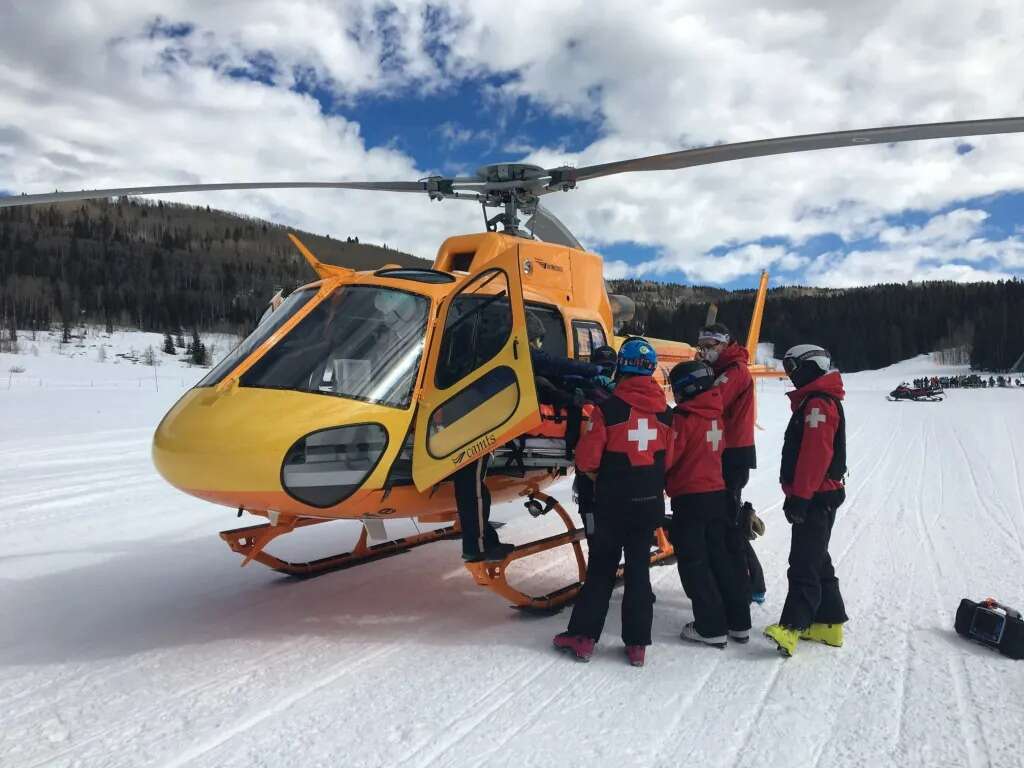 At the National Ski Areas Association annual meeting in May, the association's executive board met with the volunteer National Ski Patrol board "to provide an opportunity for both organizations to learn more about each other," said association spokeswoman Adrienne Saia Isaac. The meeting was scheduled six months in advance and the chairman of the ski patrol board, Rick Boyce, did not show.
Isaac said Castilian's resignation "is of great concern" to the association and its board. But she was quick to distinguish between the issues at National Ski Patrol and "the passionate folks who work as patrollers in service to the skiing public."
"Their reputations as first responders should not be tarnished," Isaac said.
At that meeting in May, a National Ski Areas Association board member and executive of a major ski resort described the National Ski Patrol governing body as "a dysfunctional HOA board."
In a letter Castilian sent to his staff this week, he said the National Ski Patrol "doesn't have any capital left to burn" with its partners. Churning through three executive directors and 80% of National Ski Patrol staff, he said, "will send a signal to the broader snowsports industry that something isn't working."
"I hope the board listens and takes constructive feedback to heart this time and fundamentally changes the organization," he wrote, "so that NSP can move beyond the label of a 'dysfunctional HOA board' ... and remain relevant in the future."
The Colorado Sun is a reader-supported, nonpartisan news organization dedicated to covering Colorado issues. To learn more, go to coloradosun.com.