Lidar technology more accurately measures snow depth
At a time when monitoring mountain snowpack is crucial for communities throughout the American West, has the next generation of measuring snow depth arrived?
Some top researchers seem to think so.
"We really feel we have the next evolution for water management," said Jeffery Deems, a research scientist for the National Snow and Ice Data Center.
For years, the go-to monitoring method for measuring snowpack in the mountains has been a network of weather stations, known as Snotel sites, which are dispersed throughout the West to gauge snow depth and the amount of water contained in the snow.
But the system has its limitations: There are only about 730 sites across the entire western U.S. and Alaska, which is a small sample pool and doesn't provide a comprehensive picture of entire basins. And, the technology for Snotels hasn't been seriously updated since being installed in the late 1970s and early 1980s.
Predicting how much snowpack is in the mountains, and how much available water there will be in the spring and summer once it melts into rivers and reservoirs, is of ever more importance in the arid West, where the long-range forecast is for less and less water.
At the Colorado River Basin Forecast Center, for instance, hydrologists are tasked with predicting how much water is going to flow into Lake Powell, which influences the entire system of the Colorado River, which an estimated 40 million people and countless agricultural operations rely on.
"Snotel sites are the best network we have," said John Lhotak, an operations hydrologist with the forecast center. "But there are definitely shortcomings."
A better way?
In the early 2010s, NASA's Jet Propulsion Laboratory teamed with the California Department of Water Resources to create the Airborne Snow Observatory to develop a new way of tracking snowpack in the mountains, looking to Light Detection and Ranging (lidar), a 3D scanning system, as a possible answer.
Lidar is not new technology. For years, it has been outfitted on planes to send beams down to earth to map elevations on the landscape, evaluate flood plains and even find the remnants of archaeological ruins underneath the ground.
But researchers started wondering if it could be applied to measuring snowpack.
The first flights were conducted in California in fall 2012 to create a baseline model of the mountains without snow, flying about 20,000 feet off the ground for five to six hours in a back-and-forth pattern.
Then, after a few storms, planes took flight again, and researchers were able to subtract elevation amounts to determine precise snow depths through high-resolution maps.
"We see it as moving from a sparse-point base network (with Snotel) to a system that can map the entire snowpack in a river basin," Deems said. "It is really an enabling technology."
Every drop counts
Nearly every drop of water used in Colorado – for a cup of coffee, a morning shower or watering the lawn – comes from melted snowpack in the high country, said Erik Skeie, a special projects coordinator for the Colorado Water Conservation Board.
Recent estimates show scientists predict snowpack in the southern Rockies could drop 50% this century all this at a time when Colorado's population could increase to 8.5 million people by the year 2050.
"So understanding what's going on in the mountains, and how much water is going to be available, is essential for the future, especially with climate change when we don't know what's going to happen year to year," Skeie said.
The Airborne Snow Observatory's lidar system has been tested in select water basins in Colorado – along the Front Range, the Gunnison, the Rio Grande and even the Uncompahgre in Southwest Colorado.
Already, researchers are finding major gaps in the old way of tracking snow. In 2013, for instance, a study of the Rio Grande basin found forecasts undershot the amount of water that was expected to flow by 50%, Skeie said.
"We need to fix that," he said. "We're missing a lot of the picture."
Flying isn't free
While those in the water world are excited about the potential of lidar, there is less enthusiasm for bringing out the check book.
Frank Kugel, the new director of the Southwestern Water Conservation District, said he saw the benefits firsthand when he was working in Gunnison, a time when many of the flights were in the experimental stage.
"Having that data, and knowing how much to release and not let it spill, was vital to operations," he said.
But Kugel said it could cost somewhere around $400,000 a year to fly the entire boundaries of the southwest district and convert that data to maps and usable information.
"It's very important to know if irrigators will have enough water, and whether they should buy fertilizers, plant crops and invest in cattle," he said. "But maybe it's not something we do every year."
Ken Curtis, general manager of the Dolores Water Conservancy District, said the flights would help determine more accurately how much snow is on the ground, which would help plan releases from McPhee Dam for river runners champing at the bit to float the Dolores River, a continual issue every year.
"Toward the end of the season, after the Snotels have zeroed out, the higher elevation snow is a bit of a guess," he said. "But that estimate really makes the difference on predicting releases at that point. And it's hard for us to guarantee a release if we don't know how much snow is there for sure."
But is the cost of the flights worth it, and what benefit would it serve to the district's primary customers: farmers and ranchers, who have top priority water rights? Curtis is less sold on that aspect.
"For our farmers, it would probably have less impact," he said.
Unforeseen cost of losing water
Yes, the cost of the program is currently expensive, Deems said.
But if you take into account the amount of money lost from inaccurate runoff forecasts, which can affect agricultural operations or send more water down to other states than required, those costs, too, add up, he said.
"It's easy to put a price tag on lidar," Deems said. "But the impacts of poorly informed management decisions can rarely be summed up. And the impacts are wide-reaching, all the way up and down the river."
Skeie, for instance, said that low estimate on the Rio Grande in 2013 translated into millions of dollars of water missed in the forecast, making $400,000 for better measurements seem like a "drop in the bucket."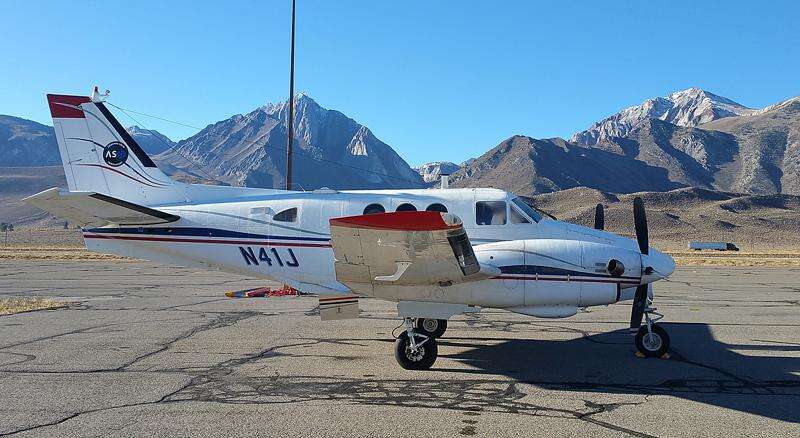 The Colorado Water Conservation Board is investing $250,000 in 2021 to conduct flights in the Gunnison basin, but Skeie said he hopes the project expands to other parts of Colorado in the coming years. But how that will look is yet to be determined.
In California, for example, lidar planes fly about 10 times a year, starting in January. When snowmelt begins around April, those flights ramp up.
Deems said the needs of each basin in Colorado, and how often water managers want flights, will vary, and the project can be tailored to those needs.
"A lot of people are coming to the table, so the main question now is: How do we build that table?" Deems said.
jromeo@durangoherald.com