Bobcats unable to get anything going in 73-0 loss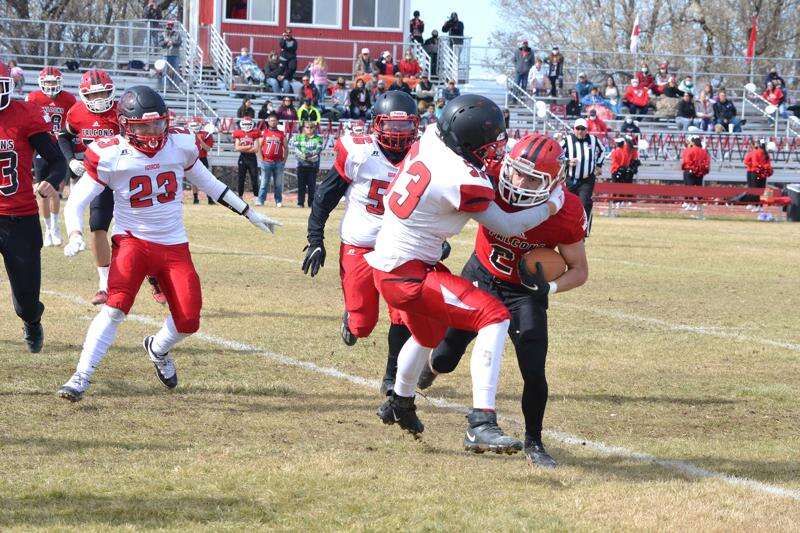 It was a matchup of undefeated teams at the halfway point of the shortened six-game fall high school football season Friday afternoon in La Jara. But, in the end, there was little doubt which team was still the king in the Class 1A Southern Peaks League.
No. 5 Centauri (4-0, 3-0 Southern Peaks League) scored five times in the first quarter and continued to pile on against the visiting Ignacio Bobcats (2-1, 2-1 SPL) in a 73-0 victory for the Falcons.
"We got manhandled today," IHS head coach Alfonso "Ponch" Garcia said. "We played a squad that was very, very talented. We knew that coming in. They're not big, but they're fast and strong. It's just an amazing group of kids that we just played."
The Falcons scored first less than two minutes into the game and never relented with another score with only five seconds to play as the mercy-rule running clock had quickly ticked the game away from the 11:09 to play mark in the second quarter when the Falcons went ahead 43-0.
"I am not going to lie, we could not get anything going," Garcia said. "I think we had one or two first downs the whole game. It was very hard to move the ball. Centauri knew exactly everything we had done and they were prepared. Poor Gabe (Tucson), he didn't even have time to pass the ball for us at all."
Tucson was held to 8-of-19 passing for 21 yards and two interceptions. Running backs Joe Garcia and Lawrence Toledo combined for negative 17 rushing yards on eight attempts.
Garcia said the Falcons were able to mount a formidable pass rush without having to sell out with a blitz. He said the Falcons played disciplined defense the entire game.
Centauri had three rushing touchdowns from Mason Claunch of five, 10 and 23 yards. He scored the game's first touchdown with 10:07 to go in the first quarter on a 5-yard run. Claunch finished with 68 yards on eight carries.
Quarterback McKay Russell also passed for two scores while he went 9-of-10 for 145 yards. His first score came on a 26-yard pass to Byron Shawcroft for the game's second score, and a Jordan Martin 2-point conversion run made it 15-0 Falcons with 5:44 to go in the first quarter.
Russell added another touchdown on a 35-yard pass to Baron Holman in the first minute of the second quarter to start the running clock. Holman was the top receiver in the game with four catches for 96 yards and the touchdown.
Deven Brady scored twice for Centauri. He returned a blocked punt 35 yards to the end zone for the game's third score with 3:56 to go in the first quarter. In the fourth quarter, he scored on a 34-yard touchdown run. He finished with 56 rushing yards and five carries.
Zach Buhr scored on runs of two and five yards. In the fourth quarter, Centauri also scored on a safety when Ignacio snapped the ball out of the end zone with seven minutes to play. Dylan Vasquez added the final nail into the Bobcats' defense with a 10-yard TD run with five seconds to play.
"There are a lot of bruises," Garcia said. "They played most of their starters through the third quarter. I played my little bitty guys because I didn't want my main guys to get hurt. We've got bruises and are banged up after this one."
The Bobcats have two games to play on the schedule. It will be another road trip to Monte Vista (2-1) at 1 p.m. Friday. IHS will close out the season at 7 p.m. Nov. 13 at home against Del Norte.
"For us, it's all about the next game," Garcia said. "The one in front of us in Monte Vista, and it is going to be a tough one, too. We will go to film, hopefully pinpoint the little things and miscues we need to fix to get back on the other streak instead of the losing streak."
Joel Priest contributed to this report.
jlivingston@durangoherald.com