Winner will advance to 4A state quarterfinals
Two strong teams from two of Colorado's iconic mountain towns are set to square off Wednesday with a trip to the state quarterfinals on the line.
No. 10 Steamboat Springs (9-1) will visit No. 7 Durango High School (9-0-1) in the first round of the Colorado High School Activities Association Class 4A State Girls Soccer Championships. While the visiting Sailors traveled Tuesday to Durango, the teams will not kick off until 6 p.m. Wednesday when temperatures are expected to dip barely below 90 degrees following another blistering day under the summer sun.
"The girls are feeling good and have confidence in their athleticism," DHS head coach Melissa Halonen said on the eve of her first opportunity to lead the Demons into tournament play. "If we work hard, we should be OK."
DHS rolled through an undefeated season with one draw against Class 5A Fruita Monument, the No. 13 seed in the 5A bracket. The Demons have outscored opponents 44-3 this season, including 26-1 at home where the Demons are 5-0.
"It takes an entire team from back to front, and we've had a lot of girls score multiple goals," Halonen said. "It's been a true team effort all season, and the girls have come up big defensively when we needed them."
Jocelyn Feir, a junior, has made eight saves per match this season in goal for the Demons behind a fast and physical back line.
Clara Krull, a senior forward, has the Demons' team lead with 10 goals to go with five assists for a team-high 25 points. Sophomore center attacking midfielder Mason Rowland, who scored seven goals in the team's first four games, has eight goals to go with five assists, and she has added a strong element to the Demons' arsenal with long throw-in passes from the sideline that can reach the box and creating scoring chances for DHS.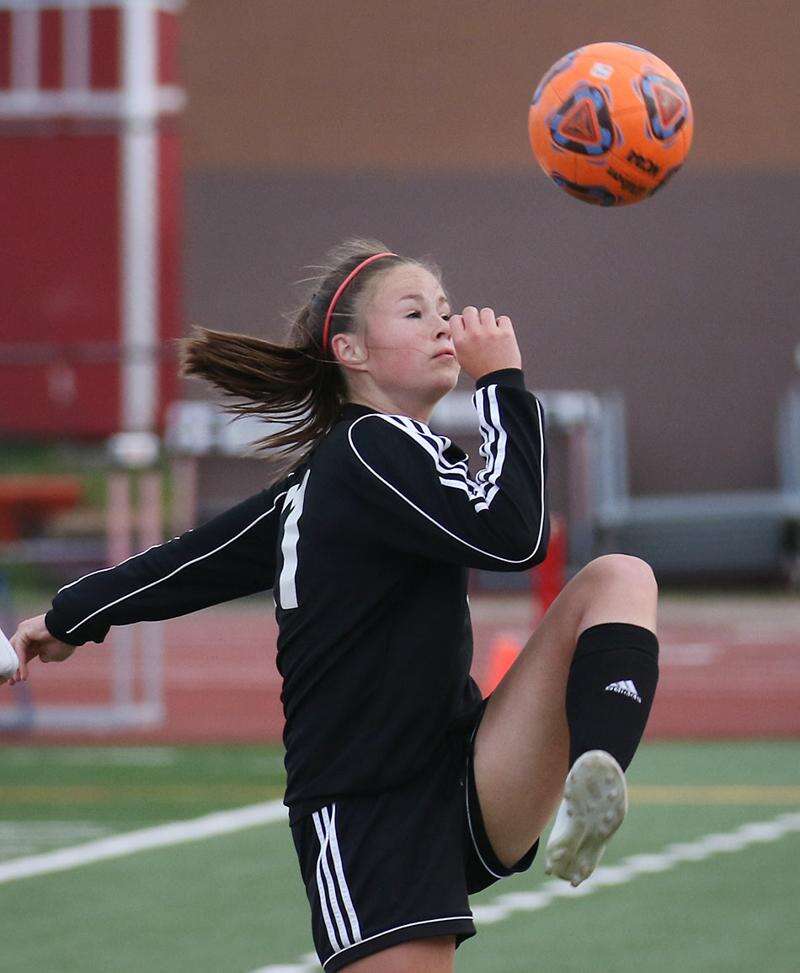 Also for the Demons, senior Kyle Rowland has proven to be a free-kick specialist, and she has added six goals and three assists.
With four goals each for DHS are underclassmen Riley Campbell and Sarah Somrak, while Maddy McManus has three scores and Georgia Landeryou has found the back of the net twice. Four other Demons have also scored..
"Set pieces have been game changers for us all season, but the last couple of games, we've scored a bunch of goals in the run of play, too," Halonen said.
Steamboat Springs had one setback this season in a 2-1 home loss to Battle Mountain, a team that did not make the state playoffs.
Since then, the Sailors have won three in a row by a combined score of 11-0. For the season, Steamboat Springs has scored 28 goals and allowed six.
Leading the way has been freshman Gwyneth Jamison, who has scored six goals and come up with three assists in the games in which stats have been reported. Junior Macy Reisman has added three goals and two assists, while freshman Darby Martinez has scored three times at the team's starting striker in the 4-5-1 formation.
"It's pretty similar to a 4-3-3 with wide players. They like to get wide," Halonen said. "They have a couple of good center mids who like to play quickly. They are more of a finesse squad and play possession-based soccer."
Halonen likes her teams chances to match up with whatever style Steamboat plays. From the throwdowns with Fruita Monument to the opportunities DHS has had to play fast and send long passes to the attack, the Demons have proven they can play any style. And the historically tricky – and slippery – turf at Durango High School should be an advantage for a home team that knows how the ball will roll.
"It's hard for any team to beat our physicality," Halonen said. "There are definitely teams tactically and technically with better soccer players who play soccer year round, but we have so many athletes on our team. True athleticism is hard to come by for a full team."
The winner of Wednesday's game will move on to face No. 2 Evergreen (10-0) or No. 15 Northfield (8-2) on Saturday in the 4A quarterfinals. The highest-seeded team will host the match. It was the Northridge Grizzlies (10-0) from Greeley that earned the top seed in the bracket.
Halonen admitted she hoped the Demons would earn better than No. 7 in the bracket but knows the team's only focus can be on Steamboat Springs now that the path to a state championship has been outlined.
"It's going to be a task in itself against a good Steamboat team," she said. "It will be a competitive match. Depending on that game, we will see what comes next. I am just thrilled to be part of this group of kids during this fast and furious season and couldn't be happier with their commitment in the summer time.
"It's been a strange year, but with the results we've had, we want it to continue as long as possible."
jlivingston@durangoherald.com