The 2020 psychological thriller was released to HBO Max in April
The 2020 psychological thriller "The Night House," upcycles the "did-this-really-happen-or-was-it-all-in-her-head" horror trope into a discussion of nothingness and the human brain's inability to actually conceive of it.
The film begins with newly widowed Beth, as she grieves the suicide of her architect husband, Owen, who built the home she now inhabits alone. Beth's grief is worsened because she knows there is no afterlife.
When Beth was in high school, she was in an accident and her heart stopped for four minutes. She later says that during those four minutes, there was nothing.
As she struggles with the eternal oblivion of her dead husband, Beth begins to reconsider the impending nothingness that is to come for her. But true nothingness is impossible to conceive of. It's not dark, it's not cold and it's not empty. It's also not 'nothing' because even the term and its idea are something. Senses, thought and language cannot be used to understand the true nothingness that Beth believes will come in death.
"The Night House" plays with this conundrum.
Beth begins to have hallucinations of presumably Owen in a series of progressively scarier dreams. The most effectively horrifying visions depict the man as negative space interacting with features of the home.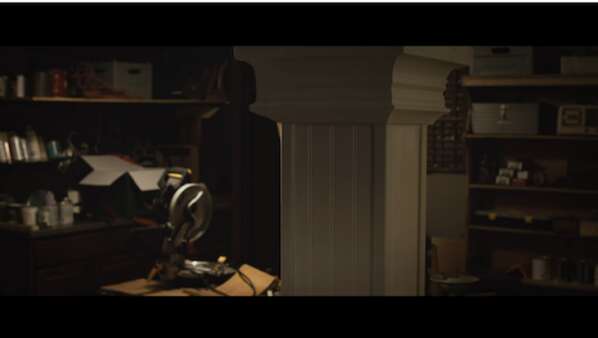 The involuntary creation of a monster from negative space is analogous to the kind of stories we create to avoid thinking about absolute nothingness in death. Is the devil better than nothing? No, but at least we can conceive of him. Is the demon lurking among the pile of clothes in your bedroom at 3 a.m. better than what it is: an illusion created by negative space and its interaction with the dirty laundry? Of course not. Yet, we see a demon.
"The Night House" uses negative space visuals to embody the horrifying brain twister that is true nothingness.
Eventually Owen's suicide note is uncovered. It reads, "You are right, there is NOTHING. NOTHING is after you. You are safe now." Nothingness becomes the monster. Whether this monster is real or completely in Beth's head remains ambiguous.
Beth's friends dismiss her phantasms as a symptom of her grief. But as "The Night House" goes on, viewers are increasingly tested on their assertions of reality and fantasy.
"The Night House" is not for those seeking constant building action. The film takes its time developing the story line and doesn't reveal anything too quickly. But philosophy junkies and religious skeptics will enjoy the film's discussion about the dread of eternal oblivion.
Kelsey Percival is the editorial assistant for The Durango Herald and an avowed cinephile. Reach her at kpercival@durangoherald.com.