First year of marriage marred by illness, lockdown and death
The first year of marriage for Carla Vigil Shoub and Don Shoub has been anything but a blissful, extended honeymoon.
The couple fell in love at Four Corners Health Care Center in Durango, which has become the site of the largest COVID-19 outbreak in La Plata County. As of Monday, 94 residents, including the married couple, and 53 staff members had contracted the disease, according to San Juan Basin Public Health. Twenty-two residents have died.
"To me, it's OK to die, but it's not our time yet," Carla said Thursday in an interview with The Durango Herald. "I love him so much, and I want to enjoy him."
"I love her so much, and I want to enjoy her," Don said in response.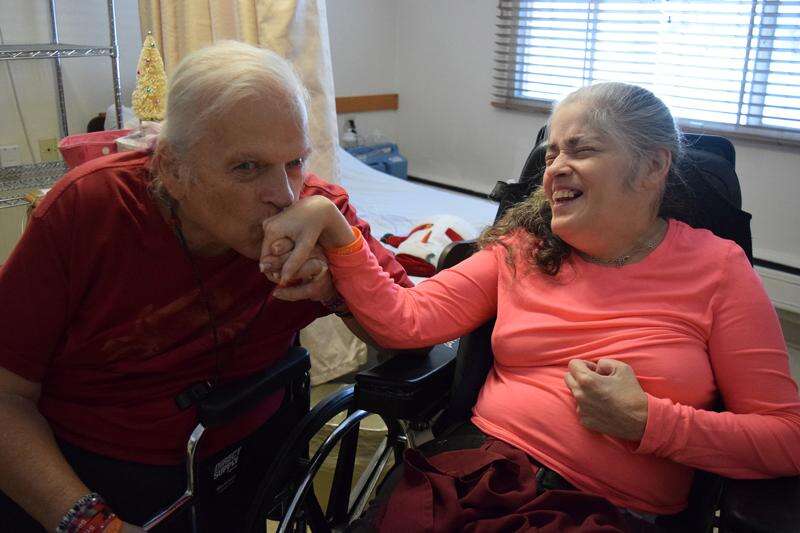 The Shoubs, who were married Dec. 5, 2019, have spent most of their first year as newlyweds quarantined in the same room.
"We wanted to be married and happy, going places and enjoying each other," said Carla, who tries to have a positive attitude. "We're still enjoying each other, but the COVID disease is awful."
The couple met in the hallways of the nursing home when Carla, 53, who has cerebral palsy, tried to pass Don, 72, both in wheelchairs.
They fell in love while staying up late watching movies and bonding over bands like The Bangles and Queen. They even went to prom together at the Tim Tebow Foundation's Night to Shine event.
They had months of married life before long-term care facilities around the country halted regular activities in response to the coronavirus pandemic.
Social activities were canceled, and dining halls closed. Visits from family and friends were halted and/or limited.
It was rough, the couple said. They understood the restrictions: Older populations and those with existing health conditions can have more severe cases of COVID-19.
But they haven't been able to get out of their beds and into wheelchairs most of the days, said Christine Mullholand, Don's sister, saying the facility was short-staffed.
Mullholand was most grateful the couple got married before the pandemic started so they could be housed in the same room. (Staff members had pushed together their beds so they could hold hands and watch TV, she said.)
"They are amazing. I mean, I don't know if I'd do too well with my husband in a room, not being able to get out," Mullholand said, laughing.
In early December, Carla and Don both tested positive for COVID-19. By January, their appetites weren't good, and the food didn't taste right. But the couple were back in their original room and doing OK, they said.
Throughout the pandemic and the outbreak, the couple have been able to keep an upbeat attitude, said Mullholand and Hank Vigil, Carla's brother.
But they also worry about a new, more contagious strain of the coronavirus, the nursing home's air purifying system, and side effects from the vaccine.
The couple were mourning two people close to them, a cousin and friend, who died recently. They said the deaths might have been caused by the disease, but they were not certain.
"Given what they're facing – and they do get scared and sometimes they cry – they just try to look at the bright side of it. And they have each other. That is so important that they have each other," Mullholand said.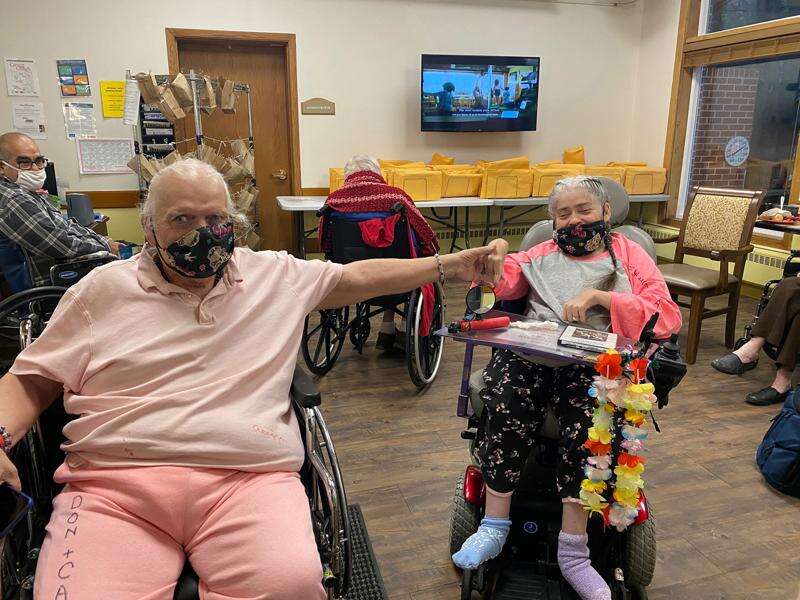 A seemingly simple thing, a lost cellphone charger, separated the couple from their families during a difficult time. The unit has a portable phone, but it isn't always available. Because they couldn't leave their rooms and had little phone access, Carla has not been able to speak with her mother who lives in the same facility, she said.
"That's why I want my phone charger so bad, because I want to be able to talk to family," she said.
Mixed in with their worries were bright spots. Don talked about their Christmas presents: homemade cookies, fudge and a coloring book. They looked forward to watching "Star Trek" and "The Carol Burnett Show."
They were able to spend some time in their wheelchairs and start physical therapy, which felt more normal, the couple said. They urged people to take the vaccine and focused on being positive about new possibilities in the new year.
"We just want to get through this and be happy," Carla said.
smullane@durangoherald.com