Sturm can't defend but shows well in high-end field
Under blue skies in Silverton, professional mountain biker Erin Huck of Boulder held off 2019 champion Sarah Sturm of Durango to win the 49th Iron Horse Bicycle Classic professional women's race with a time of 2 hours, 43 minutes, 17 seconds to hold off a charging Sturm, who was only five seconds back.
After an early morning start at Animas City Park in Durango, the women's peloton rode a relaxed pace through the Animas Valley to start the 47-mile race that features 5,700 feet of climbing.
The pace picked up as the course headed north toward Purgatory Resort, but the group of contenders stayed together until the attacks began on Coal Bank Pass.
"I took advantage of kind of a tailwind and put in an attack," the 39-year-old Huck said. "Sturmy and I were together for a bit. She backed off the pace, and I kept going, but she caught me on the descent before Molas, and then we rode Molas together."
With the decisive climb of Molas Pass, boasting a summit elevation of 10,912 feet, Sturm, a mountain biker, cyclo-cross racer and rising gravel star, and Huck, a 2021 Olympic mountain bike hopeful, challenged each other and matched pedal strokes.
"Sarah and I were kind of taking turns on the suffer bus," said Huck. "I was feeling good on Coal Bank and she was suffering, and then up Molas, she was feeling good and I was suffering."
At the top of Molas Pass, Huck went faster thanks to her more-refined descending skills, letting gravity pull her down into the Silverton caldera.
"I think I just sent it on the downhill and was able to get a little bit of a gap and suffered through to the finish," Huck said.
Sturm, 31, said she isn't used to descending on a road bike because she primarily races off-road at races like the Belgian Waffle Ride or Co2uT Desert Gravel race, where she placed second just seven days earlier in the 190-mile jaunt through the high desert.
"I'm just not used to descending on road bikes, and she corned a long stronger than I did in that last corner," Sturm said. "Then, I just tried to go as hard as I could, but I knew how long the finish straight is."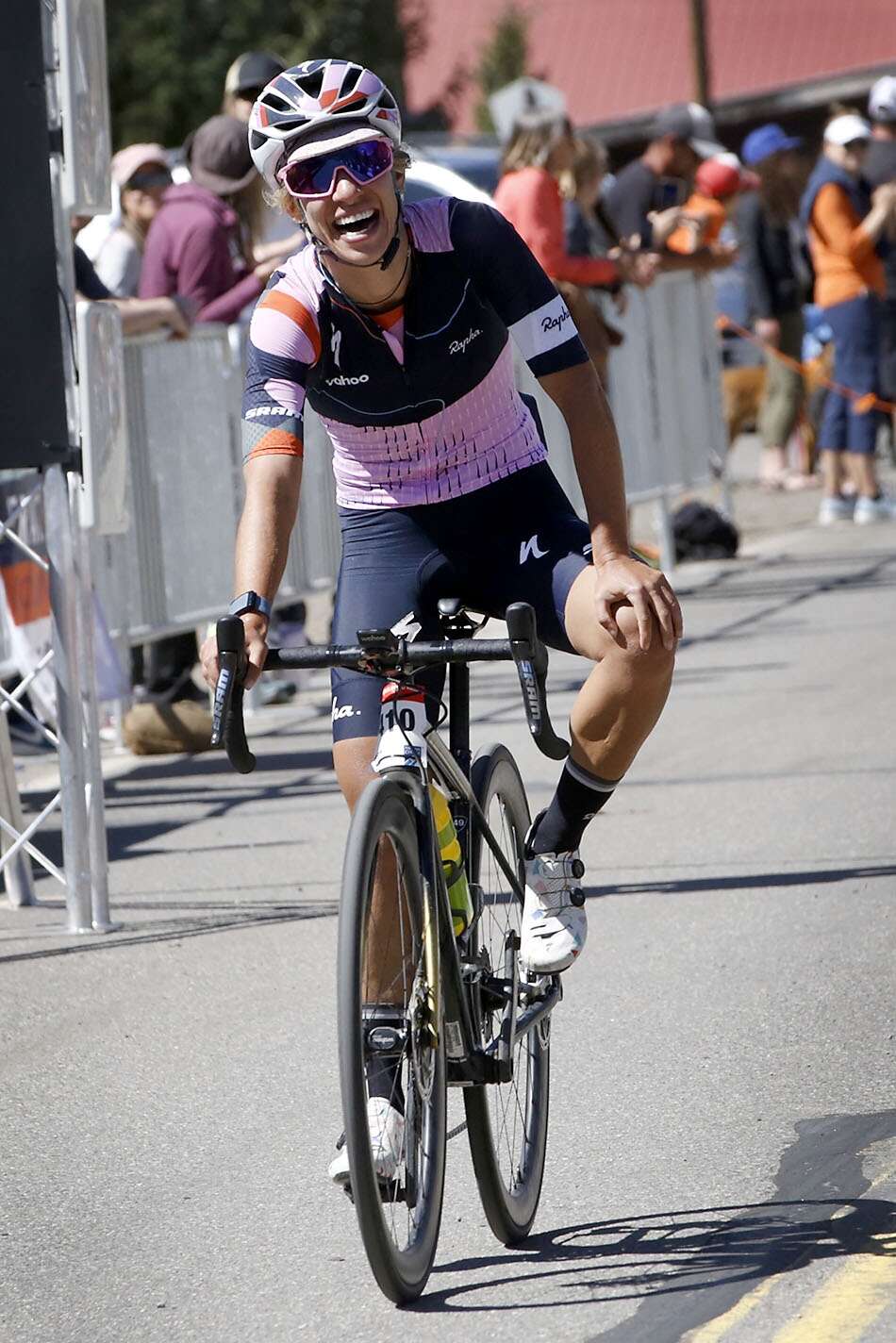 Sturm said ahead of the race that she'd prefer the race didn't come down to a sprint, however there was a brief moment on Greene Street that she thought she could beat Huck on the final drag. Her legs had a different answer.
"I saw her stand up, and I was like, 'Yeah that's it.'" Sturm said.
The field was dominated by riders who primarily race off-road. The third spot on the podium went to Evelyn Dong (2:44:45) of Utah, who is also a regular at mountain bike and gravel events throughout the country.
Dong held on as Huck and Sturm surged ahead on the climbs but eventually couldn't match her fellow riders' pace. Dong said the high-altitude course, which reaches higher than 10,500 feet above sea level twice, was challenging.
"I think it's pretty easy to tell what your limit is," she said. "There's only so hard you can go."
Madigan Munro, 19, of Boulder placed fourth (2:46:30), while Durangoan Ruth Holcomb rode over the line in fifth (2:48:52).
"Sarah and Erin really lit it up, and me and Madigan and Evelyn tried to go with them but didn't quite have that pace," the 18-year-old Holcomb said. "I probably went out a little too hard on Coal Bank but was able to pull it back by the top. I attacked again on Molas and was able to get away until a quick sprint finish at the end."
Many of the riders in the women's field will race the mountain bike race in Horse Gulch Sunday as a part of the Queen of the Mountain omnium competition, where points are tallied from both of the weekend's races to title a victor.
It will be a challenge for the riders after racing nearly 50-miles and climbing more than 5,000 feet in elevation at a high pace. The course features tough terrain, including the steep climb up Telegraph trail.
Sturm won't contest the mountain bike race Sunday, but Dong, Munro and Holcomb will try to challenge Huck.
"I'm kind of nervous about it because I think it's going to be really hot and dusty," Huck said.
Sturm and Holcomb both noted how exciting it is to compete in their hometown bike race.
"This is probably my favorite race of the year," Holcomb said. "It's always the hardest race of the year also, but having everyone cheering the whole way up and always hearing my name and everything, just finishing and being around everyone I know is super fun."
Sturm was in good spirits, despite losing grasp of the road race title in the last stretch of the race.
"I'm really proud of myself. I think I'm stronger this year than I was a couple years ago," she said. "There was just more competition, and I'm really really pleased to be so close to Erin and Evelyn because they've been racing full gas, and Erin's trying to get to the Olympics, so I'm rooting for her for sure."