Many shops on the honor system: No mask means you're fully vaccinated
Customers will be greeted with varying policies on mask wearing as businesses have loosened COVID-19 restrictions since Durango City Council dropped its requirement that they be worn in public places.
Currently, the city leaves it up to businesses whether to require masks of customers.
At the Boarding Haus, store manager Jack Groenheim said he's relieved he no longer has "to be the mask police."
A sign on the door still asks customers to wear a mask, but the shop is now on the "honor system," and anyone who comes in the shop unmasked is assumed to be fully vaccinated.
"We're not asking people to wear a mask," he said. "It's more of a trust thing."
Groenheim expects the sign on the door will come down in the next week or two, when more than 50% of La Plata County residents are listed as fully vaccinated by San Juan Basin Public Health.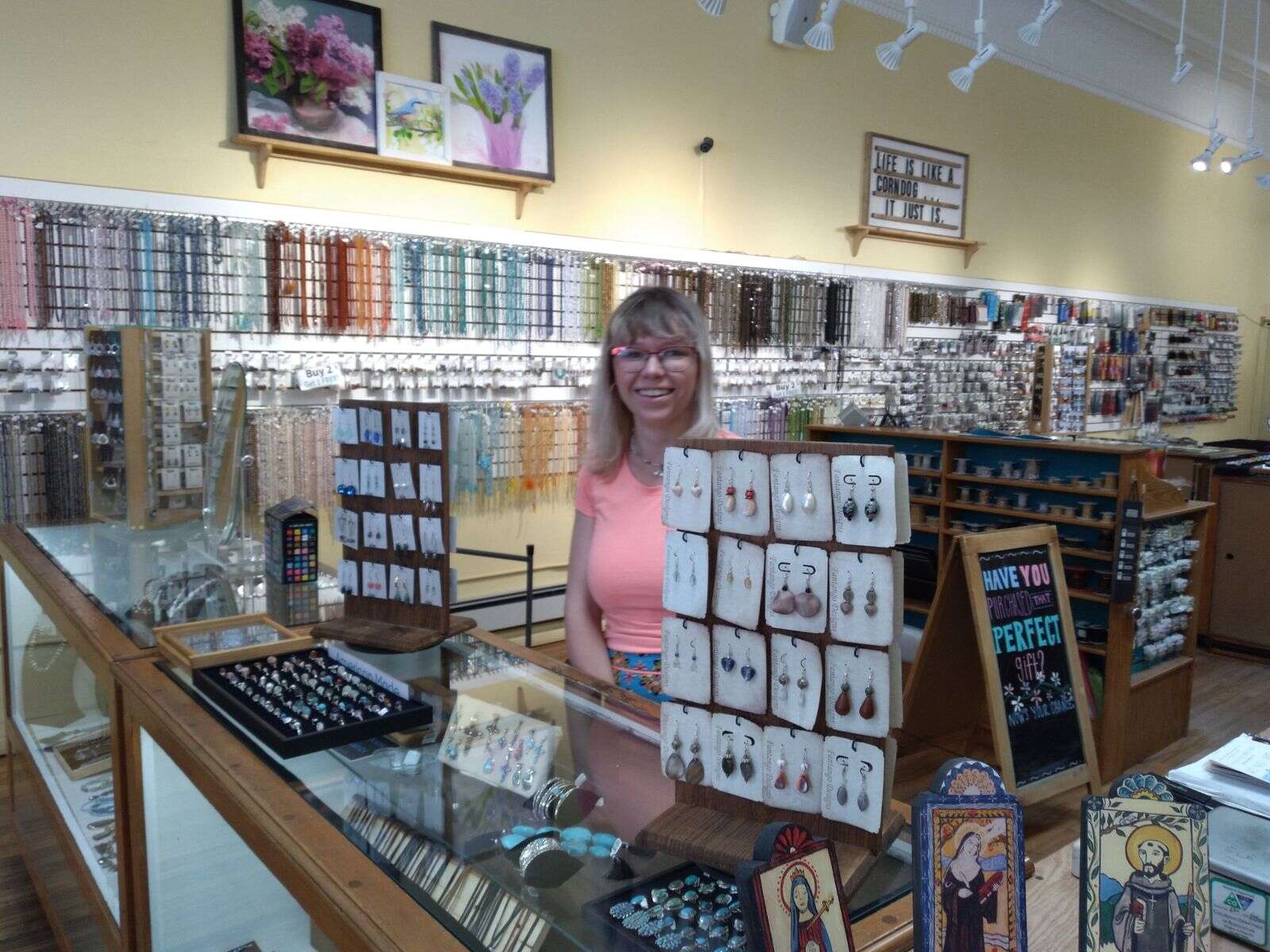 Shelby Campbell, sales manager at Beads & Beyond, said the shop took down its mask-required sign last week when the city dropped the mask-wearing requirement.
"The staff is fully vaccinated, except for one employee, who is getting their second dose this week," she said. "We'll do whatever makes a customer feel most comfortable. Disposable masks are available to staff if a customer requests they wear a mask."
Most people coming into the shop unmasked are assuring employees that they are fully vaccinated, Campbell said.
Hand sanitizer will be one thing that will remain after COVID-19 disappears as a threat. Campbell uses it a lot, and thinks it's a wise addition even as the COVID-19 threat recedes.
"Maybe it will help with the common cold," she said.
The jewelry store carries interactive toys for children, and employees had been bleach-cleaning them daily, and that now has stopped, she said.
Customers inside the store had been limited to 20, but the limit was never met, and Campbell said limits have been dropped.
Maria's Bookshop still requires masks because the state and the Centers for Disease Control and Prevention recommend but do not require masks in public places, said Jeanne Costello, general manager.
With only 50% of La Plata County's population fully immunized, Costello said Maria's is waiting until a higher percentage of people is fully vaccinated before dropping its mask requirement.
The store also maintains a policy limiting the number of people inside to 16, but it is easing up on enforcing it, Costello said.
"We're flexible when parties are clearly together from one group, but if it feels congested, we have the occupancy limit to fall back on," she said.
The Lone Spur Cafe allows customers to determine whether to wear masks, although a sign remains up asking customers to wear a mask.
Shane Ollenberger, a general manager in training, said it will stay up a bit longer, until more people are vaccinated.
The restaurant had been part of the 5 Star Certification Program, and had been taking down customers' phone numbers for easier contract tracing as well as taking their temperatures before seating them, but those procedures have now been dropped.
Lone Spur is in process of adding a bump-out, which will add four new tables, but the spacing requirement inside has been dropped except for one table that was removed to put in place space for supplies for to-go orders.
Ollenberger said the restaurant started an online service during the pandemic that has proved popular, and it now has to take into account a growing number of takeout orders.
At Hair Fusion, owner Susan Frantz said fully vaccinated clients don't need to wear masks, and anyone who comes into the shop without a mask is assumed to be fully vaccinated.
The shop is still keeping a good distance between chairs, and practices such as washing hands and sanitizing stations between cuts were being followed before the pandemic.
The shop used to wipe down surfaces like the door handle after each visitor, and stringent sanitizing procedures like that have been dropped, but the door handle still gets wiped several times a day.
"It's nice to get back to more normalcy, and it's nice to see people's smiles again," Frantz said.
Karyn Gabaldon, owner of Karyn Gabaldon Fine Arts, is telling clients if they are fully vaccinated they don't have to wear masks, and she asks those who are not fully vaccinated to wear a mask.
Gabaldon said she's keeping her mask on because her household includes her 91-year-old mother, Del Dickinson, but whether to wear a mask is up to customers.
Several days ago, she said she removed the Plexiglas that was up at the cash register.
She had been limiting the number of visitors in the gallery to eight, but that requirement has been lifted.
"We're getting back to some sort of normal. We're not quite there, but we're getting closer," she said.
About 90% of customers are no longer wearing masks, and Gabaldon said she is assuming they are fully vaccinated.
Like Beads & Beyond, Gabaldon said hand sanitizer dispensers will stay in the store.
"I'm still wiping everything down, but that's just because I'm neurotic," she said.
Julie Anderson, controller at the Wells Group, said signs are up at the office indicating masks are not needed for fully vaccinated people. Signs also ask people who are not fully vaccinated to wear a mask.
"We're on the honor system," she said.
Social distancing between an agent and a client is still recommended at the Wells Group.
The office will begin to encourage agents to spend more time in the office because it helps build teamwork and encourages camaraderie, she said.
Still, she anticipates more brokers will be working from home in the future.
"It's going to take some time to adjust," she said. "People are more established working out of a home office, where maybe before they didn't work at home so much. I think people will ride it out to see what works best for them."
Brokers and clients are also having conversations about their vaccination status, she said, and that guides if they ride to a showing in one car or in separate vehicles.
"I think people are very open to having the discussion (about vaccination status)," she said. "If everybody feels like they are vaccinated, and they can talk through the situation and decide, they can ride in one car."
parmijo@durangoherald.com