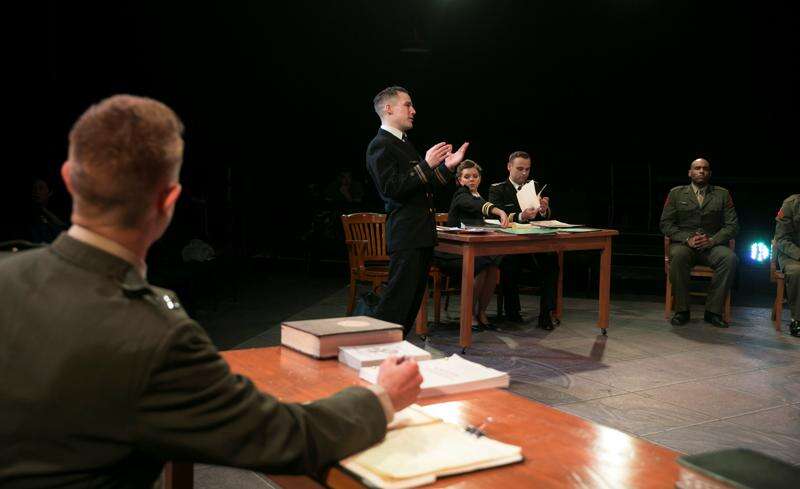 At the beginning of "A Few Good Men," playing now through June 5 at the Pagosa Springs Center for the Arts, two Marines stand at attention. They identify themselves and recite the charges against them. They are suspected of murdering a fellow Marine in a hazing incident gone awry.
It's a tragic duet, spoken in the language of institutional loyalty: "Yes sir, whatever you say, sir." And it's the beginning of a taut courtroom drama for our time.
Now wrapping up its sixth season in Pagosa, Thingamajig Theatre Company has chosen Aaron Sorkin's famous 1989 play to close another winning season. It's a gutsy choice for many reasons. Sorkin's tight, compelling drama explores two central themes: power and the conflict between loyalty and integrity. It calls for a large cast of 14 men and one woman, actors who can handle Sorkin's crisp, intelligent dialogue and play on a set representing more than 20 locations.
New York Director Melissa Firlit has returned to Pagosa for the task of shaping this complex work into a clear, well-paced and intense performance. She is aided by stellar casting – beginning with two Equity actors: Craig MacArthur and Dennis Elkins. MacArthur transforms Lt. J.G. Daniel Kaffee, the lead defense attorney, from a cocky Harvard-educated greenhorn into a mature, principled man of the law. Elkins uncoils the malevolent range of Lt. Col. Nathan Jessup as the commander who taunts and manipulates everyone around him.
Elkins is chairman of the Fort Lewis College Drama Department and performs on stage when he's not teaching. He and MacArthur, a New York-based actor affiliated with Rutgers University, have appeared together before in Pagosa, most notably in "Red," a play about American artist Mark Rothko and his young assistant.
Sorkin wisely provided a counterpoint to Kaffee's entitled joviality in the character Lt. Cmdr Joanne Galloway. The lone woman in the cast, she's played by Audrey Layne Crocker as a serious, laser-focused attorney who cares about the law and never lets up. Kaffee's breezy flirtatiousness goes nowhere with her. He admits she must have been the smart alecky elementary school girl the boys hated. As a larger conspiracy slowly unfolds, the Galloway-Kaffee subplot adds to the overall high-wire tension.
Courtroom dramas have a history of static presentation, but that's not the case with Sorkin's drama. He updated the genre by using a number of devices: flashbacks, truncated scenes and the periodic singing of "Sound-off." The military marching song forcefully intrudes into the action. Director Firlit has added one additional "Sound-off" and further uses the device to overlap scenes. The whole production has an underlying feeling of momentum.
John Santangelo's set design underscores institutional power with symmetry, weighty stone walls and a smartly painted floor. Chairs, tables and desks are swiveled into varying arrangements with Marine precision.
Jason Flamos' lighting snaps location changes into place and subtly reveals the illusion of a gigantic American flag embedded in the back wall. Created by artistic scene painter Jill Fives, it's yet another detail in a thoughtful and compelling production. Taylor Marrs' costumes have the appropriate spit-and-polish newness for a contemporary military drama.
"A Few Good Men" will run through June 5 and is well worth the drive to Pagosa. It runs about 2½ hours with one intermission.
Judith Reynolds is an arts journalist and member of the American Theater Critics Association.
"A Few Good Men," a drama by Aaron Sorkin, Thingamajig Theatre Co., directed by Melissa Firlit, featuring Dennis Elkins, Craig MacArthur and Audrey Layne Crocker, 7 p.m. May 20, 21, 26, 27, 28 and June 2, 3,4; 2 p.m. May 22, 29 and June 5, Pagosa Springs Center for the Arts, 2313 Eagle Dr., Pagosa Springs, CO.
Tickets cost $28 and $32. For more information, visit www.pagosacenter.org or call 731-SHOW (7469).