Who are the officers traversing downtown streets leaving unwelcome yellow envelopes on windshields?
Unlike Barney Fife, the eccentric, ticket-happy deputy of "The Andy Griffith Show," Durango's parking enforcement officers do not carry a single bullet in their breast pocket. Although they are principled, the officers tend to be far more lenient when it comes to issuing tickets than the rule-abiding deputy.
But, like the beloved Don Knotts character, many of Durango's parking enforcement officers bring enduring zeal to what could be a relatively uninspired occupation.
"Sometimes, if I'm having a bad day, it's better to see people because they usually cheer me up," said Kylene Jones, who has enforced parking ordinances for the city for seven years. "It's amazing how people usually cheer me up. Or my puppies at least do (that)."
The prescribed part of the job is simple. Anywhere between two and four officers walk routes that cover about 150 block segments surrounding downtown. The goal is walk past each meter every 15 to 20 minutes.
There are three routes. Each stretches the length of downtown Durango following either East Second Avenue, Main Avenue or Narrow Gauge Avenue. The blocks and streets in between are split up according to the number of officers working at any given time.
As they walk the streets of Durango, the officers look for meters that have run out of time, expired registration tags and cars that do not fit inside the white lines that mark parking spaces.
Tickets are $25 when issued, rising to $50 after 30 days. If a vehicle has two tickets over 30 days old, it risks getting booted.
But issuing tickets is only one part of the job. The job is really about the people, officers say. And they adore it.
Jerrin Roukema, 66, has worked as an enforcement officer since 2008. She loves her job because it entails walking – between 5 and 7 miles per day – and getting to know Durango's locals and visitors.
"It's like Disneyland – we got the main street and the choo-choo train," she said. "I know all the people downtown. I love them, they love me."
Many of the officers bring their own element of flare to the job. Many carry dog treats; Jones is known for her eye-catching socks and Roukema can be spotted with a flower crown sitting atop her uniform hat.
Despite the nominal cost of tickets, officers say the symbolic power that those little yellow envelopes hold over the populace is bafflingly vast.
"People hug me ... because they're just so happy they didn't get that silly ticket," Jones said. "It's amazing how responsive people are – and how excited people are when they drive up to a meter and there's three minutes on it."
If a driver returns to their car to find an officer issuing a ticket, the outcome is largely dependent on the tenor of the interaction.
"Attitude is everything," said Scott Messerschmidt, a parking enforcement technician.
If someone returns and an officer is midway through writing a ticket, Messerschmidt said the officer will typically stop and mark it as an "interruption."
Once the ticket is printed, things can get a little more complicated. Officers do have the power to call the office and have the ticket downgraded to a warning, which does not carry a financial penalty, but only if the person has not had a warning or "interruption" in the last year. If a driver returns to their car to find a ticket and sees another officer nearby, that officer also has the power to downgrade the ticket to a warning at the offender's request.
"(I ask), 'Are you a good person? Are you sweet? Are you having the time of your life here in Durango?' And if they say yes, then I'll stop the ticket," Roukema said with an excitable grin.
For Jones, the decision is even more practical.
"If they're really nice, I'll say to you, 'Let me see if I can make it a warning for you,'" she said. "But if they're a jerk, I'm not going to do that. I'm not going to spend the time with them."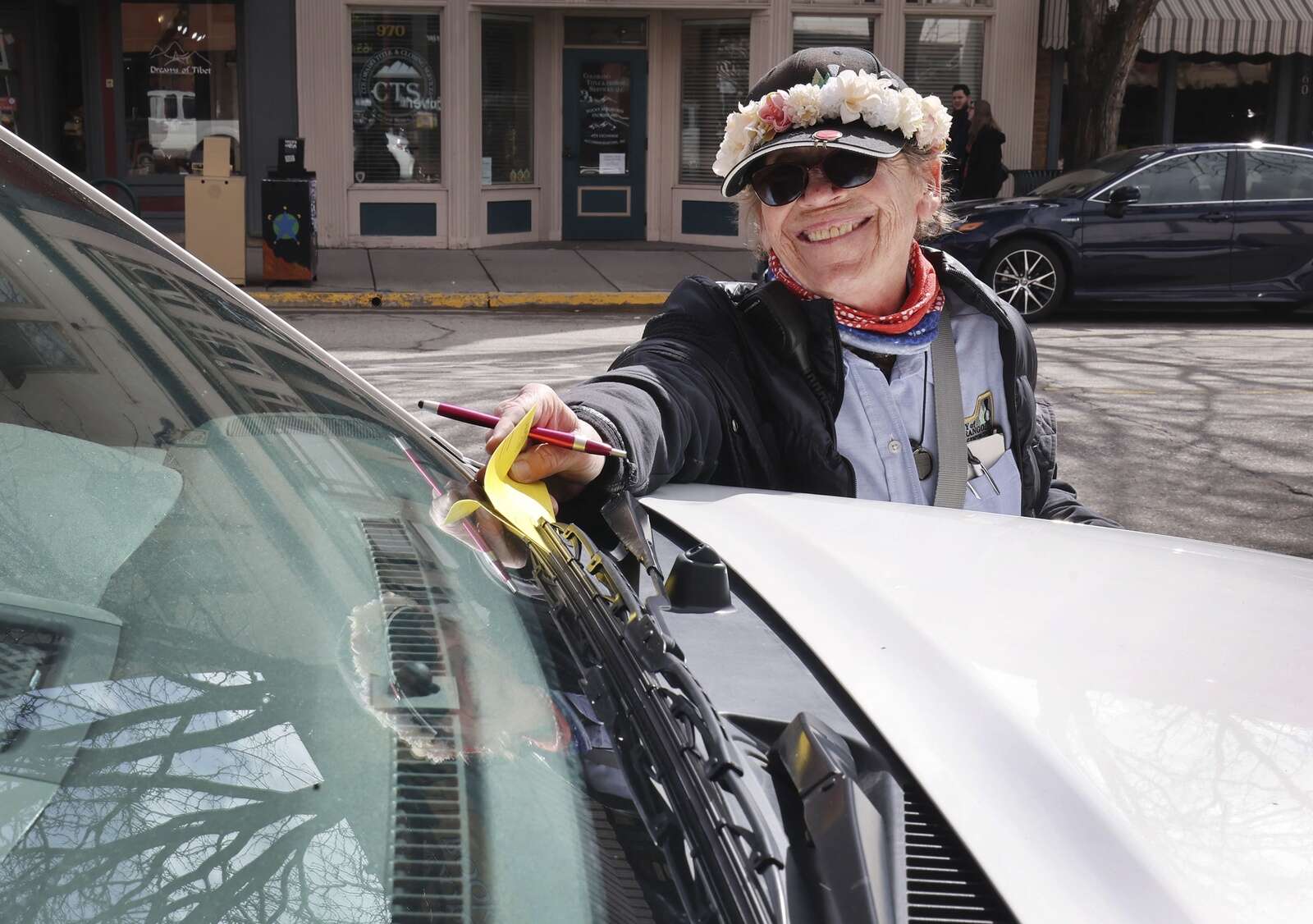 Only on a handful of occasions have things turned sour, with ticket-receivers threatening to hit officers with their cars. In response to the occasional profanity, officers are trained not to engage. In the rarest of occasions, they can contact police assistance on their radios.
Despite the latitude that officers have, they are only so lenient. Roukema said she has ticketed her own daughter, and Jones said she regularly issues tickets to friends of hers.
"My son's best friend put the ticket I wrote her on her refrigerator, she was so excited that I was the one that wrote it," Jones said. "My friends are pretty good-natured about it. They know that I'm doing my job."
Despite what some think, meters do not send any notification when they expire and officers don't go dashing across town to find expired meters. They walk the routes methodically, hoping only to ensure that parking spaces are available downtown visitors.
"We know what's going on. We pay attention. We know the people, we know who's supposed to be where and when," Jones said. "... We're here not just for writing tickets – we're here to look out for everybody else."
rschafir@durangoherald.com