High visitation has led to significant impacts on the landscape, Forest Service says
It appears the time has finally come to put in place a permit system to visit the popular Ice Lakes Trail outside Silverton.
After a year of incredible use, which resulted in significant damage to the delicate alpine tundra and culminated with a wildfire in October, the U.S. Forest Service says the situation at Ice Lakes has reached a tipping point.
"It's something that will have to happen," Jed Botsford, recreational staff officer for the Forest Service's Columbine Ranger District, said of a permit system. "I do not see it as too extreme."
Putting a permit system in place is a decision public land agencies don't take lightly. For one, it limits people being able to travel into and enjoy outdoor places, which goes against these agencies' mission statements.
But at the same time, certain areas attract so many visitors, that the natural beauty that draws people to them in the first place is ruined by that very use.
That, Botsford said, appears to be happening at the Ice Lakes Trail, where for years, a permit system has been discussed as a possibility to help the deteriorating landscape.
"If we're going to protect that alpine environment and alpine lakes … we have to make some change," he said. "And I believe a permit system would be one that could help."
Blown up on social media
For the unacquainted, the 7-mile round-trip Ice Lakes Trail is one of the most popular and heavily used hiking trails in Southwest Colorado, if not the most.
The trail starts about 6 miles west of Silverton in the San Juan National Forest at an elevation of 9,840 feet and climbs a couple thousand feet to two stunning turquoise alpine lakes: Ice Lake and Island Lake.
The Ice Lakes Trail has always been a popular spot for day hikers and backcountry campers, but in recent years, the power of social media has caused visitation to blow up.
In years past, on a busy day, more than 200 hikers would make the trek up to the lakes. This year, however, with more people taking to the outdoors during the COVID-19 pandemic, a typical day could see anywhere from 400 to 600 hikers.
"I've never seen that amount of use for the Ice Lakes Trail, ever," said Botsford, who has worked for the Forest Service for 11 years.
Taking a toll
All those hikers and campers take a significant toll on the alpine tundra, an already fragile landscape.
For one, hikers have been constantly going off trail, causing erosion and damage to sensitive vegetation. Campers, too, have been seen frequently having fires above tree line. And both have been known to leave behind trash.
The big issue, said Brent Schoradt, executive director of the San Juan Mountains Association, which works in partnership with the Forest Service, is people failing to pack out human waste and toilet paper.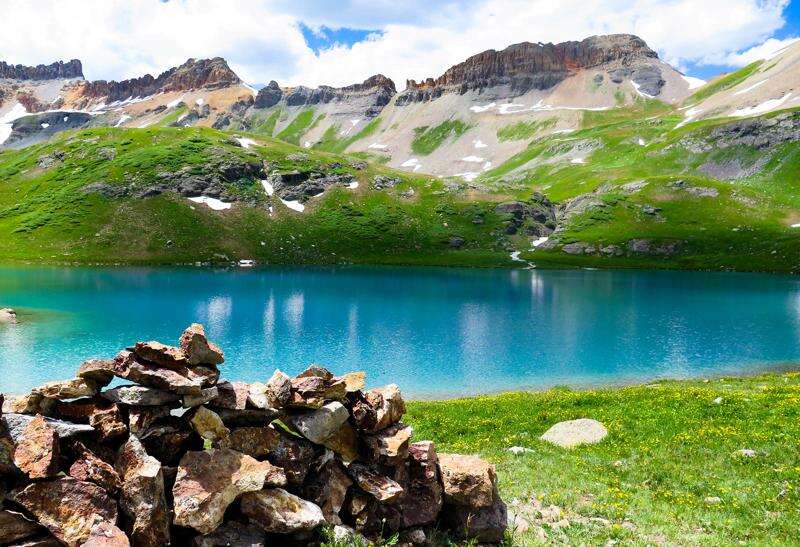 Over Labor Day weekend, SJMA tallied nearly 2,000 hikers and 215 overnight backpackers, and while people are encouraged to carry out their waste, it's anyone's guess who actually followed the rules, Schoradt said.
"In a huge use area like that, even burying your waste is not advised," he said. "People think hiking is the lowest impact way to be out on the landscape, but with those sheer numbers, you're still having an impact."
'It's out of hand'
And it's not just the Ice Lakes Trail under scrutiny.
To reach the trail, one must travel a few miles down South Mineral Road, a Forest Service road that has become a popular place for dispersed camping along South Mineral Creek, a tributary of the Animas River.
In recent years, the road up to the trail has become completely chaotic, to say the least, said San Juan County Sheriff Bruce Conrad.
"The numbers are just continuing to escalate out there," Conrad said. "It's out of hand."
Parking is typically at capacity at the trailhead, which drives people to park as far as a half-mile down the road, sometimes in no-parking areas. It has created a situation where emergency vehicles can't access the area, Conrad said.
People are also camping in areas along South Mineral Creek where it's not allowed, disregarding and even moving blockades. And when one person does it, it drives others to follow suit, thereby creating an illegal campsite.
"It's the most time consuming (issue) for our office," Conrad said about the Sheriff's Office, which has only three deputies. "It easily takes an hour out of the day to make one patrol back there."
To exemplify the high use in the South Mineral Creek area, Botsford said vault toilets at two established campgrounds were pumped four times more than any previous summer.
When taking into consideration a permit system, it's possible the entire South Mineral Creek area, which includes the popular off-road route to nearby Clear Lake, could be included.
"It's a tough issue," Conrad said. "But we're stuck in this rock-in-a-hard-place being able to effectively manage it."
Volunteers step up
Around 2015, as the Ice Lakes Trail's popularity began to rise, volunteers started to educate hikers and campers about best practices in the backcountry, such as Leave No Trace principles, SJMA's Schoradt said.
Then, in 2019, SJMA partnered with other organizations to have a tiny home placed at the Ice Lakes trailhead, where a volunteer was stationed to make first contact with hikers about to set off on the trail.
The effort was replicated again this year, albeit under a tent rather than a tiny home, and has had success in mitigating some of the impacts of having so many visitors in one area.
"We want to kill them with kindness and enhance everyone's experience," Schoradt said. "The last thing you want to do is give a sense that it's a free-for-all."
But, while the volunteers' efforts have gone a long way to help curb some of the impacts at the Ice Lakes Trail, Forest Service officials say it's time to increase management measures, namely, through a permit system.
Looking elsewhere for guidance
Permit systems can look different from situation to situation.
At the Conundrum Hot Springs in the Maroon Bells Wilderness outside Aspen, for instance, a permit system was sought amid many of the same issues as at the Ice Lakes Trail.
Katy Nelson, a wilderness and trails specialist for the White River National Forest, said there were 20 established campsites near the hot springs, yet on peak weekends, more than 200 people were camping overnight.
And because of the topography of the valley, human waste getting into waterways was a major issue. Water sampling revealed fecal coliform bacteria (essentially feces) in the actual hot springs.
"It was wrecking people's experience," Nelson said.
As these impacts mounted, many members of the public started to demand a permit system, Nelson said. And, after a multiyear effort, the permit system was finally put in place in April 2018.
Now, members of the public must reserve a spot in advance, with 20 campsites available, each with a different maximum group size, for up to a three-night stay, during summer. At full capacity, about 66 people would be camping at the hot springs, Nelson said.
And to pair with the permit system, the Forest Service also launched an educational campaign about human waste. All these efforts, Nelson said, have helped curb impacts and improve the experience at the hot springs.
"You have this amazing place in the wilderness and it wasn't a secret anymore," she said. "The physical impacts just really reached a point where the public said, 'We want better for this place. This is a place we want protected in perpetuity.'"
Permitting Ice Lakes
It's too early to say what the permit system would look like at Ice Lakes or possibly the South Mineral Creek area as a whole, Botsford said, or if it will even be put in place in time for the upcoming summer season.
For starters, the Ice Lakes Trail and some surrounding spots are closed for the indefinite future after the Ice Fire in October severely damaged the area, which land managers say is going to bring a host of new issues next summer.
The cause of the Ice Fire remains under investigation, a Forest Service spokeswoman said this week. Fire officials, however, have said previously they suspect the blaze was human caused.
Regardless, in the meantime, land managers can weigh options about the specifics of a permit system, such as whether it will be a lottery-type system like in Paria Canyon in Utah or a permit people pick up at a local visitors center.
"There's a lot of logistics that go into a permit system," Botsford said.
Public lands across the country have been experiencing incredibly high use in recent years. But with the COVID-19 pandemic driving more people outdoors, it's an issue acutely felt in the San Juan Mountains.
"Because we've seen fewer numbers (of visitors) in the past, it's a big game of catch up right now trying to deal with it," Botsford said. "That joy of visiting public land is definitely out there now."
jromeo@durangoherald.com