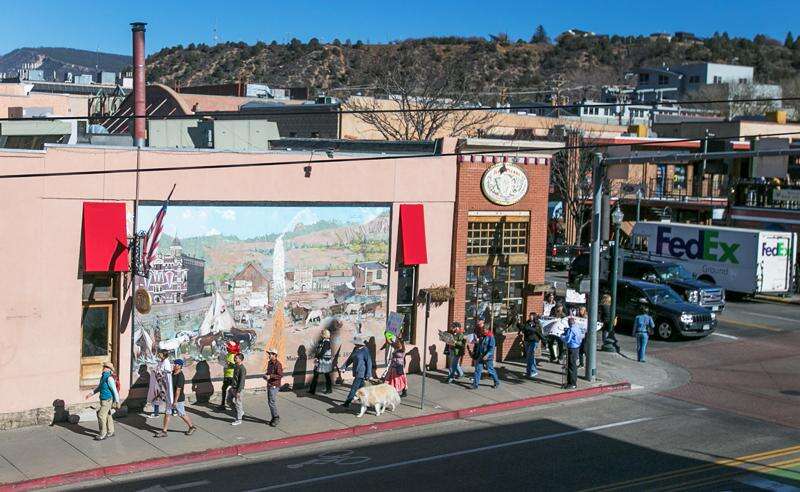 Fort Lewis College protesters in support of Standing Rock Sioux's objections to a pipeline have organized yet another demonstration: This time they are taking it to the front door of the pipeline's CEO's luxury ranch in Pagosa Springs.
From 10 a.m. to 5 p.m. Thursday, FLC students are calling for all those opposed to the Dakota Access Pipeline to stand at the entrance of the Boot Jack Ranch, owned by Kelcy Warren, CEO of Energy Transfer Partners, the corporation behind the pipeline.
The ranch, about 12 miles east of Pagosa Springs on the north side of U.S. Highway 160, is a sprawling 3,500-acre luxury resort which can house 50 guests, contains six lakes, an Olympic-sized swimming pool and a 1,500-bottle wine cellar.
Warren, a Texas billionaire, purchased the 14,000-square-foot home and property for $46.5 million in 2010, The Wall Street Journal reported.
"We need to make sure to put pressure on neighbors and the community to let them know there are people in our community that don't support and respect indigenous, native treaties, burial grounds and lands," said Anthony Nocella, a sociology professor at FLC.
FLC student Sidney Kibotie said it's important to highlight Warren's apparent lack of understanding of the "environmental impact" or the effect on "indigenous peoples" the pipeline would have.
"I don't think he's aware of the human rights he's been stepping on in order to make a monetary profit," Kibotie said. "So it's important he understands people do not stand with him in Durango."
Thursday's protest is another in a long line of Standing Rock protests organized by the college. FLC held a march Sept. 10, traveled to Standing Rock, North Dakota, last week, held a protest Sunday when students returned, and plan another rally this Monday.
"I think people are motivated and empowered," said Nocella, one of the protest's main organizers.
"Two things we really care about at FLC is indigenous people and native issues and environmental issues. And what is Standing Rock more about than those two issues?"
According to The Pagosa Sun, a separate group of protesters took to Warren's estate last Sunday. The paper said the protest remained peaceful.
For months, members of the Standing Rock Sioux Reservation have stood in protest of an oil pipeline they say would threaten the tribe's drinking water, tribal lands and burial grounds.
Last Friday, federal authorities said they will close down the protest camps by Dec. 5.
jromeo@durangoherald.com