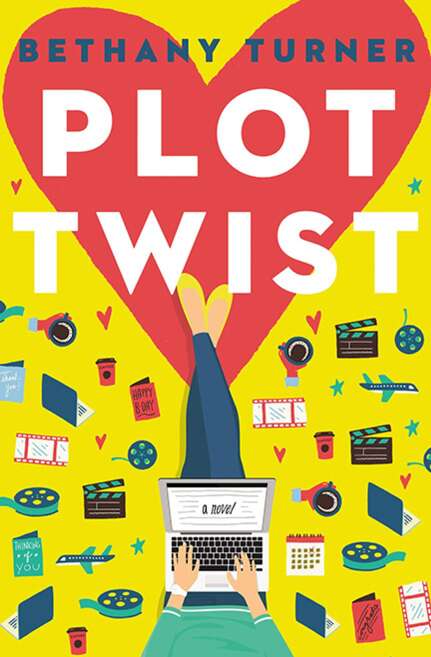 Local author Bethany Turner releases new novel, wants you to have fun with the journey
Summer is a great time for a little lighter reading: Romances, comedies – they're not called beach reads for nothing.
Enter "Plot Twist," the new book by local author Bethany Turner. Just released Tuesday, "Plot Twist" is the story of aspiring screenwriter Olivia Ross, who meets a handsome and charismatic actor – whose name she doesn't get – in a coffee shop on Feb. 4, 2003. The two hit it off almost instantly, and, after the hunky stranger saves her from an aggressive latte lothario, the two make a pact: In 10 years, after they have each become successful in their own right, they'll meet up and make a movie together. There's only one problem: Olivia forgot to get his name.
And so, over the next decade, Feb. 4 becomes a day marked by strange coincidences and ironies, and, Olivia never stops thinking about the nameless actor – a man she's almost certain has turned out to be Hamish MacDougal, a now famous A-lister and Hollywood leading man. But a lot can happen in a decade, and while waiting for the curtain to rise on her fate, the true story of Olivia's life is being written.
Turner, who has been writing since second grade, said she began writing "Plot Twist" about 10 years ago as a fun escape – and an interesting philosophical question.
"It all started with, what if these strangers make a promise to each other and then what is the life that happens in between? That's what was so intriguing to me," she said. "When we think we're building toward something and yet everything else that's happening all around while we think we're heading in one direction, that was just fascinating to me. So that's really where it began."Bethany Turner
Looking at Olivia, Turner said she's sees herself in her ... sort of. And, even though she created her, Turner doesn't always like the character.
"I do see myself in her in – I would say in the way of definitely not seeing herself as a star in her own life. I feel like I'm more of Olivia toward the end of her journey, but still I identify with a lot of that journey as, 'Hey, I'm a really great supporting character for the people in my life, but I'm not the star of this journey,'" she said. "As far as whether or not I like her, that also depends on the part of her journey. I will say that probably more than any lead character that I've written, Olivia frustrates me a lot. And I really want to, like kind of as a friend to her, be able to say, 'Snap out of it, girl, you're better. You are better. You are worthy, you are all these things yet I think those are things that we all struggle with sometimes and so being able to go through that journey with her as she kind of has to figure that out for herself. So she is frustrating, but ultimately, I love her for taking the journey, even in all of its less-elegant parts."
When you take "Plot Twist" to the lake, or campsite or even your living room, there are a couple of things Turner hopes you take away from Olivia's story – the thrill of escape, especially after the year we've all had and reading a story for the sheer fun of it.
"I actually feel like that's kind of a wonderful gift of being able to go back to a time before we'd ever heard of COVID, and in a completely different way of ignoring it; it's more just we don't have to worry about that right now. And I really feel like that's what I hope people get out of this book. As it is, that obviously wasn't the intent as I wrote it, I think also the fact that it is – there are so many ironies and coincidences and extreme, like 'That would never happen' sort of things on the page," she said. "I just would hope that while readers may see bits of themselves in the characters, the story itself – just to go on the journey with her; just escape, just have fun, just hopefully laugh and feel the things that she feels and if you reach the end of the book and have had a good time and have been frustrated with her at times or have been caught up in her moments, then the book did what it was supposed to do."
katie@durangoherald.com