In D.C., Denver representatives hear from public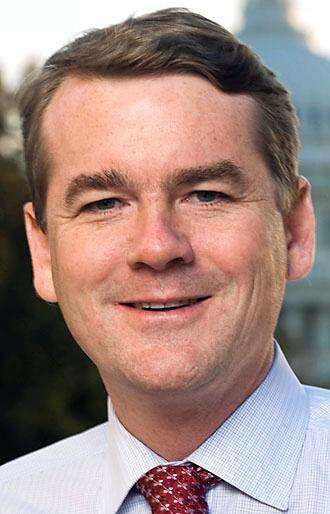 Since the inauguration of President Donald Trump, many politicians have been inundated with calls and correspondence from their constituents.
The interest was spurred by Trump's Cabinet nominations and a flurry of administration and congressional actions on hot-button issues such as health care insurance reform, trade agreements and the environment.
"Calls and letters to our office have increased significantly since the inauguration," said Laurie Cipriano, spokeswoman for Democratic Sen. Michael Bennet. "Our team is working hard to answer calls and listen to what our constituents have to say."
In the U.S. Capitol, every staffer is pitching in to handle calls.
Republican Sen. Cory Gardner's office received about 22,000 phone calls and 120,000 pieces of correspondence in January.
The increase led to constituents having difficulty voicing their opinions because of full voicemails and not enough people to answer the phone.
Last week, all Senate offices received an email that read: "High call volumes are contributing to delays within the voicemail system. We are taking steps to address the impact of these delays."
Some offices, including Congressman Scott Tipton's, use a computer system called Internet Quorum that allows them to input, sort and respond to comments, while others, such as Gardner's, have upgraded voicemail systems.
"This new system allows us to receive an unlimited amount of messages so that every constituent concern is heard," said Alex Siciliano, spokesman for Gardner.
Even members of the House of Representatives, who have no role in Cabinet confirmations, have seen a spike in calls.
"We have been getting a lot of calls about the confirmations. As a member of the House, Congressman Tipton doesn't get a chance to vote on the confirmations," said spokeswoman Liz Payne.
Especially in the last week, with the considerations for Secretary of Education Betsy DeVos and Attorney General Jeff Sessions, some constituents have said their voices were not being heard.
"Our team listens to and assists constituents, regardless of political party affiliation or personal beliefs," Cipriano said. "Michael is grateful that our constituents are getting involved, and he weighs all the information and opinions available before casting a vote," a sentiment that was echoed by staff for Gardner and Tipton.
At the state Capitol
The increased constituent activity and interest has spilled into the Colorado State Capitol.
Since the inauguration, protests and rallies on the Capitol's western steps have become a weekly occurrences.
But the level of constituent involvement has varied widely.
Colorado Senate President Kevin Grantham, R-Cañon City, said there hasn't been a noticeable increase in email and phone calls within his chamber.
"I mean it's session time, so we get a lot of phone calls, but usually it's topic-specific, you know whatever the hot topic of the day is, we get a lot of phone calls on it and there's nothing different about that," Grantham said.
House Democratic leadership say they've had increased contact from Coloradans, as well as more people at town hall events held by lawmakers.
"It's really amazing to see so much engagement," said House Speaker Crisanta Duran, D-Denver.
The expanded interest is directly attributed to what is happening in Washington, D.C., and concerns about the impact on Colorado, said House Majority Leader KC Becker, D-Boulder.
"I had more people at my town hall in Winter Park than ever before, over 400 people at a town hall in Boulder, and they want to talk about federal issues," she said
Gov. John Hickenlooper's office also reports a 28 percent increase in constituent contact since the first of the year compared with 2016, Holly Shrewsbury, interim director of communication, said in an email.
Most communication is taking place through the governor's website, and at least 1,800 of the 3,919 total contacts, as of Feb. 6, are related to federal policies, Shrewsbury said.
For legislators from Southwest Colorado, constituent outreach is a little hard to nail down.
Rep. Barbara McLachlan, D-Durango, said she doesn't have anything to compare to because this is her first session, but she agrees with Grantham that most of her correspondence is based on individual bills that are being heard on any given day.
"A lot of people call on one issue, which is fine, and I'm trying to answer everybody and respond personally to everybody. So I'm not doing any form letters that go out because I don't like receiving them, and they probably don't like getting them back, either," McLachlan said.
Sen. Don Coram, R-Montrose, who replaced former Sen. Ellen Roberts, R-Durango, said there has been a slight uptick this year for him because he is covering a larger district, but it pales in comparison to his first session.
"It's basically about normal," Coram said. "You understand I started out six years ago in the House of Representatives on congressional redistricting. I got emails from all over the state and 1,500 to 2,000 a day, so what I'm getting ever since then is very, very manageable."
Shira Stein is a reporting intern for the Herald in Washington, D.C., and a student at American University. Reach her at sstein@durangoherald.com and follow her on Twitter @stein_shira.
Luke Perkins is the Herald's Denver bureau reporter. Reach him at lperkins@durangoherald.com and follow him on Twitter @Ldperkins970.